Last Updated on March 30, 2023
Hotel sheets are just special.
We've all been there. You'll be laying in bed at a nice hotel, and you'll notice how soft the sheets are. You'll notice how wonderful they feel against your skin.
You might even feel disappointed in not having comparable sheets at home! So why do hotel sheets – like this set from Standard Textile –  feel so good, and so much better than your sheets at home?
It's not a simple answer.
For one, part of it is psychological. You're most likely staying in that hotel for vacation purposes – far away from your problems at home.
This also means that you're in a relaxation type of mind frame. Given that, some of the enjoyment you feel from hotel sheets is probably a bit of a placebo effect.
Once you get past that, there are some real and tangible differences between sheets that you find in hotels and those which you'll find at your local department store (or on your bed for that matter).
There is a specific purpose for hotel sheets. Hotel guests use hotel sheets. You don't have quite the exact same expectations at home, on your own bed.
Let's compare the two, and then we'll also show you how to get hotel sheets for your own bed at home.
Hospitality vs Retail
In order to find out why they're so different, let's take a look at the construction and purpose of each sheet type.
Hotel Sheets
When it comes to hospitality sheeting, durability is the most important factor.
Hotels wash their sheets up to 300 times a year. So the sheets are engineered to go through at least a year of wash cycles before shredding or tearing.
It might take you 10-15 years to reach that 300-wash count at home.
Limiting maintenance is a huge goal when trying to increase durability.
One of the ways to achieve this is by using different fabrics and weaves that promote better cooling. If you sweat less, your sheets will "smell" cleaner. And you probably won't ask for a fresh set.
Another way is in the fabric construction.
Sheets for home use commonly use one fabric type. You'll often find sheets that are 100% cotton, or 100% Viscose, etc.
Hospitality sheets are almost always a blend of fabrics – most commonly a cotton/polyester blend. To help the sheet breathe better, cotton is blended with polyester.
The tighter weave of polyester creates open pockets and gaps in the fabric – and creates a breathable fabric. 
This airflow is what keeps hotel sheets so cool.
Retail Sheets
Retail sheets, on the other hand, are engineered to fulfill two purposes. First, to feel super soft on the shelf, and second, to feature a high thread count.
Softness is usually the first (and commonly only) priority for sheet buyers.
To satisfy the need for softness, manufacturers use a heavy amount of commercial fabric softener to make the fabric feel as soft as possible.
If "sheet set A" feels softer than "sheet set B", the average person will choose set A regardless of what features the sets have or don't have.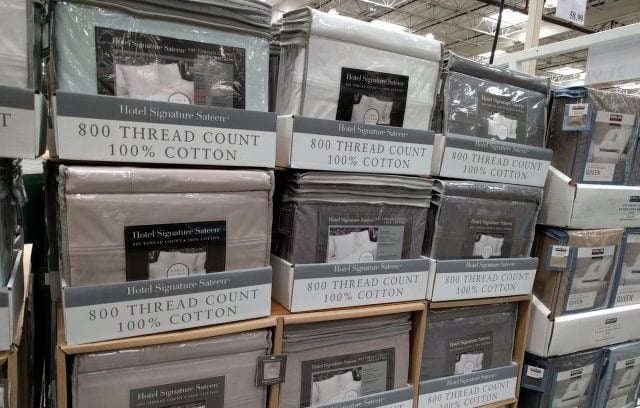 Thread Count
The second priority is obviously the thread count. Retail customers have been conditioned to think that a high thread count is the only way to go. "Luxury" retail sheets have thread counts of 600 or 800.
Sheets used in hotels commonly have a 250-thread count. Higher-end hotels use sheets that have a 300-thread count.
Given those numbers, how is it that hotel sheets still feel softer? It's because a thread count of 600 or 800 is really just a gimmick.
"True" thread counts top out around 300-400 depending on the fabric and material used. In order to get to these 600 or 800 or 1000 thread counts, manufacturers weave thinner strands together.
A "2-ply" or "multi-ply" thread means multiple thin strands spun together.
These 2-ply yarns have the same dimensions as a regular, or 1-ply yarn. But twice the number of "threads" were used because two threads were spun together.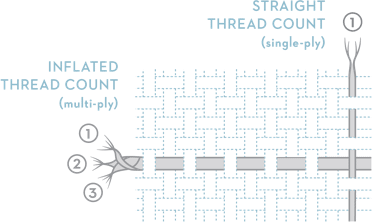 What is, in reality, a 300-thread count sheet, is now magically a 600-thread count sheet.
Think of it in terms of money. Imagine having two nickels instead of one dime. Both are equal to 10 cents, but you have twice the amount of coins.
This is why hospitality sheets get an advantage in durability. The thinner threads used in 2-ply yarns break and shred very easily.
Hotel Use vs Home Use
Hotels have a unique maintenance schedule compared to yours at home. 
You've probably noticed that sheets get softer the more you wash them. And hotel sheets get washed a lot.
As mentioned earlier, a single sheet at a hotel might get washed up to 300 times per year. That repetitive washing does soften up the sheets quite a bit.
Washing the sheets has another benefit as well.
Have you ever noticed how freshly laundered sheets feel softer and smoother? Yes, fabric softener plays a part in this, but there is more to it.
People sweat while they sleep. Perspiration adds wrinkles to the sheets, making them wrinkled and textured, and almost feeling crusty after a week or so – until the next time they're washed again.
The daily laundry schedule at a hotel prevents that textured and crusty surface.
Detergents and fabric softeners are a factor as well. Hotels use commercial detergents and fabric softeners. These are "commercial use only" products. 
Commercial fabric softeners include certain chemicals – like phosphates – that get laundry remarkably clean and make the sheets feel so smooth and soft.
The detergents and softeners sold in retail stores aren't allowed to use these chemicals.
How To Get Hotel Sheets At Home
You're probably wondering how to get that same hotel feel at home. It's actually a lot easier than you might think. You just need to act like a hotel.
Let's break it down:
1.) Instead of purchasing sheets from your local department store, buy them from hospitality bedding manufacturers.
For example, Standard Textile is a company that manufactures sheets and pillows for hospitality use. The most commonly found sheet, in U.S. hotels, is their ComforTwill line of sheets.
If you liked the sheets at a specific hotel, just ask them! Most hotels will share the brand name with you. Chances are that they're made by Standard Textile.
You can read more about the Comfortwill sheets here.
2.) Consider washing your sheets more often. You don't have to wash them daily as they do in hotels, but washing even weekly maintenance can have similar effects.
3.) Consider using a better fabric softener. You'll notice a big difference between the bargain generic stuff and something that has had more research and development.
If you're picky, as far as the "healthy choice" is concerned, this database offers a ton of information.