Last Updated on March 30, 2023
Maybe you stayed at the Aria in Las Vegas.
Or maybe you stayed at the Kimpton Hotel in Baltimore. Regardless of what city or which hotel; falling in love with hotel bedding is very common.
Hotels go through great measures to ensure that you thoroughly enjoy your stay, in hopes that you will be a returning guest sometime in the future.
One of the ways in which they do this is by crafting a majestic sleeping experience.
Buying hotel bedding and linens
If you've been lucky enough to have such an experience, you're probably searching for a way to replicate that same sleeping environment at home.
Maybe you want the same sheet set, or the same pillow. Perhaps you loved the lofty feeling of the feather bed, and now you want your own.
Or maybe the towels were the softest you've ever felt, and you can't imagine taking another shower with your current home set.
Regardless of which piece(s) of bedding you'd like to purchase, it's actually quite easy to replicate a hotel bed at home. You just have to know what you're looking for.
The easiest way is to just ask the hotel staff what brands/products that they use. Some will tell you. Most will not. Hotels don't like to divulge these "trade secrets".
Fortunately, it's really easy to find these items with just a little bit of time and effort. Here are three ways to find, and purchase the bedding that you fell in love with during your recent hotel stay:
1.) The tags
The most effective way, of course, is to go straight to the source.
The majority of hospitality bedding is supplied by a handful of manufacturers/suppliers. The common names that you'll see – in the U.S. at least – are Standard Textile, Downlite, Koni, Westpoint-Stevens, and a few others.
With that in mind, just look at the tags! Grab your phone, and take a picture of the tags so you'll know what you're looking for when you get back home.
The tags have the crucial information that you're looking for – namely the brand, the model name, and/or the model number.
For example, if we're talking about the sheets, the tags might stay "ComforTwill by Standard Textile".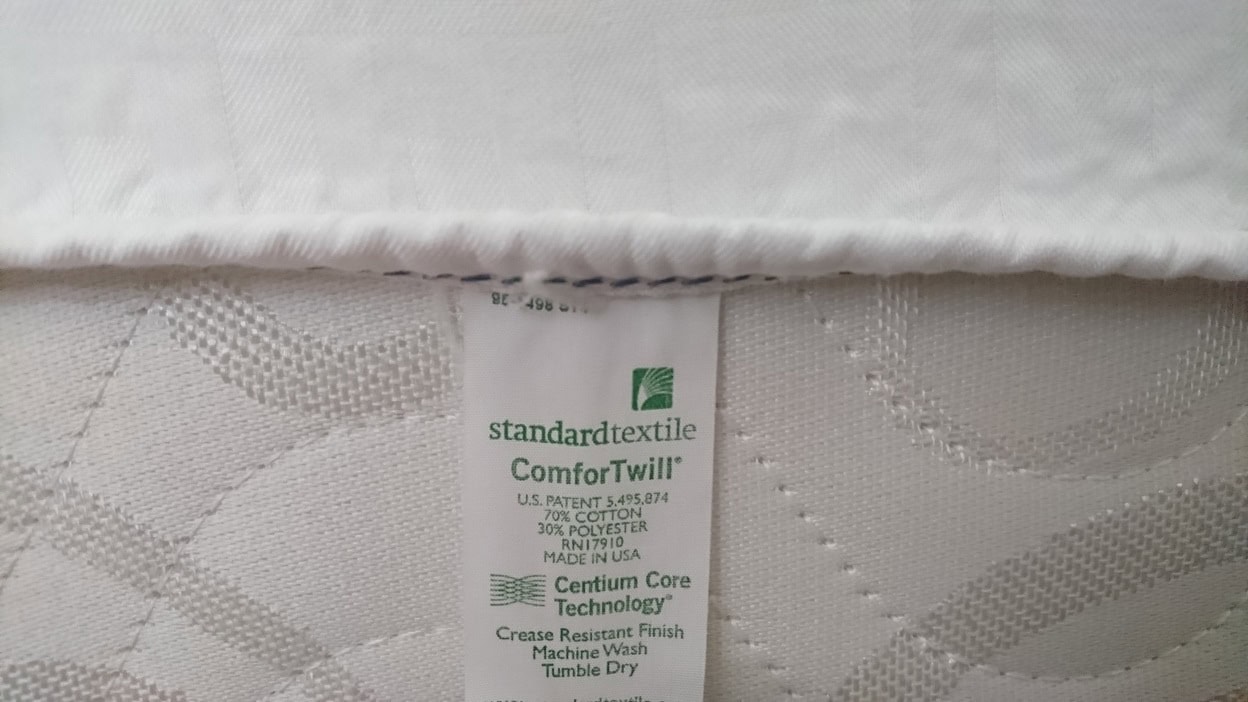 In other cases, it might not be a model name or style that's listed, but rather a model number.
For example, if we're talking about a Chamber pillow from Downlite, it will say "Downlite – HOS100PI0560" (which is the model number for that specific pillow).
Search for model names or numbers
Once you have those names and numbers, your job is half done. Now all you have to do is find the corresponding store online.
If you're looking for sheets, pillows, or towels from Standard Textile, visit their store on Amazon, or their Standard Textile Home website.
While they don't sell all of their products in the store, it's quite common to find their popular items there – especially pillows and towels.
If you're looking for a down pillow or a comforter from Downlite, they have a store on Amazon as well! You can also find many Downlite products in our store as well.
Finding a feather bed will probably be the easiest! There are only a handful of companies that produce featherbeds, and you can find them all on Amazon or any other site that sells bedding.
You'll most likely be looking for a model from Pacific Coast, Downlite, or Blue Ridge.
Whichever product you're looking for; once you have the manufacturer info, and you find their online store – your job is done.
2.) The hotel's online store
The 1st step above will help you locate the majority of hotel bedding items. If it did not, then this 2nd step might help you.
A lot of hotels have turned to e-commerce to increase their sales, and as a result, have their own stores online.
For example, you can go to Sheraton's store on Amazon to find most of the bedding that they feature in their hotel rooms. The same goes for Marriott, Westin, etc.
Not all hotels have their own online stores, however, but the ones that do sell pretty much everything. Even, for example, the same mattresses used in their rooms.
The only drawback to this method, of course, is that the products are priced ridiculously high.
The hotels know how badly you want the items, and they take full advantage of it. Exhaust your options in Step 1 above before resorting to Step 2.
3.) Hospitality bedding distributors
If all else fails, visit the website of a hospitality bedding supplier. You'll be able to find a handful with a quick Google search.
You'll need the brand name again, as well as a model name or number.
A few things to keep in mind when dealing with a distributor, as these are usually businesses selling to hospitality customers:
1.) You will probably have to purchase in bulk. That can mean a pack of 5, or it could mean a 24-count pack. Either way, you most likely will not be able to buy one piece at a time.
Buying 5 pillows might not be a big deal, for example, as you might have several beds at home. But buying two dozen flat sheets is probably a bit too much for most people.
2.) They might only be able to ship to a commercial address. Many manufacturers don't allow for sale to retail customers and require that distributors only ship to commercial addresses.
This shouldn't be a big deal – most of us have a work address. If you don't, talk to a local business and ask if you can have your items shipped there.
What if none of the above have worked?
If the above three steps failed, consider similar alternatives from retail brands.
For example, if you're looking for Chamberloft pillows from Standard Textile – check out the Tria pillow from Pacific Coast, or the Chamber pillow from Downlite.
They are both chamber-style pillows, with similar construction.
If you're trying to find a certain sheet set, and you know the characteristics that you're looking for (fabric composition, thread count, etc.), find a retail set that matches.
Towels can be tricky.
Two towels featuring the same GSM number can feel completely different. You'll have to match the GSM figure with the type of cotton used, and construction type (long-staple cotton, ring-spun, etc.).
Final thoughts
The first step in the list above should definitely be the first place to start. Not only will you be able to purchase identical bedding products, but you'll find them at the best price.
Make sure to take pictures of both the tags, as well as the item itself, so that you can spot certain indicators, like fabric patterns, construction type, etc.
Knowing what you want up front will make it that much easier to find exactly what you're looking for.
And finally; we have a large list of hotels and their corresponding products.
If you're having a hard time finding the product that you want, feel free to send us an email. And if we can, we'll point you in the right direction.