Last Updated on March 30, 2023
There's no doubt about it – hotels know which pillows to use. It's not just about choosing the right brands, you also have to know which models are best.
Hotels go through a lengthy process to not only craft an amazing bed, but also the bedroom itself.
Part of creating a relaxing and lofty sleeping environment is furnishing the room with the proper pillows.
But how do they get it right?
And how do they always have the right pillow for you?
So, to answer those questions, let's take a look at the kinds of pillows hotels usually stock in their rooms. And then we'll show you some popular examples.
Factors that decide which types of pillows to provide
If you survey 10 different people, then you might find 10 different answers as it pertains to pillow preference.
For example, some factors that influence pillow choices might be:
Sleeping position (stomach, back, side)

Allergy concerns

Laying vs sitting

The physical size of the person
We listed four factors above, but there are sure to be more.
As a person in charge of furnishing a hotel room, one of your responsibilities would be to ensure that there is a pillow to satisfy each preference.
Hotels want to provide each guest with the proper amenities to ensure maximum satisfaction. A well-slept guest is, of course, a satisfied guest.
So, it would make business sense to satisfy each pillow preference. But, does that mean stocking the room with 100 different types of pillows?
Not at all!
In reality, you only need about 4-5 different pillows to satisfy the majority of your guests.
And in the majority of hotels, for instance, you'll typically find three different types of pillows (two in budget locations):
Goose (or duck) down

Feather/down blend

Down alternative
Let's look at these 3 major types and the variants of each that might be provided.
Goose down
In finer hotels, of course, it will be common to find goose-down pillows (or duck down). These are provided as the crowd-pleasing option, and they are usually available in medium and firm densities.
Feather and down blend
Pillows that contain a blend of (goose or duck) feather and down fill are provided for various reasons.
Some variants are provided as a cheaper alternative to all-down pillows. Likewise, others are the firm pillow option. And some pillows, for instance, are there for sitting and reading.
Let's look at the usual offerings:
50/50 – As the name would imply, a 50/50 pillow contains a blend of 50% down, and 50% feather. They combine the softness of down, with the support of feathers.
They are usually provided in place of all-down pillows.
Chamber – This is the type of pillow shown in the picture above. Chamber pillows are commonly filled with 15% down, and 85% feather.
They are a loftier alternative to firm density down pillows. Chamber pillows contain "chambers" filled with alternating fill materials; hence the "chamber" description.
For those that prefer a firm pillow, especially for larger guests, chamber pillows are very popular.
5/95 – A 5/95 pillow is a blend of 5% down, and 95% feather. They are very firm and are an excellent pillow for sitting in bed. They are also suitable for those that prefer a very firm pillow.
Down alternative
Finally, for those with allergy concerns, down alternative pillows are provided as well. You will usually find medium and firm density down alternative pillows in the linen closet.
Depending on the hotel in question, you will find a range of quality, ranging from plain to blown-polyester options.
That's about it – those are the three main types of pillows that hotels use. With that said, let's examine some of the more popular options if you'd like hotel pillows for yourself:
Popular hotel pillows
Roughly 80% of the pillows that you'll find in hotels are provided by two manufacturers: Standard Textile, and Downlite.
Interestingly, both are based out of Ohio, about 30 minutes away from each other. We'll examine the models which are used, and provide you with links to check them out for yourself if you're interested.
Standard Textile
Standard Textile manufactures sheets, comforters, towels, and pillows for hospitality use. They have a store on Amazon, as well as their own website.
The three pillows that they manufacture are:
Chamberloft – The most popular of their pillow offerings by far!
The Chamberloft pillow is the crowd-pleasing medium-density version. These are chamber-style pillows, with outer layers of polyester, and an inner layer of polyester.
Here is a picture that will make sense of it for you if you're not familiar with chamber-style pillows:
These are great if you're looking for something a bit more than medium, but not quite firm.
Likewise, if a firm pillow is uncomfortable when you're laying on your back, a medium-density pillow like this will be perfect. 
Chamberfirm – These pillows feature two chambers of polyester fill. They usually satisfy two needs: a firm, yet down alternative pillow.
These are firm, yet lofty. People with larger than average frames particularly love this pillow!
Chambersoft – Much like the Chamberloft pillow, these are polyester and feather. They are a softer alternative to medium-density pillows, and are commonly provided as the "soft" option.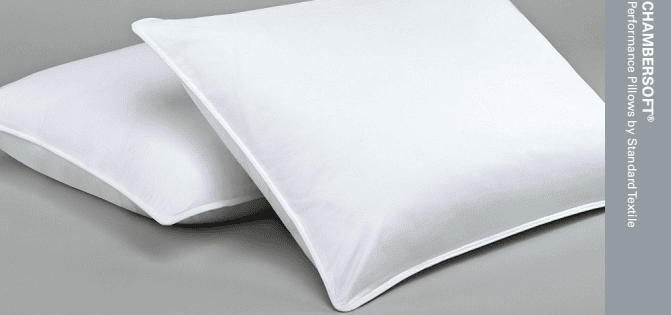 Downlite
Downlite is the largest manufacturer of down bedding in the United States.
It's fitting then that they are also one of the largest hospitality bedding suppliers as well. Click here to visit Downlite's store on Amazon.
You'll generally find six Downlite pillow varieties available at hotels across the country. They are as follows:
Down – They have two varieties that are commonly found in hotels; a 600 FP white goose down pillow, that is of medium density, and a 550 FP version that is available in soft, medium, and firm.
Chamber – This is a duck down and feather version, although they do make a goose down/feather version for retail sale as well.
These pillows combine the support of feathers on the inside, with a layer of soft down on the outer layers. They contain 85% feathers, and 15% down.
Enviroloft –  This is their down alternative model. It features blown polyester, which is the closest thing to actual down in terms of feel.
5/95 – These pillows are usually found at both budget properties, as well as 5-star hotels. In less expensive hotels, they are commonly the "firm" pillow option, whereas, in higher-end hotels, they are used as a sitting pillow.
50/50 – These pillows, featuring a 50/50 down-to-feather ratio are extremely popular with 3 and 4-star hotels. They are also an affordable alternative to 100% goose-down pillows.
For rental properties, vacation homes, and cabin rentals
If you own a rental, you might be wondering – what kind of pillows should I stock my property with?
If you own rental property – whether it be a home, condo, cabin, etc. – then your main priority is to make it profitable. With that in mind, there's no sense in going all out and providing each type of pillow for your guests.
Generally, we recommend 3 pillows for single-sleeper beds/bedrooms, and 4 for master bedrooms. So, the following is a good guideline to use when furnishing your property:
Single-sleeper beds:
Down alternative pillow (medium density)

Down or 50/50 pillow

Chamber pillow
Master bedroom:
Down alternative pillow

Chamber pillows

2 Down or 50/50 pillow
For each type of bed, we also recommend 5/95 pillows as sham-stuffers. Not only are they affordable, but they are also very plump, and fill out a pillow sham perfectly!