Last Updated on March 30, 2023
Living in an urban area means that you get to enjoy certain things.
Living near your workplace, being close to nightlife, having great restaurants within walking distance, shops and stores right around the block, etc.
But those luxuries come with a compromise – specifically living space.
A small loft or studio apartment in an urban area often means a compromise between social life, and square footage – which can cramp your lifestyle, at home.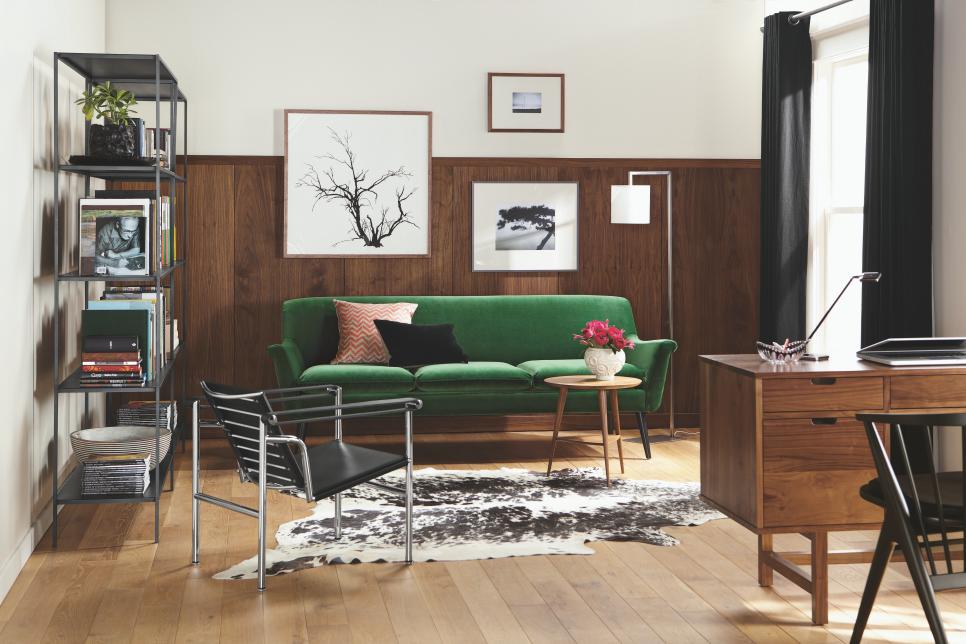 The compromise often results in one of two undesirable situations:
1.) Sacrificing certain pieces of furniture, like a coffee table, or a desk for example. Your bed takes up a good chunk of the real estate, of course, which leaves little room for much else.
So, if you want a comfortable walking space, without having to live inside of a maze, some furniture pieces need to go.
2.) If don't sacrifice any furniture, you're left with a maze to weave in and out of. It can feel cramped, like a can of sardines. This definitely isn't a good situation if you suffer from claustrophobia!
We need a better solution than these two options.
A solution that optimizes your furniture layout, such that space isn't compromised by having all the necessary pieces of furniture. A layout where you can have your bed, as well as maybe a coffee table, TV stand, a desk, etc.
A loft bed is one such solution!
Loft beds
A loft bed is great in that it won't take up space horizontally, of course, where space is already in low supply. A loft bed raises your bed higher, and takes up space vertically.
Loft beds are very affordable too! 
Loft beds satisfy the need to have extra space, while still being able to maintain an adult living space. They essentially multi-task several furniture pieces at once.
This not only solves the space vs furniture debate, but it also provides an instant "cool" factor to your loft or studio apartment.
How a loft bed works
Loft beds provide an elevated bed, so that traditional furniture can be placed underneath. Typically, you'll have a ladder that leads up to the bed portion.
Underneath the bed is where you have the opportunity to customize. 
Some will feature a couch or sofa, facing a stand or cabinet capable of housing a TV. Others will provide a couch and a desk. You'll also find models that house drawers and shelving.
Some loft beds will just be a plain elevated bed, allowing you to migrate your existing furniture underneath.
But either way, the common thread with any loft bed is the elevated bed portion.
Things to consider before purchasing a loft bed
There are several factors that go into which type of loft bed to purchase, and if you should purchase one at all. Let's take a look:
Ceilings  How high are your ceilings? You'll want sufficient space between you, and the ceiling. High ceilings will be able to accommodate taller loft beds.
Material – You'll most likely want to match the bed with the rest of your home. Loft beds are available in different materials and color, but are most commonly found in wood or metal.
Size of the mattress – You can purchase a loft bed in pretty much any size, with Twin, Full, and Queen being most common. Do you already have a mattress? Do you want to continue to use it, or are you open to another size?
Elements –  What do you want the loft bed to contain? Do you need living room furniture or bedroom furniture?
So, with that said, let's take a look at some cons of a loft bed:
Loft mattress cons
A loft mattress isn't just a piece of furniture. It's also a commitment to a certain lifestyle.
Height – Depending on the type, the bed portion will usually elevate around 5 to 6 feet off of the ground. People who suffer from a fear of heights might be uncomfortable at that elevation.
Sex life – If you live with a partner, or enjoy an active sex life, a loft bed, because of its height and railings may offer some unintended consequences. You can still have sex in a loft bed, but there may be some complications in terms.
Railing – Loft beds have rails that run along the sides and edges to prevent you from falling over. If you need open space around your mattress, these rails can be frustrating.
Cramped feeling underneath – If your loft bed contains some sort of seating arrangement underneath the bed, it can feel cramped at times. Watching TV on the sofa can feel like watching TV inside of your car. This won't bother everyone – but it will be uncomfortable for some people.
Installation – Loft beds don't fit through the average doorway. This means that either you'll have to install it yourself, or pay someone else to do it for you. One is a hassle, the other is an added expense.
Commitment – With a loft bed, you're committing to a certain layout for your furniture. Will you be able to commit to that layout for the foreseeable future?
Loft bed combinations
Let's take a look at some of the possible loft bed configurations so you can get a better idea of what is available, and if one is suitable for you:
The living room loft bed
This configuration basically contains an entire living room under the bed:
With this setup, you'll have a TV stand facing a sofa or couch. Some might integrate a coffee table as well. Others, like the one in the image above, integrate more shelving into the backside of the sofa.
The bedroom loft bed
If you already have a living room set, but want to consolidate your bedroom furniture, this style of loft bed might be a good option: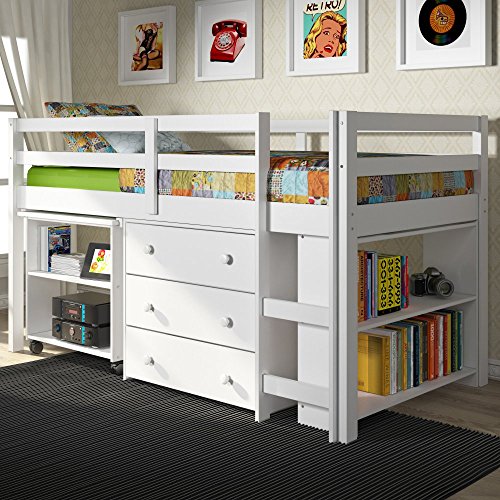 This style of loft bed will include the bedroom essentials, like a dresser, multiple shelves, etc.
The desk loft bed
This style is usually preferred by students. It might contain a few shelves, or cabinets, but the focus is on a desk with a large surface area.
Storage isn't the emphasis with this type; the focus is completely on the desk, and how everything else complements it.
The office loft bed
A loft bed for a home office incorporates a full cubicle office underneath the bed.
Whereas the desk loft bed maximized the desk and minimized everything else, an office loft bed provides everything in proportion.
The desk is usually turned into more of a countertop to fit a computer or laptop. Shelving and cabinets are also in ample supply.
The futon loft bed
This style is similar to the living room loft bed, but replaces a dedicated sofa with a futon, which is capable of being opened up to provide a second bed.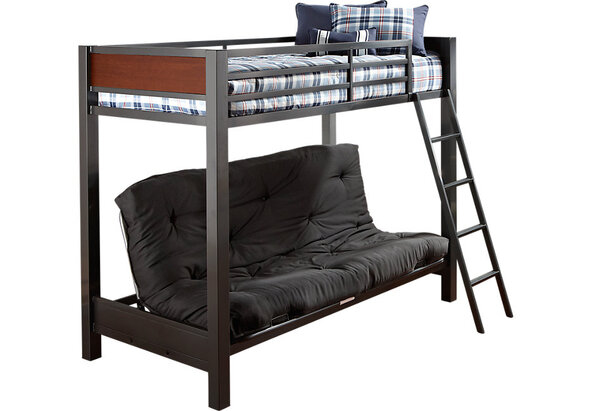 The obvious benefit here is that you have a seating arrangement, but a secondary mattress as well. 
If you're worried about how a loft bed might complicate your sex life – the futon loft bed is the way to go! Futons are the most comfortable surface in the world, but they do get the job done.
The minimalist loft bed
If you already have furniture that you'd like to carry over, then perhaps a minimalist loft bed is best.
With this style, you have your elevated bed portion, and the loft bed frame, and nothing else. It provides you the structure, and you fill in the rest with whatever you see fit.
The benefit of this type of loft bed is that they are less expensive – and you get to enjoy the furniture that you already have.
Have you ever used a loft bed? Can you please leave a comment below and share your experience?