Last Updated on March 31, 2023
Who doesn't like to sit in a warm bath at the end of a long day?
The hot water just drains away all of the stress and tension that develops in your body throughout the day.
The internet is full of information about the therapeutic benefits of hot water and steam. But what often gets neglected is how to be comfortable when you're actually sitting inside the bathtub.
Think about it. You're there to unwind and relax, but a bathtub isn't actually designed with relaxation as the first priority. A bathtub, like most other parts of your home, is built to last. Durability is the first priority.
Unfortunately, durability and comfort often have a conflict of interests.
Comfort requires softer materials and ergonomic surfaces. Durability requires harder materials, and more even surfaces for easier cleaning.
Ideally, a bathtub would be more like a pool, where you can comfortably float. Since that isn't a realistic idea for a tub indoors, a softer surface – like a bed – would be the next best thing right?
Maybe something like this?
The ComfySure Full Body Bath Mattress and Pillow is the perfect addition to turn an ordinary bathtub, into a comfortable, relaxing spa.
So while you can't really float in your bathtub, this is the next best thing.
And like a pool float, these mattresses are light, easy to clean, and easy to store! You just drop it in, and then remove it when you're done.
If you love taking baths, but you don't love laying in a bathtub – this is your solution!
How to Use It
This part couldn't be simpler.
Step 1: Place the mat in your bathtub. Position it so that the headrest is approximately where you'd like your head to be.
Step 2: Press down to lock the suction cups in place.
And that's pretty much it. Add water, and whatever else you like to add to the water (soap, oils, etc.), and you're ready to relax!
If you're into oils, soaps, or other products – don't worry, these mattresses are made of a stain-free material, and wash very well.
A quick note about removing the mattress when you're done:
The suction cups do their job very well – and adhere very tightly to your tub floor. With that in mind, don't pull on the mattress set the cups free. Pull the cups directly to avoid damaging the mattress itself.
How to Clean It
Cleaning once you're done relaxing is the last thing you want to think about right? It's just procrastination waiting to happen.
That said, we should still talk about how to maintain this mattress, and keep it looking fresh and clean. You don't want a moldy mess waiting for you the next time you want to relax, so this isn't a step to skip.
How do you clean this mattress? Well…you don't.
The 3-D woven mesh technology allows for it to air dry fairly quickly. The added anti-mildew coating means you can store it away without having to worry about mold or mildew.
And if you're OCD about things being absolutely spotless, you can just throw it into the washing machine – they are machine safe.
So you don't really need to procrastinate after all.
How to Store It
After you put in all of that "hard work" to clean it, you'll need to figure out where to put this tub mattress.
You've got some options here:
1.) Roll it up, and tuck it inside a cabinet or closet. They're actually quite flexible, and at a touch under 2 pounds, they are easy to handle.
2.) Hang it.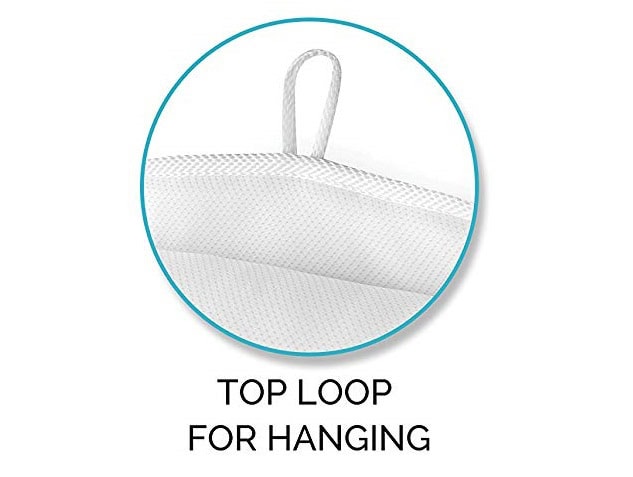 The handy loop allows you to hang it from hooks behind a door, in the garage, or, well, anywhere.
That pretty much takes care of maintenance and storage. Let's take a look at some of the details and features of this mattress…
The Measurements
This mattress measures 48″ x 15″ – which means it's long enough and wide enough to accommodate children, adults (and most bathtubs).
The parts of your body that need support – like your head, neck, back, and trunk – will be very well accommodated.
The Headrest
If you have a mattress, then naturally you need a pillow to go along with it right?
The ComfySure bath mattress has a built-in pillow to make sure that you're comfortable from head to toe.
It resembles a contour memory foam pillow – just a somewhat thinner version. So your head gets a plush and comfortable cushion, while your neck gets the proper support.
The Material
This mattress is made of several quilted layers and is 100% polyester. This gives it a luxurious softness, while also making the material very durable.
All of the quilted layers are water permeable, which means that once you take the mattress out of the tub, water drains through it very efficiently. The mesh woven surface adds another level of breathability – providing for a quick dry time.
How to Take it One Step Further
If you're a fan of taking baths, but your bathtub doesn't work perfectly, then you're probably familiar with the slow, and steady drain of water.
You fill the bathtub full of water, and it slowly drains away. A few minutes later, you have to stop relaxing and get up to turn the water back on. And then again….and then again!
Nothing ruins a good bath like maintenance.
If this reminds you of you and your bathtub, save yourself the hassle and get a drain stopper.
A silicone drain stopper, like this one from OXO, ensures that the water stays in place, for as long as you want it to. This means your relaxation does not have to take a break every few minutes to turn the water back on.
A good drain stopper is a small expense that goes a long way.
Final Thoughts
If you love to relax in a warm tub but need something a little more comfortable, a tub mattress might just be what you're looking for.
They're a breeze to use, clean, and store – not to mention quite affordable too!
We put a lot of thought into what goes into a bathtub – the fixtures, the size, the shape, etc. We also think about what to use with our bath – like soap, oils, bath toys, etc.
Why not go a step further and just make the damn thing more comfortable? After all, a hot bath is meant to soothe, and relax – so being comfortable should be one of the main priorities!
Don't blame us if you start taking baths more often. Now if only you had a hot tub…