Last Updated on March 30, 2023
You went to Las Vegas with the hopes of coming back home with some extra cash in your pocket.
And hopefully, you did.
But if you stayed at the Mandalay Bay Resort and Casino, you might have come home with something else – a new favorite pillow!
The down alternative pillows that they use at Mandalay Bay are a customer favorite. These aren't sold in retail stores, so it's safe to say that you've never bought a pillow like it.
If you want the pillow from Mandalay Bay, then what you need is the Enviroloft Down Alternative Pillow from Downlite.
If you checked the tag of the pillow in your hotel bedroom, the model number was likely one of the following: HOS100PI0050, HOS100PI0051, or HOS100PI0320.
Both versions are pretty much identical. The model numbers ending in 50 and 51 are the "Certified by the Asthma and Allergy Foundation of America" version.
These are rated as medium density – a great option for back and side sleepers. We have the Enviroloft pillow available in our store as well.
What makes Enviroloft pillows so great?
Enviroloft pillows aren't the down alternative pillow that you're used to using at home. With their superior fill and versatile function, many hotels use them as the main pillow – even for luxury suites!
This is the case at Mandalay Bay.
Why? Let's talk about it…
The silkiness of the silicone fill
Regular down alternative pillows, for example, are usually polyester.
These Enviroloft pillows from the Mandalay Bay in Vegas feature 6-denier silicon fiber. This is what makes these the best-selling hospitality grade pillow across the country.
But what does 6-denier mean exactly?
Denier is a unit of measurement used to measure the thickness of a strand of fiber. For example, the thickness of an average human hair is 20-denier.
So, the fibers used in this pillow are about 1/3 the thickness of your hair. Silicon fibers are also thinner than polyester fiberfill – which usually comes in around 15-denier.
The silicone fill is what provides that smooth and silky soft texture. Generally speaking, the thinner the strands, the silkier they will fill.
The thin nature of these silicone fibers creates an even texture, that allows your pillow to cradle your head. You don't have uneven lumps.
No high or low spots, for example, to create dimples in the pillow.
Poor insulation (Which is good)
Silicone fill is not a good insulator. It doesn't hold on to heat, for instance, like polyester tends to.
For comforters, this might be a negative, but not for pillows! You want your pillow to stay cool and comfortable.
The hotter a pillow gets, the more uncomfortable it becomes. 
The slippery texture of the silicone
Silicone has a very slippery texture. The material has an inherent lack of texture – which creates very little friction.
This is why Enviroloft pillows feel so silky.
But it also lends itself to another benefit. The lack of friction prevents another common problem with down alternative pillows – clumping!
In other words, your pillow has a consistent shape and feel night after night. It won't get tight, or lumpy after a couple of months of use – or after a few washes.
Quality Downlite construction
Hospitality-grade pillows are, in fact, durable.
Hotels are a business after all, and the bedding does get expensive when it needs constant replacement. So it's important for them to use quality-made pillows.
Downlite is an American company, known for manufacturing quality products.  How can you tell that these pillows are well made? Look for a few tell-tale signs.
No smoke and mirrors
Pillows made for retail sale are usually not built as sturdily. They are usually manufactured cheaply and cut a few corners along the way.
This is why you'll usually notice the pillow's description will brag about the thread count of the cover – which is really useless since you'll be covering the pillow with a pillowcase.
Enviroloft pillows feature a 230 thread count, Cambric cotton cover. This type of cover features a tightly woven weave, to ensure that the fill stays inside, and never leaks.
The edge
With cheaply made pillows you'll notice that the two sides of the pillow meet at a simply sewn seam. In other words, you won't see a true edge.
Enviroloft pillows, on the other hand, feature a double-needle sewn knife edge.
This method of pillow-stitching provides durability that withstands frequent washing – like at hotels, where pillows are washed often (and abused).
You can wash a quality-made pillow every time you do your laundry – the seems won't come apart. This is why the Enviroloft is the most popular pillow among American hotels.
They last forever!
Sizes and specifications
Enviroloft pillows are available in the following sizes and fill amounts:
Standard – 20″ x 26″ – 20 oz

Jumbo -20″ x 28″ – 22 oz

Queen – 20″ x 30″ – 24 oz

King – 20″ x 36″ – 30 oz
They feature a 230 thread count, 100% cambric cotton cover, and are machine washable and dryable.
Mandalay Bay accommodations
The Mandalay Bay in Las Vegas is a luxury resort. Even in Las Vegas where everything is exaggerated, Mandalay Bay stands out.
When you stay at Mandalay Bay, you can count on world-class amenities, which include a luxurious bedroom, with a heavenly bed.
And the Enviroloft pillow from Downlite is a good example of that. If you're here, reading this article, we can probably assume that you slept like a baby right?
Let's sum it up
You'll love this pillow if…
If you love soft and supportive pillows
The silicone fill in the Enviroloft pillow provides a soft, yet supportive feel – which is rarely found in one pillow.
Pillows can be soft, or they can be supportive, but usually not both.
If you appreciate a well-made pillow
We went into detail about the knife's edge seam found around the borders. But we didn't give enough credit to the lack of clumping.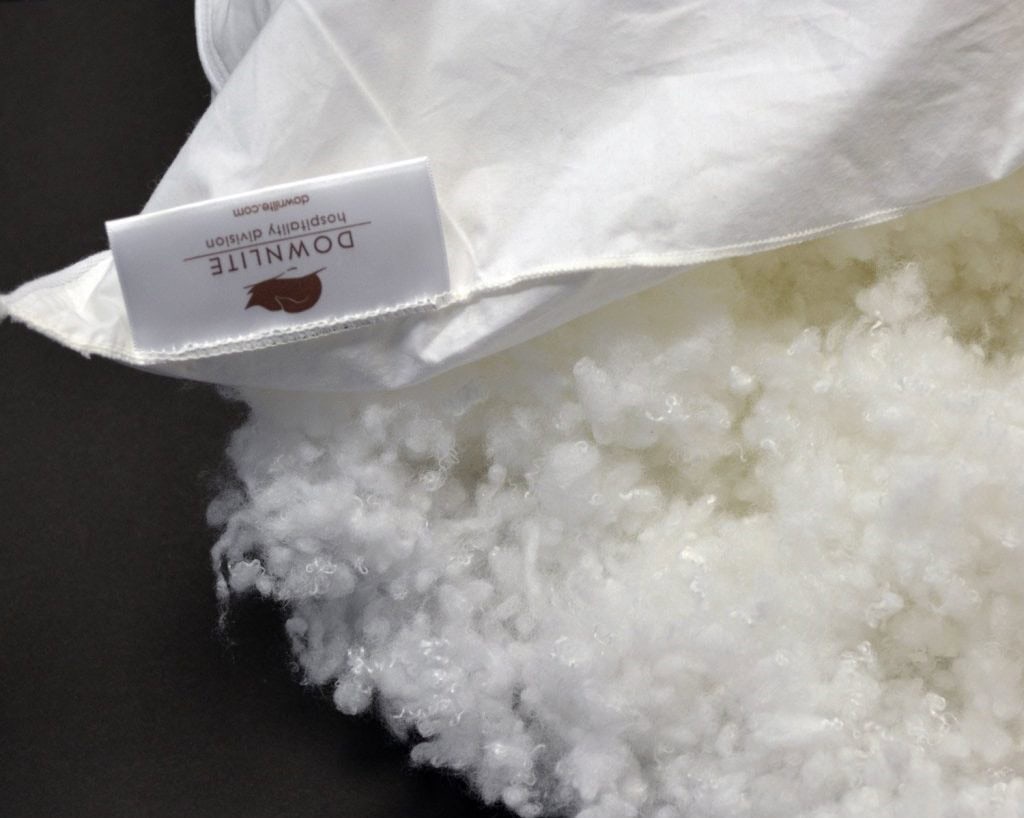 Having to fluff up a pillow on a nightly basis gets annoying. The slippery nature of silicone prevents lumps and clumps – which means you won't have to fluff your pillow as often.
If you need a pillow that stays cool

It's a scientific fact. When your head feels hot, your entire body feels hot. And nothing is more uncomfortable than a warm bed.
The Enviroloft pillow's silicone fill does not hold on to heat and stays cool throughout the night.
Final thoughts
These pillows from Downlite are in fact, remarkably affordable.
You would think that a pillow being used at a 5-star location like the Mandalay Bay would cost a lot more! We were pleasantly surprised to find out how inexpensive they are.
For the price of a goose down pillow, you can buy 2 or even 3 of these Enviroloft pillows, and sleep just as well.