Last Updated on April 27, 2023
If you've vacationed at popular hotels like Sheraton, Courtyard, Marriott, etc., you've probably slept on Chamberfirm pillows made by Standard Textile.
These pillows are usually found in the second row of pillows on the bed – or inside the linen closet (depending on the location).
If you're reading this, chances are you're trying to find out where you can buy one – or a pair. (You're in luck, I do have two locations for you).
Chamberfirm pillows used to be sold on sites like Amazon and eBay. In 2017, Standard Textile stopped selling to Amazon/eBay sellers, as well as any websites selling their products in a retail fashion.
Since their products aren't labeled for resale, they have also asked 3rd party bedding websites to stop selling their products in single quantities. Simply put – you can only purchase Standard Textile products if you own some type of hospitality property (hotels, motels, rentals, hospices, etc.)
If you're able to find Standard Textile products for sale on any website, you'll have to buy them in bulk quantities. For pillows, that means buying 10 of them at a time. Which can be quite expensive – not to mention you'll have to find a way to store ten pillows.  
Since Standard Textile doesn't allow retail sales anymore, the website in question might not even sell to you unless you have a business license.
With that said, here are two places to check if you'd like to buy Chamberfirm pillows:
1.) Standard Textile's store on Amazon
Chamberfirm pillows aren't offered in their store year-round, but from time to time, you might get lucky and find a set. You might find a pair this month, but not again for the next 5 months – and maybe not ever again. Click on the blue link to find out what they currently have in stock.
It's worth checking because you just might get lucky. You never know what's available on any given day. If they're not available, consider a similar alternative…
2.) Double Comfort Pillow
The Double Comfort Pillow from Spring Air is very similar to the Chamberfirm pillow. 
Let's take a look at the two and see how they compare. In terms of materials, composition, and structure, these two are very similar. 
Comparison
What makes the Chamberfirm pillow firm, yet so comfortable is its dual-chamber design. It's basically two pillows in one – one provides softness, the other maintains the overall lofty structure.
Traditional pillows can provide either feature, but not both.
If a pillow is soft on the outside, it will generally compress and provide little support. If it is double stuffed to ensure that it maintains a certain amount of loft, it can feel like sleeping on a rock. Both are terrible options.
Construction
Chamberfirm pillows have an inner chamber filled with garnetted polyester to provide structure. This kind of fiberfill is hollow and provides a certain resiliency to the material.
The outer layers on each side are filled with squishy polyester gel fiber to provide soft comfort. This basically creates a 3-layer pillow:
The Double Comfort Pillows from Spring Air also use a 3 layer design. They feature an inner core filled with Ultima fiberfill to provide that springy high loft effect, and durability. They feature an outer core filled with Illuna down alternative fiberfill for that silk down like softness and comfort.
Quality that's second to none
Standard Textile provides hospitality bedding to hotel and motel chains all across the country. They are known for manufacturing comfortable, yet durable bedding products. Their sheets and pillows are made to withstand the daily use and abuse that comes with the constant washing they undergo.
Spring Air pillows are made by Pacific Coast and Feather. If you've ever used a PCF pillow or down comforter then you know their reputation for quality-made pillows and comforters. 
Pacific Coast and Feather has been around since 1884 and has been a part of the Hollander Sleep Products company since 2017.
---
The features of a polyester 3-chamber pillow
3 chambered pillows, like the Chamberfirm, or the alternative from Spring Air offer a superior pillow by combining an inner and outer core, to make a hybrid pillow.
This hybrid style of pillow solves a few problems that normal pillows suffer from:
Loft and soft
As mentioned earlier, chamber pillows offer a combination of both superior loft and a squishy softness that other types of pillows just can't match.
Soft and medium density polyester pillows are filled with polyester gel fiber. This kind of fill material is silky soft and is the closest thing to natural down.
The downside of this kind of polyester fill is that it tends to compress far more than any other material. Even a firm gel fiber pillow will compress significantly. What they offer in silky softness, is negated by how far your head sinks into the pillow. 
On the other hand, down alternative pillows that offer a decent loft are filled with hollow-core polyester fill that is spring, and durable. The hollow core allows this type of fill material to hold its shape – even with your head on it.
What this type of material offers in structure is negated by the lack of comfort.
By combining the two, we get the soft and silky feel on the outside, supported by the loft of the inner chamber. Back and side sleepers, particularly those who sleep on a firm mattress, experience fewer aches and pains after sleeping on a 3-chamber pillow.

Cons of feather and down
Traditional chamber design pillows feature a feather inner layer and a down outer layer. These two components make for a great pillow, but offer four main drawbacks as well:
Allergies – Many people suffer from allergies caused by down or feathers.
Odor – Feathers often emit a barnyard type of odor that can take getting used to.
Leaks – Down and feather both tend to leak out of a pillow. Feather quills are quite sharp, and can easily poke through.
Cost – A down and feather chamber pillow will usually cost 2-3 times as much as the polyester version.
The Chamberfirm pillow, with its dual polyester chamber construction, avoids all 4 of these problem areas.
Final thoughts
If you're in the market for a Chamberfirm pillow, hopefully, we addressed the issue above. 
Whether the Standard Textile store had them in stock, or if you opted for the Spring Air alternative, either way, you're getting an excellent pillow – at a great price!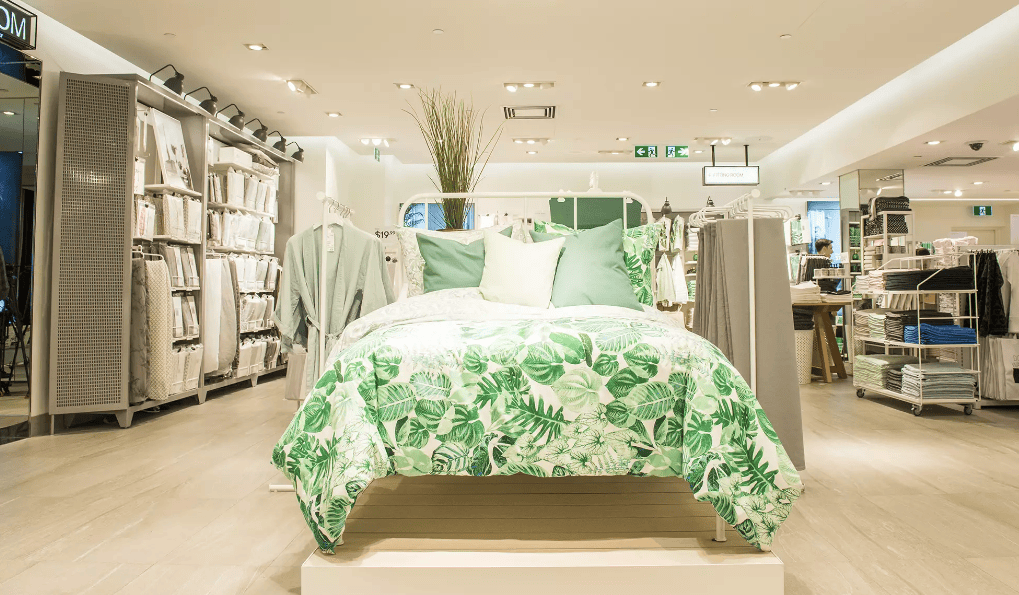 Chamberfirm pillows are not found in retail stores. And you'll probably struggle to find polyester chamber pillows like the one from Spring Air at your local department store.
And yet Chamberfirm pillows were our top-selling pillow when we were allowed to sell them in our eBay store. The Double Comfort pillows from Spring Air continue to be one of our top sellers.
I think that's a testament to the pillow itself, but also the design.
Have you tried the Chamberfirm pillows from Standard Textile? If you have, would you please leave a comment below and tell us where you bought yours?