Last Updated on March 30, 2023
Off-price retail stores can truly be a lot of fun.
What might cost $200-300 at a department store like Macy's or Bloomingdale's may be priced at $49.99 – and sometimes even less – at off-price retailers like Marshall's, T.J. Maxx, Ross, HomeGoods, Burlington, etc.
You'll often walk into an off-price store looking to buy one particular item, and walk out with two shopping bags full of steals and deals.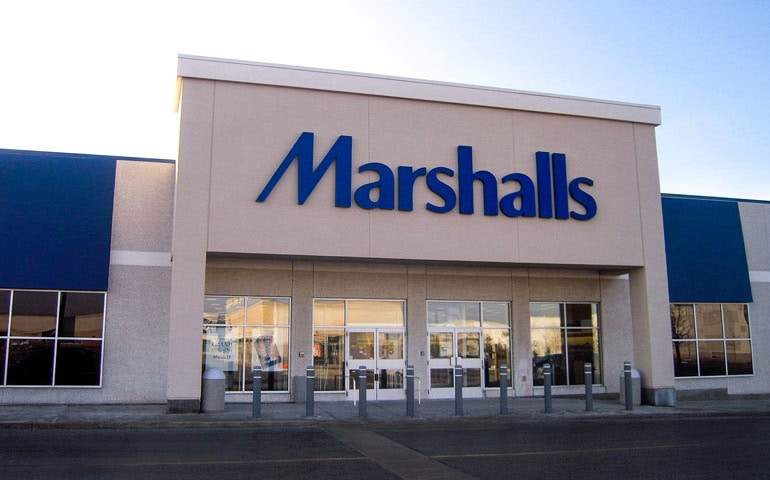 The home goods sections in these types of stores are usually full of amazing bargains on sheet sets, comforters, pillows, etc. And they're commonly name-brand products too, not just generic.
But are some deals too good to be true? Kind of.
There are certainly a few items that are "must buy", and a few that you should avoid. What are they?
Let's discuss…
Five items to buy at an off-price store
1.) Goose down pillows
White goose down pillows are usually very expensive at department stores.
They're priced reasonably on Amazon, but if you're the type of pillow shopper who likes to touch before you buy, an off-price store should be the first place to shop.
Here's an example of the "pillow shelf" at a Burlington store:

As you can see, there are more than just a handful of options to choose from.
While you'll most likely find down alternative pillows at off-price stores, they do sell the goose-down versions as well.
The actual "good stuff", of course, sells fast.
If you don't find what you're looking for, ask the employees about which day(s) of the week their new inventory comes in. Then visit the store the next time they re-stock.
Most stores re-stock on Mondays, but your local store may differ.
2.) Mattress toppers
Mattress toppers are usually available for a massive discount at off-price stores. A topper which might cost you $300 or more at a department store, might only cost $40 at an off-price store.
Even online shops can't compete with off-price stores when it comes to mattress toppers.
Why?
Mattress toppers are expensive, to begin with. Even if you can sell it near the wholesale price, you'll still need to ship it out too.
And a big and bulky item like a mattress topper costs a lot of money to ship. In other words, if you want a mattress topper, and you only want to spend $50 or less, check your local off-price store.
3.) Designer brands
Designer brands are always available for a huge discount at off-price retailers.
The inflated price tag that you'll pay at a store like Macy's or Bloomingdale's makes designer brands hugely overrated.
For instance, a Nanette Lepore comforter set for $300? No, thank you.
The same set at Burlington for $54.99? Sure, I'll take that!
If you like designer bedding – brands like Calvin Klein, Tommy Hilfiger, Kate Spade, Ralph Lauren, Nanette Lepore, etc. – a store like Marshall's or HomeGoods is the perfect place to do your shopping.
Just make sure to avoid the items that we'll talk about in the "don't buy" list.
4.) Children's bedding
Children outgrow (and wear out) their bedding as fast as they do with their clothing. Why pay full price for a bed set that you might have to replace in a year?
Children's bed sets are a great bargain at off-price stores, and you'll save on the pricey shipping too.
5.) Towels
Towels – particularly name brand towels have gone up in price over the past 10-15 years. A nice set of quality towels for the entire family, for example, can easily approach $100 at your local department store.
Yes, you can also find affordably priced "budget" towels at Macy's or Bloomingdale's, but we said "quality towels".
Quality towels, for example, are made of long-staple cotton, are super absorbent, and are very durable. Those aren't qualities that you'll usually find in the budget towels – that are thin, and feel dry in your hands.
These same exceptional towels can be found at Marshall's and HomeGoods for about the same price as what you'll pay for the budget towels at Macy's.
Five items to avoid at an off-price store
1.) Designer brand Twin pillow packs
You've probably seen them before – and maybe purchased them in the past. They are usually piled up in a large container, two pillows to a package, and often sell for around $15-20.
And they're usually from name brands like Calvin Klein, Ralph Lauren, or Serta.
For two pillows, that sounds like a steal!
Except they're not. These super cheap twin pillow packs are both cheap in price and quality. You get what you pay for here.
These pillows will usually start to deform and get lumpy after just a few washes. Avoid these sets, and spend a few dollars more for a quality pillow.
2.) Decorative pillows
Decorative pillows and anything else that is difficult to wash and doesn't come in a sealed package.
Throw pillows are usually marked as "spot clean", and often can't be machine washed and dried. And you really don't know how long that pillow has been sitting there on the shelf, and how many people have touched it.
Unless you really love the decorative pillow, it's probably better to avoid buying it.
3.) 1000 thread count sheet sets
These are without a doubt, the worst offenders on this list.
There is no such thing as a "true" 1000 thread count sheet set. To achieve thread counts past 300, thinner strands of thread are spun together to end up with artificially inflated thread counts.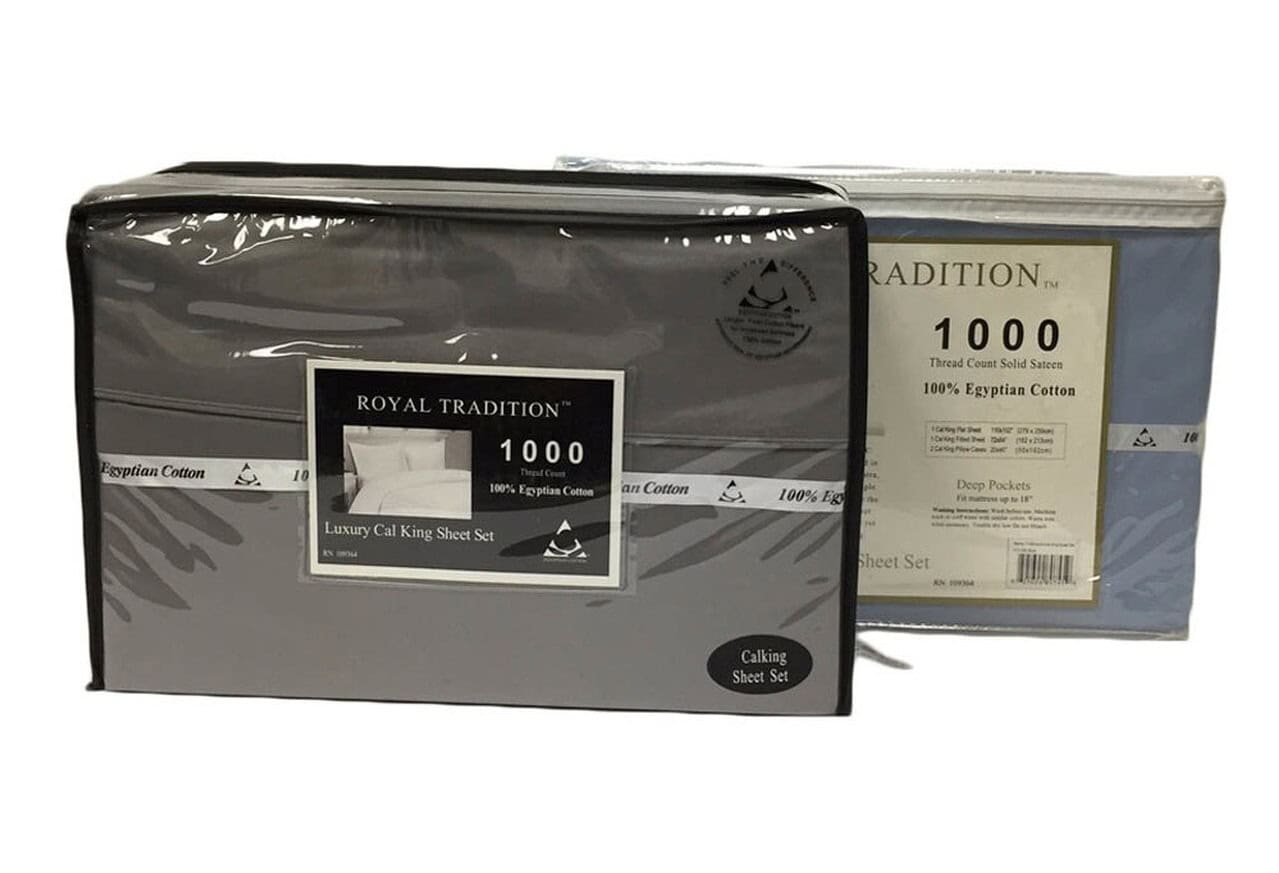 The higher the thread count is, for example, the thinner the strands used.
1000 thread count fabrics are usually very thin, for example, and weak. They're no softer than any other sheet set, and usually don't last for more than about 20-25 washes – or about 1 year.
4.) Gimmicky products
The items you see at off-price stores usually end up there for one of a few reasons:
The products are out of season

They are overstock from another retailer

They are unsold stock from a manufacturer
If you shop at stores like Marshall's, HomeGoods, etc., you'll tend to find products that appear or claim to be high tech, innovative, etc. – like "performance sheets", or products that contain "space-age materials" for example.
More often than not, these are just gimmicks. Failed gimmicks that couldn't sell, and consequently, are now sitting on the off-price shelf, waiting for you.
5.) Microfiber
Microfiber sheets, duvets, and comforter sets are commonly found at off-price stores. And they're usually priced very low.
Low enough to get your attention. But stay away. Avoid the temptation! Microfiber sounds scientific, and high-tech – but it just means thin polyester.
That's it.
Microfiber is of low quality, specifically, and not durable at all.
And because of its composition, it might feel soft in the package – but it will warp and feel not as soft within just a few washes. And It will tear and shred a few more washes after that.
If you appreciate sheets that get softer the more you wash them – and that last for a while – avoid microfiber!