Last Updated on March 30, 2023
Do you really "need" a Summer comforter? No.
Are they convenient, and do they make sleeping during the warmer months a much more pleasant experience? Absolutely!
Will they save you money on your electric bill and pay for themselves down the road if you don't use your air conditioning as much? Yes, most likely.
Also known as lightweight comforters, Summer comforters are identical to your year-round comforter, with one basic difference – they are filled with less filling. That's it, that's the only difference.
At the 600 fill power level, a regular (goose down) comforter usually contains around 39 oz. of fill. A lightweight comforter of the same size will usually contain about 24 oz. of fill, which brings us to a difference of about 15 oz.
Does 15 oz. of less fill make a difference?
A noticeable difference? Yes, it definitely does – 15 oz. is almost half of the fill weight.
A lightweight comforter feels like a fluffy blanket – the type of blanket that would be a bit too thin during the colder months but is perfect when you're snuggled up on the couch.
If your year-round comforter makes you too hot during the summer, but you still want some sort of cover, a lightweight comforter is perfect. Particularly if you like to sleep with the air conditioning turned on.
Think of it as wearing a long-sleeved shirt when the weather is a bit too cold for a t-shirt, but not cold enough to warrant a sweater or a jacket.
And if you're low on closet space – and who isn't – lightweight down comforters are pretty even and flat. When folded, they don't take up too much space.
What are my options?
At this point, you might be asking which Summer comforter to buy? If so, the answer depends on your climate. Here are our two suggestions, with respect to variations in climate:
1.) Do your Summer months cool off at night?
If they're usually 70 degrees or less, a lightweight comforter like this one from Downlite will be just right.
2.) Do your Summer nights stay warm?
If they're 70 degrees or higher, a down blanket like this one from Downlite is the better option.
Why a down blanket?
At the warmer temperatures, you don't really need anything to keep you warm. The warm temperature already does that. You mainly just need a comfortable barrier from the cool AC.
If you stay at a warmer climate hotel during the Summer months, somewhere like Palm Springs, Pheonix, etc., you'll actually find a down blanket, not a comforter.
Even a lightweight comforter can be too heavy during a hot night.
With those two options spelled out, let's take a look at both items, and figure out which one better suits you.
A lightweight comforter
Ideal for
A lightweight comforter is ideal for a cool summer night.
What does cool mean? Somewhere between 60-72 degrees (for the average person).
If you feel the need to burrow down under a flat sheet, yet sweat under a regular comforter, then a lightweight comforter is for you.
They provide just enough warmth and are light to the touch – the heft of a regular comforter during the summer can feel suffocating.
A lightweight comforter is also ideal for warm nights if you anticipate the air conditioning being on all night long.
Not ideal for
If your Summer nights fall below 60 degrees, you're probably better off with your year-round comforter.
A lightweight comforter will do the job in the 50-60 degree range, but why spend the extra money, unless your year-round comforter is a heavyweight version?
Consequently, if your Summer nights tend to stay 72 degrees or warmer, a lightweight comforter might get too warm, particularly if you're a hot sleeper.
If you tend to sweat a lot at night, the down blanket is probably a better bet for you.
Specs
This lightweight model from Downlite is made in the following sizes and weights:
Queen – 90″ x 90″ – 24 oz. of fill

King – 104″ x 90″ –  29 oz. of fill
Either option will have a 100% cambric cotton outer shell, which does have a sewn-thru box construction. It has duvet loops, which will secure it to any duvet cover, and is machine washable and dryable.
The Downlite Satin Trim down blanket
This is actually the retail version of the same blanket found in warmer climate hotels – Downlite has a huge presence in the hospitality bedding industry. The hotel version doesn't have the satin trim.
Ideal for
A down blanket such as this is ideal for any warm climate where the nighttime temperatures stay at or above 72 degrees. It's also ideal if you're a hot sleeper overall.
The added benefit to a light blanket such as this is the versatility that it can provide. It can be thrown on top of your regular comforter to add a bit of warmth during the winter months, or used as a couch blanket.
Not ideal for
A down blanket can work for temperatures below 72 degrees, but unless you're a hot sleeper, you might find it to be a bit too light.
Also, if your night time temps stay at or above 85 degrees, and you don't like to sleep with the AC on, even a light blanket such as this might be a bit too heavy. 
In which case we'd recommend just a flat sheet or a thin blanket.
If you strongly prefer a fluffy comforter, you may want to opt for a lightweight comforter like the one above. Down blankets while soft, are not as fluffy as a comforter.
There just isn't enough fill to create that sort of texture.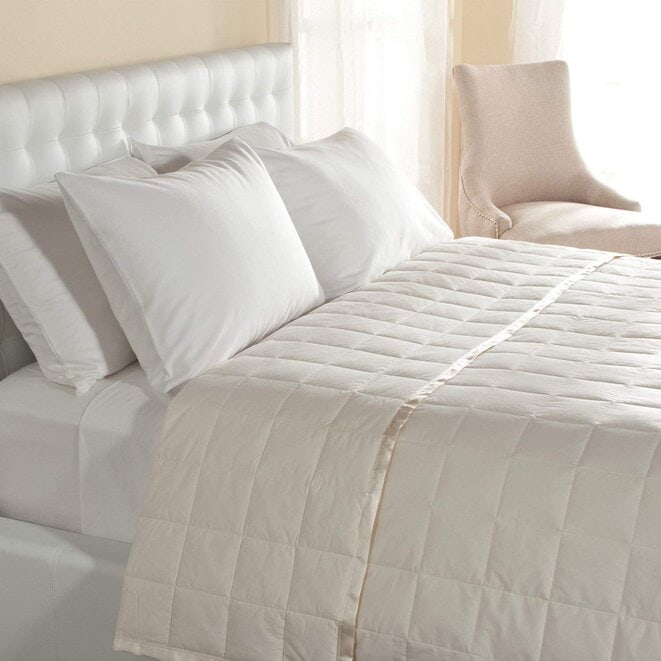 Specs
These lightweight down blankets are available in white and ivory, and are sold in the following configurations:
Oversized Queen – 94″ x 104″ – 16 oz. fill weight

Oversized King – 113″ x 104″ – 20 oz. fill weight
These blankets feature a 230 thread count and a 100% cambric cotton outer shell.
They are filled with 550 pf white duck down, and have a sewn-thru box construction, with a 1″ satin trim. They are machine washable and dryable.
These blankets don't have duvet loops, so you'll either have to use them as-is or use duvet clips.
Duvet grips are very easy to install.
Place them around all four corners or a duvet cover, and they'll hold your insert in place!
Final thoughts
Since a Summer comforter will only be used a few months out of the year, you can get a lot of mileage out of one.
A comforter should generally last between 5-10 years with regular use. Since you'll only be using your Summer comforter for roughly 3-4 months per year, it should last at least 10-15 years.
Given that length of time, the "cost per year" is relatively low. If you end up using your air conditioning less often, they practically pay for themselves.
Also, while we mainly referenced down comforters and blankets above, both varieties can be found in a down alternative version as well.