Last Updated on March 30, 2023
When you plan a trip to Las Vegas, the bed in your hotel room is usually the last thing on your mind. A popular "myth" about Vegas is that you don't actually spend any time in your room – which isn't true.
A funny thing happens once you actually arrive in Las Vegas and check into your lovely hotel room.
You find out that the bed in your room is simply amazing! During your recent Vegas visit, did you lay down on the bed the moment you entered your room?
If so, didn't that bed make you want to sleep your entire stay?
That's no accident – it's entirely by design! Hotels want your visit to be memorable.
They want your experience to stick with you long after you leave. Even if you don't get lucky at the slot machines, hotels like The Venetian want to leave you yearning for a repeat visit.
A significant part of that is getting your bed just right.
Chances are that your Venetian hotel bed felt super cozy and inviting. Even with the Las Vegas heat, the comforter kept you warm, but not hot right? It was light, yet fluffy.
If you're here now, and you'd like to know which comforter you should be buying, what you're looking for is the 550 Fill Power Lightweight Down Comforter from Downlite.
The same comforter found in The Venetian hotel rooms is also available for sale from Downlite's store on Amazon – yes, the exact same comforter.
It's usually available year-round, and available in Queen and King sizes.
If by chance you happened to look at the tag, it probably had the following model number – DOW777CO0150 (followed by size and color indicators).
Ideal for
A lightweight down comforter like this one is ideal for warm climate areas – regions where your nighttime temperatures are usually above 50 degrees or so.
If you generally don't need multiple layers of clothing to sleep comfortably, a lightweight comforter will work perfectly.
If you like to sleep light, but prefer something with a bit of fluff, you'll find a lightweight comforter to feel just right. A lightweight comforter also works fabulously during the Summer, regardless of where you live.
On the other hand, If you live in a cold region – particularly if your nights fall under 30 degrees or so, or if you enjoy a heavy comforter, you might find this to be a bit too light.
Specs, sizes, and features
Size and fill information
Downlite's 550 FP lightweight comforter is available in the following sizes and fill amounts:
Queen – 90″ x 90″ –  31 oz. of fill

King – 104″ x 90″ – 35 oz. of fill
Specifications
The outer shell is made of a 230 thread count, 100% cambric cotton cover.
On a side note: Cambric cotton is a very crisp weave, which is designed to keep the down fill inside where it belongs. While it prevents the down from leaking out, cambric cotton does tend to be a bit noisy and "crinkly".
Washing before use with a good fabric softener definitely helps!
These comforters are machine washable, and dryable. They feature a sewn-thru 14″ box construction to keep the down evenly distributed, and double-needle sewn edges to keep the seems shut.
The filling is 550 FP white duck down. Duck down? Wait. Aren't down comforters always filled with goose down? No.
So then what's the difference? Duck down is usually grey in color, and goose down is usually white.
Inside the comforter, however, where you can't actually see what color the individual feathers are, there is no difference. Down is down, regardless of bird type.
All types of down, at the same fill power, behave identically.
There's no difference between goose down and duck down other than the fact that goose down has a better PR agent.
A little more information about Downlite
You might not have heard the Downlite brand name before, but you've slept on their products more than once, you just weren't aware of it.
If you've stayed at popular hotel chains across the country – chains like Marriott, Sheraton, etc. – you've used Downlite pillows, comforters, and maybe even their mattress pads.
But it doesn't stop there. If you've bought pillows or comforters from department stores like Macy's, Bloomingdale's, etc., yup, they were more than likely made by Downlite.
Downlite is actually the nation's largest down bedding manufacturer (they do also make down alternative bedding products).
Check the tags on your current pillows or comforters – the long white tag that sticks out. Some of them will probably say "Manufactured by Downlite".
Final thoughts
If you loved the comforter in your Venetian hotel room in Las Vegas, you'll love it at home too. Hotels use only the best components to craft a hotel bed like the Venetian one below- and they definitely know which components are best.
Hotels also know a thing or two about bedding maintenance. It's not enough to just buy the best; you also need to use it correctly.
A good down comforter should last about 8-10 years at least – if cared for properly. Follow these quick tips to get the most out of your new lightweight down comforter from Downlite.
Use a duvet cover
Down feathers are fragile. You can machine wash and dry a down comforter, but the cleaning process does age the down fill. Washing a comforter more than necessary will reduce its lifespan.
With that in mind, always use a duvet cover. A cover will keep your comforter clean, which means you won't have to wash it as often.
Wash correctly
When washed correctly, the cleaning process will have minimal effects on your comforter. Follow the manufacturer's instructions.
Also, wash the comforter by itself. Don't load other items into your washer.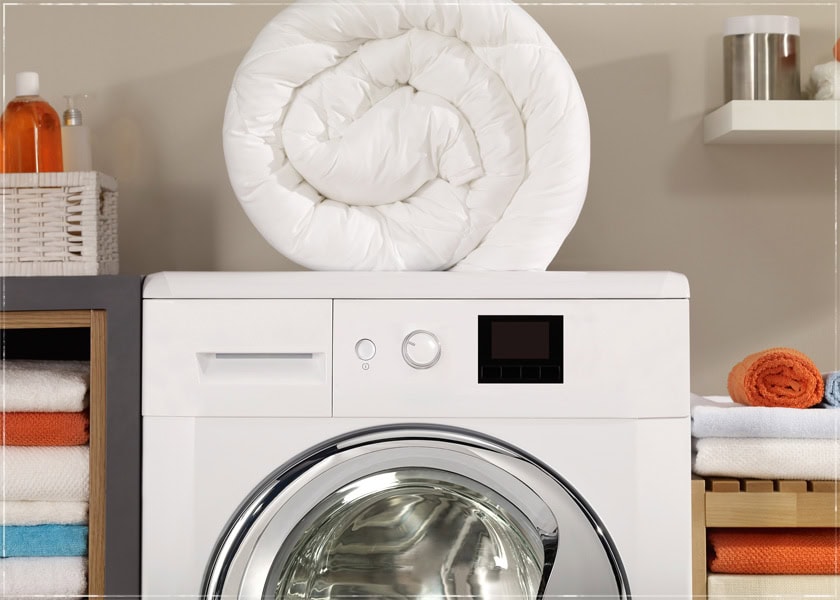 We mentioned this earlier, but it bears repeating in case you missed it. The outer cover of these comforters is made cambric cotton.
Cambric cotton has a tight, crisp weave. It's designed this way to ensure that the down fill remains inside. If you've ever had goose down or feathers leak from a comforter, you'll definitely appreciate it.
The downside to this is that it can be a bit noisy, particularly when new. This does go away with time, but the crispness can be reduced by using a good fabric softener.
When you're done washing it correctly, please don't forget to…
Dry correctly
Down and feathers, like other natural substances, have their own distinct odor.
This odor isn't very obvious when the down is dry, but it very noticeable when they are wet. You need to provide the comforter with an ample amount of time to dry properly.
It's very common for people to wash a comforter again due to the odor of the down (when still wet). A little moisture goes a long way with down – which your nose will immediately notice.
This repeated washing can be easily avoided by allowing the comforter to dry thoroughly.