Last Updated on March 30, 2023
There are issues with adjustable beds that you're not aware of until you own one. Finding a mattress pad for an adjustable bed, for example, is one of them.
When you shop for an adjustable bed, you think of the sleeping benefits and the comfort that it might provide. You don't visualize the challenges that will pop up.
Inevitably though, you'll place your skirted mattress pad on top, and watch it kink and unravel as you elevate the head of the bed.
The mattress pad will shift, and bunch up – creating an uncomfortable sleeping surface. A conventional skirted mattress pad, of course, wasn't invented with adjustable beds in mind!
The first instinct might be to cut reliefs in the middle of the skirt on both sides. Not only does that look sloppy, but it also diminishes whatever tension the skirt provides – essentially making it useless.
The Ideal Mattress Pad
The ideal mattress pad for an adjustable bed is a pad that doesn't have a skirt, but still has some mechanism to keep it snuggly attached to your mattress.
If you've ever looked under the sheets at a hotel, you've probably noticed that their mattress pads don't have a skirted portion either. If it will work at a hotel, it will also work for you!
So, what you need is a mattress pad with anchor bands.
How Anchor Bands Work
A mattress pad with anchor bands is very similar to a skirted pad – the padded top layers are identical.
They just differ in how they secure onto your mattress. A skirted pad has a skirt that goes around your mattress. A mattress pad with anchor bands has four bands – one for each corner. Each band loops around its respective corner of the mattress.
This allows the pad portion to bend with the contours of the mattress, and lay flush!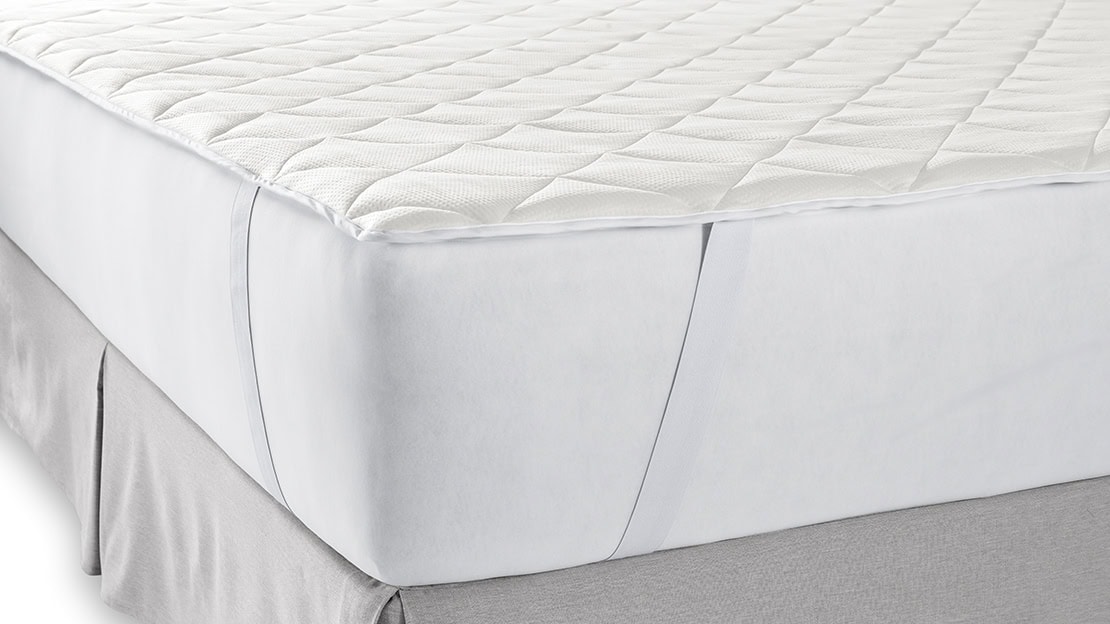 What Are My Choices?
Same as with a conventional mattress pad. In our opinion, there are two different types (for reasons which we'll get into):
Mattress pads

Mattress toppers
Let's take a look at both types and see which is a better fit for you.
Mattress Pads With Anchor Bands
If you've been using a regular skirted mattress pad, there isn't much to discover here. The padded portion is available in various thicknesses just like a skirted pad.
They are mostly available in white colors, and usually filled with polyester – much like a regular mattress pad.
If you'd like to add a light layer of comfort, a mattress pad is ideal. If you want to go a step further and protect your mattress…
Waterproof Mattress Pads With Anchor Bands
A waterproof mattress pad has a tight weave, which accordingly uses a special waterproof fabric. If you experience incontinence, this can be very useful.
The outer surface of the bottom side is usually TPU laminated, which provides a water-proof barrier.
This is important to note as the pad will absorb any liquids, instead of letting them pass through – so you'll have to wash it accordingly.
Mattress Toppers With Anchor Bands
If you're looking for a feather bed type of plushness, a mattress topper is an excellent alternative.
A topper has the same general thickness as a feather bed – only filled with alternative materials, like polyester, bamboo, etc. A topper with anchor bands fits over your mattress just as a pad would.
Our favorite is the Royal Bedding Plush Bamboo Filled Topper.
It has a thickness of 2″, filled with 70% bamboo and 30% polyester, and the straps will fit mattresses up to 18″ deep.
The Important Details
How do you know if a mattress pad is right for you? Read the description! Once you get past all of the fluff, here are the important features to note:
Depth
Most pads will fit most mattresses, but not all of them will fit the extra-deep variety. Check to make sure the bands will fit your specific mattress depth.
Washing Instructions
Some mattress pads indicate "dry clean only". While you don't have to wash a mattress pad every week, being able to machine wash is very convenient.
Quilting Size
If you look at a mattress pad, you'll notice that the outer cover is quilted or stitched into a bunch of different squares (or other shapes). This quilting helps to keep the filling evenly distributed.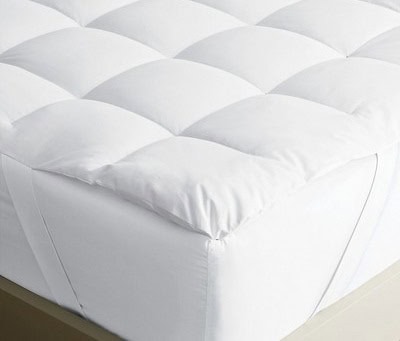 Think about how plush or fluffy you want your pad to be. Larger squares provide a plusher and fluffier surface. Smaller square result in a less plush surface, more more of a "springy" feel.
Which To Ignore
You'll find many "benefits and features", listed in the description when shopping for a mattress pad. While some of them are definitely key features to pay attention to, there are a few that you can ignore. These include:
Thread Count
Once the pad or topper is placed on your mattress, it then gets covered with your fitted sheet. Which means that you'll never actually feel the outer fabric of the pad. The thread count of a mattress pad or topper is meaningless.
Designs
The same goes for any fancy stripes or other types of designs. You'll never actually see them – so what's the point?
Washing Instructions
Maintaining a mattress pad with anchor bands is much the same as with a conventional mattress pad. The bands contain elastic just like the skirted type, so they both wash the same.
You should plan on washing your mattress pad or topper about once every 3-4 months. If you experience incontinence, then you might want to increase that interval.
The tag on your mattress pad (or the package) will indicate the preferred washing instructions, but as a general rule of thumb, you can wash in warm water, using your general detergent, and tumble dry on the low setting.
Final Thoughts
Mattress pads with anchor bands were originally made for water beds. Eventually, hotels started using them for their layered beds – because of their exceptional ability to hold down layers – and they became more mainstream.
Some banded mattress pads are still sold as a "water bed mattress pad". You can ignore the "water bed" portion, they are one and the same, and will also fit perfectly on a traditional mattress.