Last Updated on March 30, 2023
The sheets, towels, etc. in your vacation rental are basically your business equipment. They are no different from the tables and chairs used in restaurants, the coffee machines at Starbucks, etc.
There is a direct correlation between profits and expenses – and your business equipment is usually one of the bigger expenses.
To maximize profits, you also need to maximize the utility which you achieve from your equipment. That means using your bedding and linens as long as practically possible.
What does practically possible mean?
For sheets and towels, that means using them until they tear or shred. Pillows should be used until they no longer offer any reasonable support, and so on.
In order to extract the best possible returns from your bedding and bath inventory, a little maintenance is required from time to time.
Let's take a look at where and how you can maximize the lifespan of your bedding and linens, and when they should ultimately be replaced.
Yellowed sheets
Sheets that have yellowed over time are very unattractive and do not convey the spirit of hospitality.
However, this doesn't mean that they necessarily need to be replaced. Sheets are perfectly useable until they have shredding or tears in the fabric.
Most white fabrics and linens will yellow over time, you just need to know how to properly clean them. The trick here is to use an optical illusion of sorts and make the yellowing disappear.
A popular trick that hotels use is called "blueing".
Through an optical illusion called irradiation, blueing enhances the white color in white fabrics, making them appear both whiter and brighter. The yellow, while still there, is overpowered by the influx of white and bright.
Our recommendation is Bluette for yellowed sheets.
The process of blueing is very easy and straightforward.
Add the recommended amount according to the instructions (different brands will suggest various amounts) before you start your wash cycle.
Add your detergent as you normally would, and go about your washing routine as you normally do.
Dry and crusty towels
Towels are like smartphones. A new phone slows down after a while and needs to be reset to factory conditions.
Dry and crusty towels don't necessarily need to be replaced. They can usually be brought back to life with a factory reset. Like sheets, towels can and should be used until there are visible tears or shredding.
Towels don't get dry and hard because the fabric goes bad.
They get this way through a buildup of residue that detergents and fabric softeners leave behind – as well as natural body oils, dirt/grime, etc. In other words, they get crusty by doing their job.
To reset your towels to their soft and absorbent factory resettings, you need vinegar and baking soda.
Load your towels into your washing machine, and skip the detergent. Add a cup of plain white vinegar, and run the machine like you normally would.
When the wash cycle is done, leave the towels in there, add a cup of baking soda, and repeat.
When the second wash cycle has finished, dry the towels as you normally would, and they should be back to normal – soft and absorbent, once again.
Down Alternative pillows
Yellowing isn't really a significant issue here, as pillowcases or pillow protectors will cover those up.
The main problem is that they get lumpy. From being used, and being washed, the polyester fill inside of the pillow tends to clump in uneven shapes.
These unevenly clumped pillows are neither supportive nor comfortable.
This is the one bedding item that we don't recommend spending much in terms of time, and replacing them is usually a better choice than repairing.
Here is a 3 step list that will fix your pillow problems, arranged by length of time.
Step 1 –
The clumps will usually be in the form of balls. Run your fingers through the pillow, and pull the clumps apart. No need to be gentle here – the polyester puffs and strands inside are fairly strong.
Step 2 –
Good down alternative pillows are very affordable and tend to last long enough to justify the investment. If step 1 doesn't yield satisfactory results after a few minutes, just order a new set.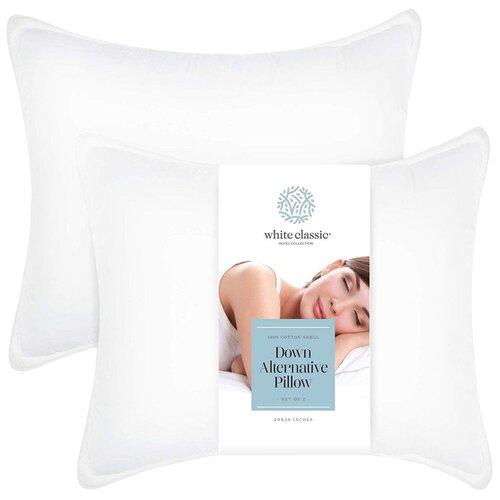 Step 3 –
If however you have a very constrained budget, and you have a lot of free time on your hands, stubborn clumpy down alternative pillows can be fixed. This will take about 15-45 minutes depending on your sewing skills.
Here are the steps if you're inclined:
Cut or open the seams along on edge of the pillow

Take the polyester filling out, and massage with your fingers to break up any clumps

Place the fill back into the pillow

Sew the seam back shut
This isn't really a complicated procedure – it's just very time-consuming, particularly when you have multiple pillows.
Your best bet is to just replace down alternative pillows when they are no longer usable.
Down and feather blend pillows
Down pillows, on the other hand, are worth the trouble. Because of their cost, you should try to get as much mileage out of them as possible.
Down and down/feather blend pillows experience two common problems:
The fill clumps

The fill breaks down
Either problem is easy to identify.
The surface of a clumpy pillow will be uneven, with dips and valleys. For clumpy down pillows, a good fluffing will solve your problem.
For a severely clumpy pillow, take a few moments and run your fingers through it – gently! The motion here is similar to giving someone a scalp massage.
Because of their structure, goose down and goose feathers tend to stick to each other like velcro.
As far as the inner fill breaking down – you can't see it, but you can definitely feel it.
Pinch the pillow gently in any location, and rub it with your fingers. If it feels gritty or textured, the goose down inside is still good.
If it feels powdery, like flour, it has disintegrated. Feel around in various spots. If you get multiple locations that feel like flour, it's time to throw it away and replace it.
Comforters
Comforters are basically larger versions of pillows and experience similar problems. Let's break this down into two sections
The cover
From our experience, some people cover their comforters with a duvet cover, and some don't.
If you do use a duvet cover, then skip to the next section, as your cover is probably clean, and even if it isn't, any stains or yellow are hidden away by the duvet cover.
If you don't use a duvet cover, and the outer cover of your comforter has yellowed, you have two options:
1.) Start using a duvet cover.
2) Wash the cover with Bluette. Just like with the sheets, blueing a comforter will make the outer cover white and bright.
The fill
For down alternative comforters, just follow the directions above for down alternative pillows. There isn't much fill per section, and they tend to break apart easily.
For goose down comforters, the problems usually involve replacing down that has leaked out.
You can replace the down in your comforter quite easily. You don't have to replace all of the goose down fill in the comforter – just in the sections that are empty (or flat).
Here are the basic steps:
 Locate the sections that are empty, or getting low

Cut along one edge of the section

Fill the section with down

Sew it back up
Final thoughts
A few simple repairs like the ones described above can add up to a significant amount of money. If your bedding and linens are replaced every few years, as opposed to annually, you could save thousands of dollars.
Every dollar counts when you own investment property!