Last Updated on March 30, 2023
Some people are naturally stomach sleepers.
And some people love a good memory foam pillow. But there is rarely an overlap for both groups. Memory foam pillows are just too thick and bulky for a stomach sleeper!
Unless the pillow is flat! So, let's take a look at flat memory foam pillows. Particularly the Blissbury Flat Memory Foam Pillow for Stomach Sleepers.
Let's see if it's a good option if you're a stomach sleeper.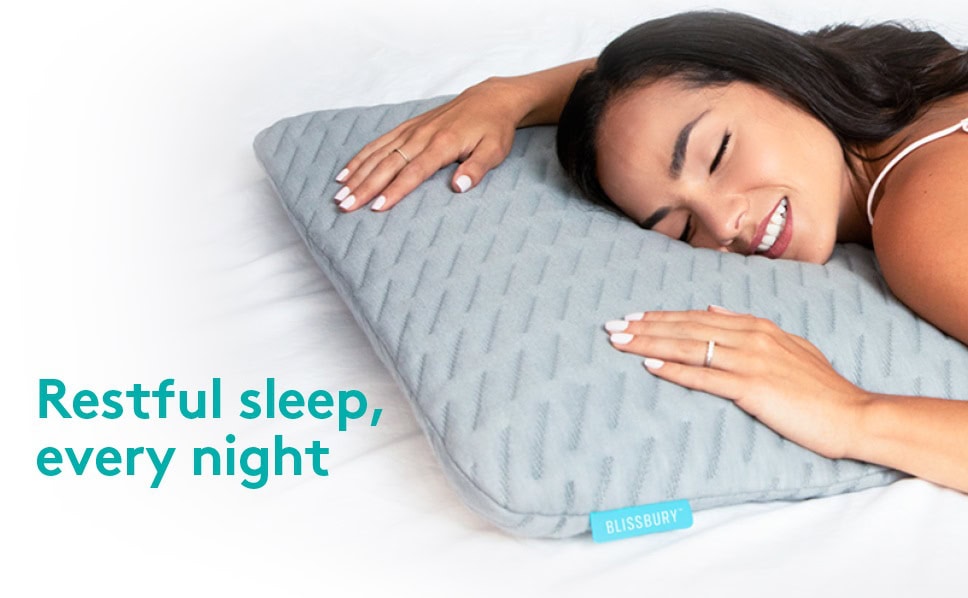 Memory Foam For Side Sleepers?
Memory foam pillows are a take-it-or-leave-it thing. Either you love them, or you hate them.
People who love memory foam pillows swear by them. For the rest of us, they are just not convenient – particularly if you're a stomach sleeper!
Memory foam pillows have their advantages, especially in the way that they mold to your head and neck, and how they keep their shape. Unfortunately, almost all memory foam pillows are engineered for back and side sleepers.
Which practically eliminates memory foam pillows as a consideration for a stomach sleeper.
In order to sleep comfortably (and pain-free), your spine needs to be aligned. With your average memory foam pillow, sleeping on your stomach results in your head "resting" on the pillow at an extremely uncomfortable angle.
Traditional memory foam pillows, regardless of shape, are just too big and bulky.
They just don't work! 
What a stomach sleeper needs is a flat pillow. Not a "soft" pillow, but a flat pillow.
Contrary to popular belief, soft pillows are actually a poor choice if you prefer sleeping on your stomach. They compress too easily, and you find yourself being on an even level with the mattress – which is also not comfortable.
You might scrunch it up, to make it firmer, but it's only a matter of time before it decompresses again. Soft pillows lack the density to be effective. Conversely, traditional medium and firm pillows are just too tall.
An Ideal Stomach Sleeper Pillow
The ideal stomach sleeper pillow should be flat – about 2″ to 2.5″ in height – yet firm and dense.
A firm pillow will not yield as easily from the weight of your head, and will provide the proper support all night long; which is a job that memory foam can handle remarkably well. The flat shape will provide alignment and comfort.
Since a higher proportion of your skin will be against the surface of your pillow as compared to back or side sleepers, a cool pillow is also a must.
Unfortunately, traditional memory foam pillows hold on to heat and tend to be "hot pillows".  This is why "ventilated" memory foam pillows are so popular.
The ideal pillow here will need to have built-in features to promote better cooling. There are various methods of keeping a memory foam pillow cool, like ventilation holes, for example.
Some pillows infuse cooling gel into the foam, while others simply have a gel layer on top. In our experience, all of these methods have about the same efficacy.
Which method they use doesn't really matter – so long as there is a cooling feature included.
You'll probably find multiple memory foam options – contour, shredded, ventilated, etc. – you just won't find any that these features.
But, you actually can. The Blissbury Flat Memory Foam Pillow for Stomach Sleepers is one example.
What Makes The Blissbury Pillow Ideal
We have the parameters set about what an ideal pillow for a stomach sleeper should be.
So, let's take a look at the Blissbury Flat Memory Foam Pillow for Stomach Sleepers, and see how it measures up to the required criteria. 
Shape
The Blissbury flat memory foam pillow has the optimum dimensions; and really, the only dimension that's actually important here is the height: 2.6″ tall (6.5 cm).
Unlike traditional pillows that balloon up as you head towards the center, this pillow has a uniform sham across the pillow. And that shape is flat!
As far as the other dimensions are concerned, this pillow measures 26″x 16″; fairly standard for a standard/queen-sized pillow.
Density
Again, the ideal pillow should be dense.
More on the medium to firm end of the spectrum rather than soft. You'll want a pillow that's gentle enough to cradle your head and neck, yet firm enough to keep it at a certain distance from mattress level.
The Blissbury pillow is made of gel-infused memory foam, which yields to gentle pressure, but does not compact completely to mattress level like an ordinary soft pillow.
It strikes the balance of soft, yet supportive.
Cooling
Memory foam pillows have a hard time when it comes to dissipating excess body heat. This is one of the main counterpoints against using one.
Built-in mechanisms for cooling purposes are one of the reasons why we see so many different versions of memory foam pillows available today.
The Blissbury pillow is ventilated and gel-infused to help efficiently absorb, and dissipate excess heat. 
The pillow cover itself also promotes cooling. It is made of a moisture-wicking bamboo and polyester blend, and is machine washable.
Humidity is not conducive to cool and comfortable sleep.
No one likes a hot pillow. By wicking away your body's natural perspiration, the bamboo cover keeps your pillow surface cool, and dry.
Final notes
Memory foam pillows are not "plug and play" like traditional pillows. If you are a first-time memory foam buyer, you'll need to know a few things upfront:
The Smell
Because of the manufacturing process, memory foam pillows initially smell very bad – they actually have an odor very similar to cigarettes. Foam pillow buyers often assume they have received a used pillow.
This odor does go away, however. Take the pillow out of its outer cover, and leave it in a well-ventilated area (or outside) for 5 hours or so, and possibly up to a full day. That will eliminate the odor.
Break-In
A memory foam pillow will be incredibly stiff out of the package.
You'll need to provide it with a break-in period for it to soften up a bit. Two to three days or so should be enough. If you're in a rush, evenly stack a few books across the length of the pillow.
The Cover
Memory foam pillows, because of their unique shape, often require their own unique cover. You can use a traditional pillowcase, but it might have an awkward fit.
Your best bet is to purchase a 2nd pillowcase, and they are usually sold wherever you purchase your pillow.