Last Updated on March 30, 2023
A mattress is one of the most important purchases you'll make over the next ten years. It will likely impact you more than your last (or next) car purchase.
We spend about a third of the day, and our life, on a mattress – far more than any other piece of furniture in the house.
We usually focus on the couch as our furniture centerpiece, when in reality, our mattress deserves the lion's share of our attention.
With that said, here are 8 factors to take into consideration before you purchase your next mattress.
1.) Consider Online Options
You can buy anything and have it shipped these days.
Mattresses are no different! 
Some of the best mattresses available today are actually "online-only" options. These are called a "bed in a box". You've definitely heard of them before. 
Popular brands include Casper, Leese, Purple, etc. We've tested all of them, and our favorite is the Puffy Luxe mattress.
2.) What Size Bed Do You Need?
Twin (39″ x 75″) – For children under 12, a Twin size will do just fine.
Twin XL (39″ x 80″) – Usually reserved for dorm rooms or other small spaces. A Twin XL mattress is the same as a regular Twin, but just a bit longer. It's made to fit adults.
Full (54″ x 75″) – As children enter into their teenage years, you'll probably want to upgrade to a full size. Full size is also appropriate if two small children under 12 will be sharing the bed.
For adults, Queen, King, and Cal King are popular options.
Queen (60″ x 80″) – The optimum size for a single adult. While a king would work here as well, most people experience a feeling of being lonely on a king mattress.
King (78″ x 80″) – The perfect size for adult couples.
One more thing to note: A King size can also be achieved by combining two Twin XL mattresses together. A Twin XL has the same length (80″), and half the width (39″).
By placing them next to each other, we get the same dimensions: 78″ x 80″. This is a popular option for couples where one or both partners are very sensitive sleepers.
Cal King (72″ x 84″) – Also intended for couples. Cal King mattresses are longer but narrower than traditional King mattresses. Unless you're over 6 feet tall, I generally advise people to stay away from Cal King mattresses.
Some bedding components, like comforters, for example, are only manufactured in King size. In other words, if you own a Cal King size – there's no such thing as a dedicated Cal King-sized comforter.
You'll have to buy a King size – which can look a bit awkward.
3.) Focus On Quality – Not Price 
Like everything else, mattresses have a wide range of prices.
While you generally get what you pay for, the most expensive mattress isn't always the best one. But, if you go for something on the inexpensive side, it might be too soft, or too firm.
Or it might break apart after just a year.
Another common problem with inexpensive mattresses is that they lack structure.
A quick way to judge the structural integrity of a mattress is to sit on the edge.
If you sink in deep – it has little or no integrity at all. Assuming you're an average-sized person (under 250 pounds), a mattress should be able to hold your weight on the edge, while still remaining fairly even.
On the other spectrum, higher-priced mattresses often sell you on gimmicks that you don't really need. These gimmicks often shorten the lifespan of a mattress as well.
Pillow-top mattresses, which are almost always on the expensive side, are very prone to sagging.
Because of their structure, they also can't be flipped, which puts all of your body weight on one side of the mattress. This severely cuts the life span of the mattress.
Go with the best quality mattress that you can afford – within reason. Look for terms like "pocketed coil", and "individually wrapped coils".
These mattresses use coils that work independently of each other. They conform to your body, without contorting the remaining surface area of the mattress.
This is especially important for couples.
4.) Go For a Test Drive
You don't necessarily have to purchase your new mattress from a local store – online works as well. But once you have a few models in mind, find a local mattress store, and test them out.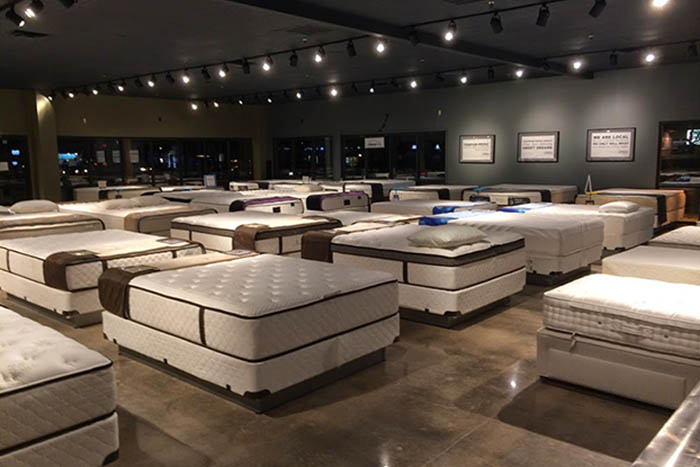 Don't be shy – mattress stores want you to lay on them. How else would you know if you'll like it? When you purchase a mattress, you're not purchasing the one you're laying on – those are just testers.
So lay on as many as you'd like, for as long as you'd like.
Again, don't be shy – take your time.
Try different positions, especially your preferred sleeping position. Lay there for a minute or two. Do you feel comfortable? Great! If you don't, on to the next.


Generally, people will tell you to opt for a firm mattress.
To a certain degree, that generally holds true. But a firm mattress isn't always the best option. Try out a few different mattresses of varying levels of firmness.
My two cents as far as firmness is concerned is this: Purchase a mattress that is just a bit firmer than you'd like.
Mattresses naturally break in over a period of time. There's no such thing as a "pre-shrunk" mattress. That new mattress will be noticeably softer within just a few months – and be just right.

5.) Don't Be Too Selective At First
Just like a "medium" t-shirt will vary from one brand to the next, so will the firmness ratings from different manufacturers. A firm mattress from Sealy might be firmer than an extra firm from another brand like Serta, or Simmons.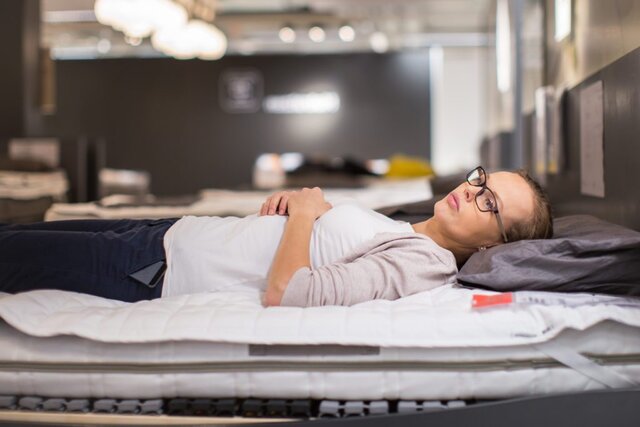 Look for comfort, regardless of what the label says. And look for signs of quality.
Mattress models are usually refreshed yearly by the manufacturers. If a mattress is sagging in the store, it will likely sag in your bedroom.

6.) Warranty and Return Policy
A warranty is a nice thing to have – but a good return policy is so much more important.
Mattress warranties usually come in 5, 10, or 20-year increments.
A 20-year warranty seems like a nice thing to have, but you'll most likely end up replacing it by then. And who knows if you'll still have the receipt years from now.
Most warranties cover the materials of the mattress fairly comprehensively like the wood frame, coils, etc. However; these components will almost never fail.
What these warranties lack is any real coverage for the structural integrity of the mattress.
Sagging is a very common problem with mattresses. When a mattress sags, it can no longer adequately support you. This leads to an achy back and joints, lack of sleep, and other issues.
Most mattress warranties will only cover mattress defects when the mattress sags – with no weight on top of it – more than 1.5″. In other words, your mattress will have to sag quite a bit.
In my opinion, the return policy is much more important. Find out how long you have to return the mattress, and what the re-stocking fee is (if any).
The truth is, you won't really know if you like a mattress until you've slept in it for a month or so. By then, you'll know if it's firm enough, too firm, etc.
Having the option to return it will come in handy if you are really dissatisfied.
7.) Consider Your Other Options
These days there are some other options out there besides a regular mattress. While a traditional mattress will please most, you might need an alternative. Let's take a quick look:
Memory Foam
Foam mattresses come in different varieties.
Some will have one uniform layer, while others will have several layers of varying densities. Memory foam is popular as it does conform to your body.
Some pros of memory foam:
They can reduce chronic pain

The surface is often squishy and soft

They are hypoallergenic and dust mite resistant

Require little maintenance – no need for flipping
Some cons of memory foam:
Often emit a cigarette-like smell when new

They're heavy

They don't breathe – which can be an issue during the warm months

They tend to be too soft for most people
A final note about memory foam mattresses: They are not very sex-friendly.
For sexual purposes, you need a springy mattress that sends you back up, when you come down. With a memory foam mattress, you come down – and you stay down.
Air Mattresses
An air mattress is an inflatable mattress. They roll up and stash away when not in use, and inflate in about 5 minutes when you're ready to sleep.
In the past, they were used mainly for recreational purposes like camping, and for temporary guests. These days, air mattresses are commonly used for everyday sleeping.
They are of high quality, at a very affordable price.
If you're shopping for a mattress that is customizable for both partners, check out adjustable air mattresses. You'll be amazed by the price!

8.) Price Comparisons
When you've decided on a make/model, and are ready to purchase your new mattress, don't be afraid to buy online – especially if you can't beat the price.
A local store will try to entice you by telling you that they will pick up your old mattress for free.
They will tell you that they normally charge $50 or $100 to pick up mattresses from non-customers. But don't let that impact your decision.
And Remember
Your local sanitation department most likely offers bulky-item pickup.
You call and schedule a pickup (most likely the same day as your usual trash pick-up day), and they will come and haul it away for free.

If you don't have that option, you can always list it for sale on websites like Craigslist, or apps like OfferUp or Let go. You'd be amazed by how many people are looking for used mattresses.

Especially when you mark the price as "Free".