Last Updated on March 30, 2023
Your mattress was uncomfortable, and you would always wake up with neck or back pain.
So…you bought a new foam mattress topper. And now your bed is hot, muggy, and uncomfortable again. Does that sound like your current situation?
It's actually quite common!
Memory foam holds on to heat, so it makes your bed hot. This sounds like it could be a good thing – especially during the colder months – but it's not.
So, you end up trading one problem, for another. And your bed is still uncomfortable.
What can we do about this? How can we make your bed comfortable and supportive enough to wake up pain-free, while also maintaining a cool sleeping surface?
The solution is a cooling foam topper, like this Zinus Swirl Gel Memory Foam Topper.
How does this memory foam topper work? Why is it so effective?
Let's do a quick review, and then we'll look into what to expect, and how to use it.
The Zinus Swirl Gel Cooling Foam Topper
The Zinus Swirl Gel model is a lot like most other foam toppers. You place it on top of your mattress, and it makes everything more comfortable.
But, it doesn't make the bed hot.
The Zinus Swirl topper, which is available from 1.5″ to 4″, is made of CertiPUR-US certified memory foam. It attacks heat in two specific ways.
Cooling Gel
This is the "Swirl Gel" model, so it's infused with a cooling gel. But what is a cooling gel, and what exactly does it do?
Traditional memory foam is basically a heat sponge. It absorbs your natural body heat and holds onto it. And, within a short amount of time, it can feel like you're sleeping on top of a heated surface.
Most of us need a cool sleeping surface for comfortable sleep, and memory foam does just the opposite.

So, this Zinus mattress topper is infused with thermal gel beads or a "cooling gel". These gel beads absorb the heat that gets trapped inside the foam topper and release it.
This allows for circulation and better regulates your body temperature.
Wave Dynamics
The second way in which this topper regulates heat is in its wavy surface.
Most toppers have an even and straight surface. The Swirl Gel topper has a wavy surface. This design offers three advantages over the traditional even style.
The wavy shape increases the overall surface area, which promotes better circulation. The peaks and valleys also allow the air to travel easier, which also allows for better cooling.

And third, the peaks increase the number of pressure points on the surface of the topper. This doesn't do anything in terms of cooling, but it definitely makes the topper more supportive.
Once you lay on top of a straight and even surface, you usually have one of two main pressure points. For the average person, that is most likely around your shoulders and your hips.
Which means your lower half isn't as supported.
And if your upper torso sinks into the topper, even just a little, it can throw your spine out of alignment. This is why most people wake up with back pain or sore hips.
So, more pressure points = more support = less pain in the morning.
What Size Topper Should You Get?
The Zinus Swirl Gel topper is available in 1.5″, 2″, 3″, and 4″ thick models. But which one is right for you?
It mostly depends on your sleeping situation, mattress preference, and your body size. Thicker isn't necessarily better, so let's look at each size, and figure out the best option for you.
1.5″ Topper
For the average single person, the 1.5″ topper is the best option, especially if you prefer a medium or firm mattress.
2″ Topper
The 2″ topper is your best option if you're a single person larger in size, or if you prefer a soft mattress. It's also the better option for any single person if your mattress is worn out.
3″ Topper
The 3″ topper is great for couples, particularly if both you and your spouse prefer a medium or firm mattress.
4″ Topper
Finally, we have the 4″ topper which is great for couples where one or both partner has a larger body size, and for couples who both prefer an extra soft mattress.
Things To Keep In Mind
If you're a first-time foam topper buyer, here are some things to expect. Many people struggle with their new memory foam toppers because of unexpected issues.
Let It Air Out
Unpackaging a new memory foam product can be a bit unsettling, especially if it's your first time.
Your new topper will come sealed, compressed, and rolled up in a box. And when you take it out of the package, it will have an unpleasant, cigarette-like odor.
This is normal and is just part of the foam manufacturing process.
So, you'll have to let it air out for a day or two or three.
First, take the sealed and compressed foam topper out of the package, and cut the plastic seal carefully. Then, unroll it and let it sit. It can take one to three days for the odor to go away, and for the foam to inflate back to its original shape.
After you let it air out, it's ready for your mattress!
Consider Your New Mattress Depth
Your overall mattress depth (mattress + topper) is going to increase. Your fitted sheet might not fit all the way down and under our mattress.
For most people, especially with the 1.5″ or 2″ models, you'll most likely be able to use your current fitted sheet. But if you're buying a 3″ or 4″ model, this might be a problem.
You might have to switch to an extra deep pocket sheet set.
A traditional fitted sheet usually fits mattresses between 12-16″ in depth. An extra deep pocket sheet set will fit mattresses 18-24″ in depth.
If you think this might be an issue, and you'd like to be prepared, just find out how much slack you have in your current fitted sheet.
And if you have at least 3-4″ on each side of the bed, then your current sheet should work. If not, you'll need a sheet with deeper pockets.
Foam Topper Positioning
If you're a first-time memory foam topper buyer, you might also be wondering how to position your new topper.
Your new foam topper should go directly on top of your mattress, and under the fitted sheet. If you use a mattress protector, then place the topper on the outside of the protector.
Also, if you use a mattress pad, place it on top of the foam topper.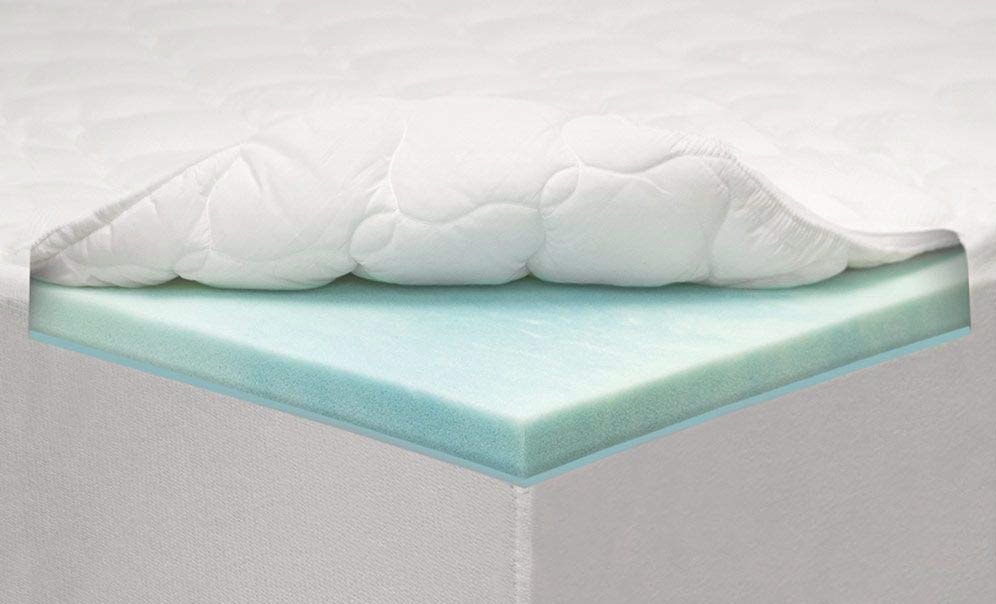 Foam Topper Dimensions
The foam mattress topper will be about an inch short on each side, and this is normal. For example, a queen mattress measures 60″ x 80″, whereas a queen-sized topper measures 59″ x 79″. 
When you pull your fitted sheet down, it causes the edges to decompress a little. And the foam topper sits flush with the edge of the mattress.