Last Updated on March 30, 2023
If you're doing some Spring cleaning, you might be thinking about your dirty and stained mattress. And if your mattress is more than a few years old, it probably smells and has multiple stains.
If you could just throw it in the washing machine, that would solve your problems.
Unfortunately, you can't. But it doesn't have to be a struggle. You just have to think of your mattress as a piece of furniture.
How would you clean an old couch?
The same strategies and methods will work for a mattress.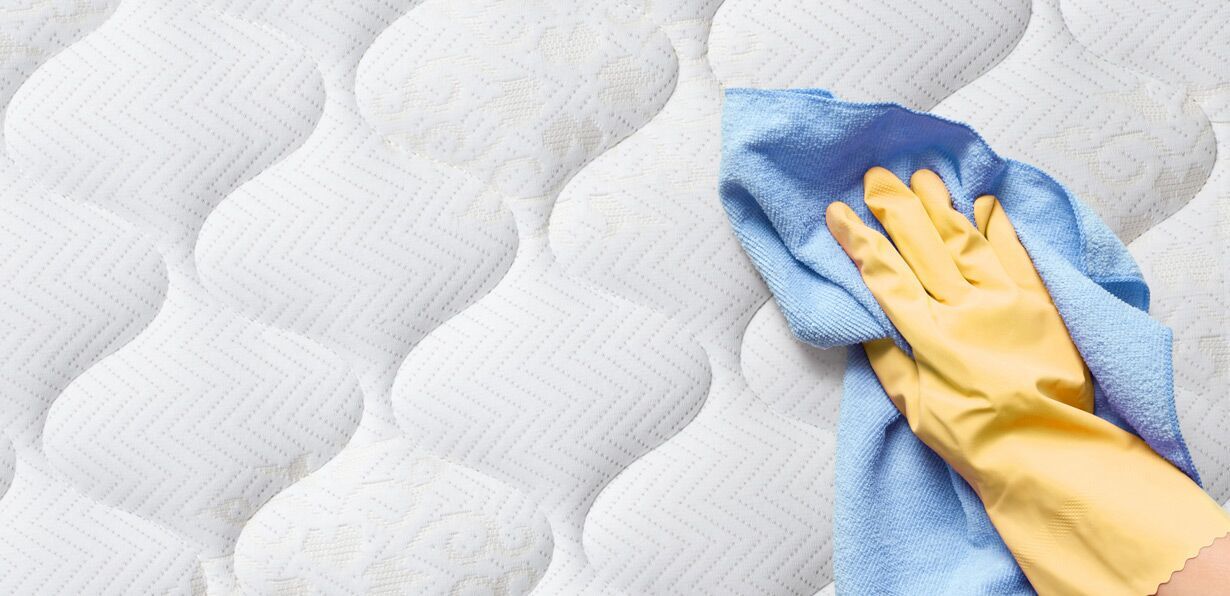 Use The Right Tools For The Job
Chances are that your mattress is dirty.  And it might have some odors – most probably from sweat. And possibly some stains, from sweat, blood, or urine.
For most issues, it's just a matter of using the right tool. And using the right tool the first time. Not all cleaners are adept at removing mattress stains and odors.
Most people will spray a multi-purpose cleaner, and watch it do nothing. Then they'll find and use another spray – unsuccessfully. After 2 or 3 different sprays, you're left with a chemical/cleaner party. This just makes everything more difficult!
So use the right tool for the job, the first time!
Which tools are right? Let's take a look…
A Generally Dirty Mattress
Is your mattress generally odor and stain-free? Do you just need a good deep cleaning?
Try a portable upholstery or carpet wet vac.
You've probably had your carpets steam cleaned in the past.
Did you like the before/after results? Then you'll love a wet vac like the Little Green from Bissell.
Deep cleaning your mattress will remove common surface stains, and remove that old and dingy look from a worn mattress. And afterward, you can renovate your dirty couches, chairs, and car seats too.
The process here is simple:
Fill the reservoir with water, and some cleaner.
Turn on your wet vac according to the instructions, and leave it on for the recommended amount of time.
Next, you'll spray the cleaning solution onto the surface, and scrub. As your pull the hose towards you, the vacuum will suck away the dirt and grime that the solution and scrubbing have loosened.
As it cleans, you'll see the opposite side of the vacuum fill up with the dirty water.
Take your time, and go around the entire mattress. For a full deep clean, don't forget the opposite side of the mattress as well. If you have a pillow-top style mattress – that doesn't flip – no need to clean the underside.
Cleaning Odors
A mattress is a huge sponge. It absorbs whatever liquid that you'll give it. And you give it a lot!
Throughout the lifetime of a mattress, it absorbs gallons of liquids – sweat, urine, etc. You'd be surprised at the actual numbers!
The average person sweats out about 200ml per night, which translates into about 1 gallon every 19 days, and about 19 gallons per year. And that is for 1 person. Double those numbers for a couple that sleeps together.
Obviously, a large portion of those 19 gallons evaporates or gets sucked up by your sheets, comforter, etc. But a good amount of it travels down to your mattress.
Whether it's sweat, urine, or another type of fluid – they all eventually cause odors.
For stains and odors, we like Rocco & Roxie Stain & Odor Eliminator.
The Rocco & Roxie stain & odor spray is particularly good at removing pet urine.  And it works on pretty much anything else that you might have on your mattress.
Unlike other products that just deodorize, Rocco & Roxie actually removes the odor-causing elements, like the ammonia crystals found in urine, for example.
Cleaning Stubborn Stains
If you have stubborn stains, that just won't come out no matter what, consider some specialty cleaners.
Multi-purpose cleaners won't remove every type of stain. Some stains, like blood, makeup, etc., are almost impossible to clean. Unless you use the right tool for the job!
Blood, for example, is a common bed stain. And it's usually a permanent stain for most people.
But it doesn't have to be.
Our favorite blood stain remover is Carbona Stain Devils #4.
Place a rag or cloth under the fabric. Without diluting, apply the solution directly onto the stain. Using your finger, or cleaning cloth, swirl the solution into the stain until fully removed. Then wipe away.
Carbona is one of those brands that is a "professional secret".
For most common stains, they have a specialty cleaner available. Whether your stain is from food, ink, rust, makeup, coffee, etc., chances are, you'll find a Carbona Stain Devils formula for your specific issue.
Preventative Measures
It's almost always easier to prevent stains than to clean them.
Given the hard-to-clean nature of a mattress, we strongly suggest preventing mattress stains and odors, to begin with. A good mattress protector will keep your mattress clean, and also keep bugs and dust mites out.
This will save you the time and hassle of cleaning. It will also elongate the life of your mattress. A win-win!
If you need a little help, check out this article about picking the right mattress protector.
Summary
Your bed should be thoroughly deep-cleaned at least once a year. But a mattress isn't the easiest thing to clean. The combination of size and unique materials offers some unique challenges.
But as we've learned, it doesn't have to be that way.
Get the right tools, to clean your mattress the right way. And moving forward, cover it with a mattress protector so you don't have to clean it every year.
The easiest mattress to clean is an already clean mattress!