Last Updated on March 30, 2023
We all love the idea of a rollaway guest bed. Bring them out when you have guests, and then fold them up and roll them away when your guests leave!
If your house is short on space, a rollaway is the optimal bed – in theory.
However, the convenience that they provide is usually negated by the difficult setup, flimsy construction, and usually an uncomfortable sleeping experience.
Have you ever actually slept on a rollaway bed? They make futons feel luxurious!
But it doesn't actually have to be that way. With modern mattress technology, as well as the improvements in memory foam, you can actually purchase a rollaway folding bed that is both convenient and comfortable.
Our favorite is the Rollaway Folding Guest Bed from Lucid.
Let's take a look at the features of this rollaway bed, and find out what it has to offer.
Why it's comfortable
Most rollaway beds fail in 3 key areas:
The mattress

The support underneath

The legs
One or more of the components above usually feature flimsy construction or cheap materials. The resulting "bed" is neither comfortable nor supportive.
Let's examine each component to truly understand why the Lucid rollaway bed is a superior option.
The mattress
The whole point of a rollaway bed is to have a spare bed that doesn't take up much room. This is why, for example, traditional mattress materials make for a poor rollaway option.
For a rollaway bed to be effective, the mattress needs to be thin – about half the size of a regular mattress.
With the limited amount of depth to work with, it's incredibly hard to make an innerspring mattress comfortable – not to mention quiet.
This is why memory foam is such an effective material for a rollaway mattress! You don't need an extra deep mattress when using memory foam – even a few inches are enough.
The mattress used in Lucid's folding guest bed features a soft 1″ memory foam layer for comfort, and a second 3″ high-density foam layer for support. It all gets wrapped in a cover that's made of Rayon from Bamboo.
Why Rayon from bamboo?
Memory foam tends to get hot. For the average person, a memory foam mattress can be a bit too hot for comfort.
Rayon fabric breathes extremely well – which is why you often see it used in covers for memory foam pillows. It allows for the built-up heat to dissipate rather quickly compared to cotton or polyester sheets.
The support underneath
Traditional rollaway beds use slats underneath the already thin and uncomfortable mattress.
Since a thin mattress offers little in terms of support, that means that you tend to feel the slats underneath you when laying down.
The second reason why the Lucid rollaway bed is so comfortable is because of the spring-supported deck underneath the mattress.
The deck underneath is spring-loaded around the entire perimeter. This system absorbs impact and makes the bed more stable while being more supportive.
The metal slats used in traditional rollaway beds are stiff and hard. They don't absorb your movement – they are there to support the bed frame, not you.
The sole purpose of the spring-loaded deck is to support the sleeper – not the bed itself.
The legs
The final reason why most rollaway beds fail is because of their flimsy and weak legs which offer little to no support.
When the legs are not stable, the entire bed can feel wobbly. For a bed to be comfortable, it has to feel grounded – which can only come from stable footing.
The legs in Lucid's rollaway folding bed are shorter in length, are made of strong tubular powder-coated steel, and have crossbars for reinforcement.
So you might move around on top of the bed, but the bed will not move underneath you.
Why it's convenient
A rollaway bed was invented, of course, with convenience in mind. But some models are much more convenient than others.
3 key aspects make the Lucid guest bed more convenient than other rollaway beds on the market today:
Quick tool-free setup

Small footprint

Easy to maneuver
If it's a hassle to set up or to move from one room to another, you might avoid using it altogether. So convenience is a key feature to consider with any rollaway guest bed.
Tool-free setup
That's right, no tools are required. All that you'll need are your hands.
To set up the Lucid rollaway guest bed, you'll need to:
Lift out and lock the legs in place.

Unhook the clasp that holds everything together when the bed is folded and put away.

Lock the wheels in place.
That's it, it's really that easy!
Small footprint
Most rollaway beds aren't actually small enough to be convenient. They usually end up being stored in the garage or a spare bedroom.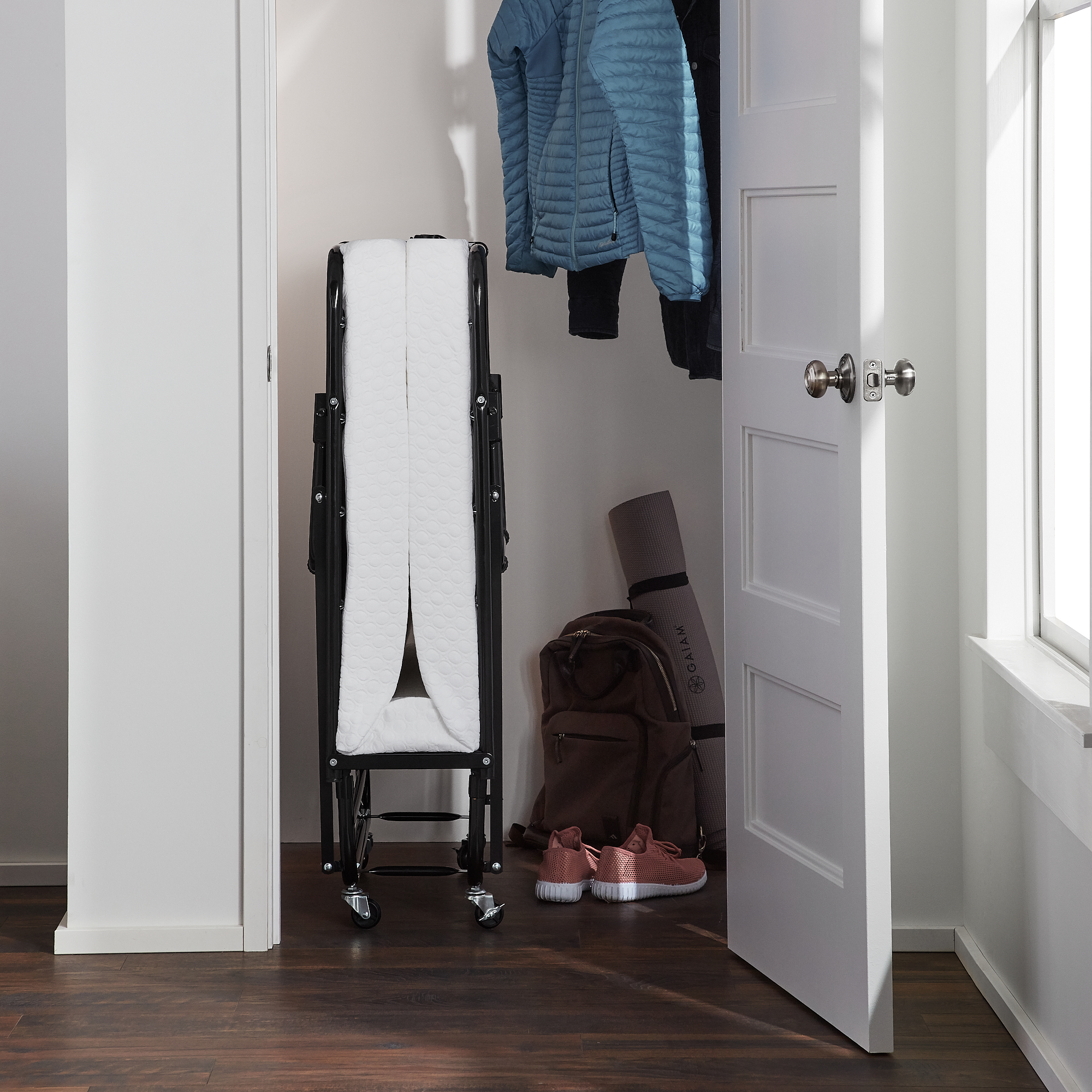 The slim mattress profile and overall small footprint on this Lucid bed allow you to store it in any average-sized closet.
This is a very handy feature if your garage is located on the bottom level of your home!
Easy to maneuver
The frame of this rollaway bed from Lucid was engineered using specific materials with strength in mind. The result is a surprisingly lightweight bed – weighing only 44 pounds (for the Twin size).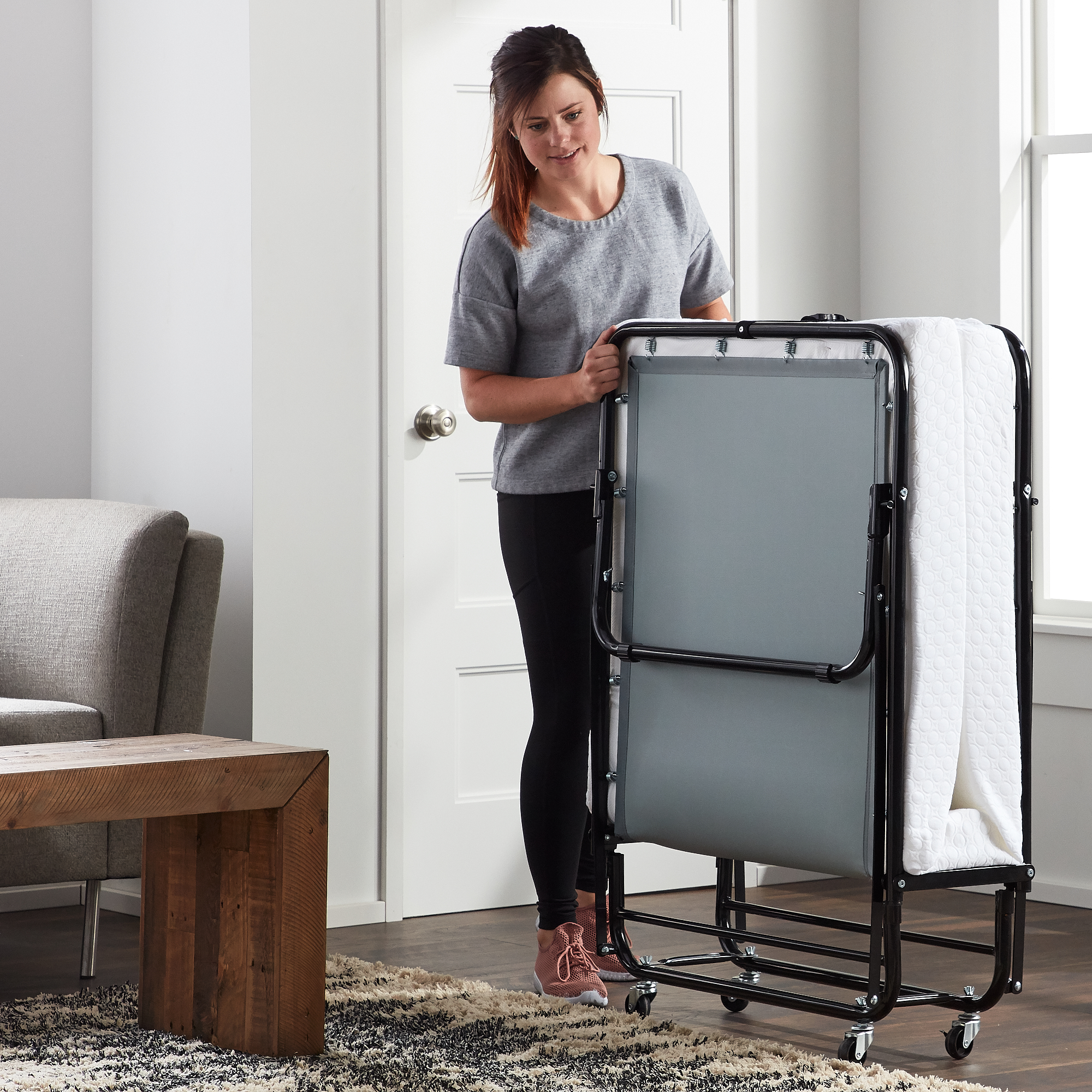 Considering that an average shopping cart weighs about 70 pounds – if you can push the cart at your local grocery store, you should have no problem maneuvering this bed.
The wheels offer smooth rolling motion, but can also be locked firmly in place as well.
Sizes and specifications
This Lucid model comes in 3 sizes:
Cot – 31″ x 73″
Twin – 36″ x 73″
Twin XL – 36″ x 78″
(For an average-sized adult, we would recommend either of the Twin sizes.)
Some more information
A few more things to keep in mind to have the best possible rollaway experience.
Use protection
Mattress protection is always a significant consideration when it comes to a bed – and a rollaway is no different.
For proper storage, we highly recommend using a universal folding bed storage cover.
Much like a mattress protector, a universal folding bed cover will keep out dust, dander, pet hair, pollen, etc. And ensure that it's clean and fresh, for instance, the next time you pull it out.
Let it air out
When you first receive this bed, the mattress will arrive shrink-wrapped. You'll want to remove the mattress from its wrapping and let it air out for a day or so.
This accomplishes two things: 
1.) The mattress will need a day or so to "spring back to life" after being compressed. 
2.) Memory foam has a cigarette-like odor when new. Allowing it to air out, for instance, will get rid of the odor.
No fitted sheet needed
You can use your own fitted sheet with the mattress, but you don't have to.
The bamboo cover supplied with the mattress is likewise soft, removable, and washable. You can use it and wash it accordingly with your regular laundry routine.