Last Updated on March 30, 2023
Most people know the difference between a Standard sized pillow and a King size.
But what about everything else in between? With all of the sizes and terms available these days, it can get a bit confusing.
And which size is right for you?
Let's take a look at the sizes available, what they're referred to as, and maybe try to figure out which size suits you best.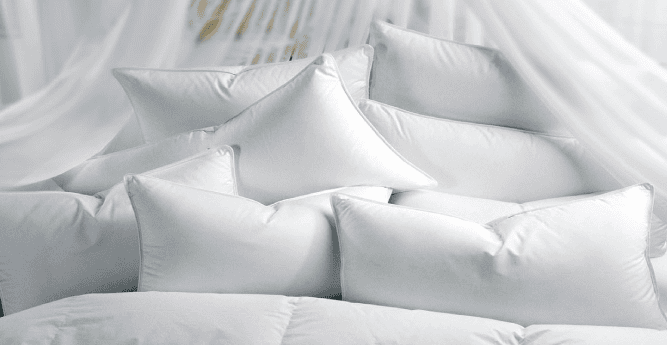 The sizes available
Let's start with the smallest size, and work our way up. Many of the terms used to describe a certain size actually mean the same thing. So we'll identify those as they come along.
Toddler pillows
Toddler pillows are also referred to as children's size, child's size, or kid's size.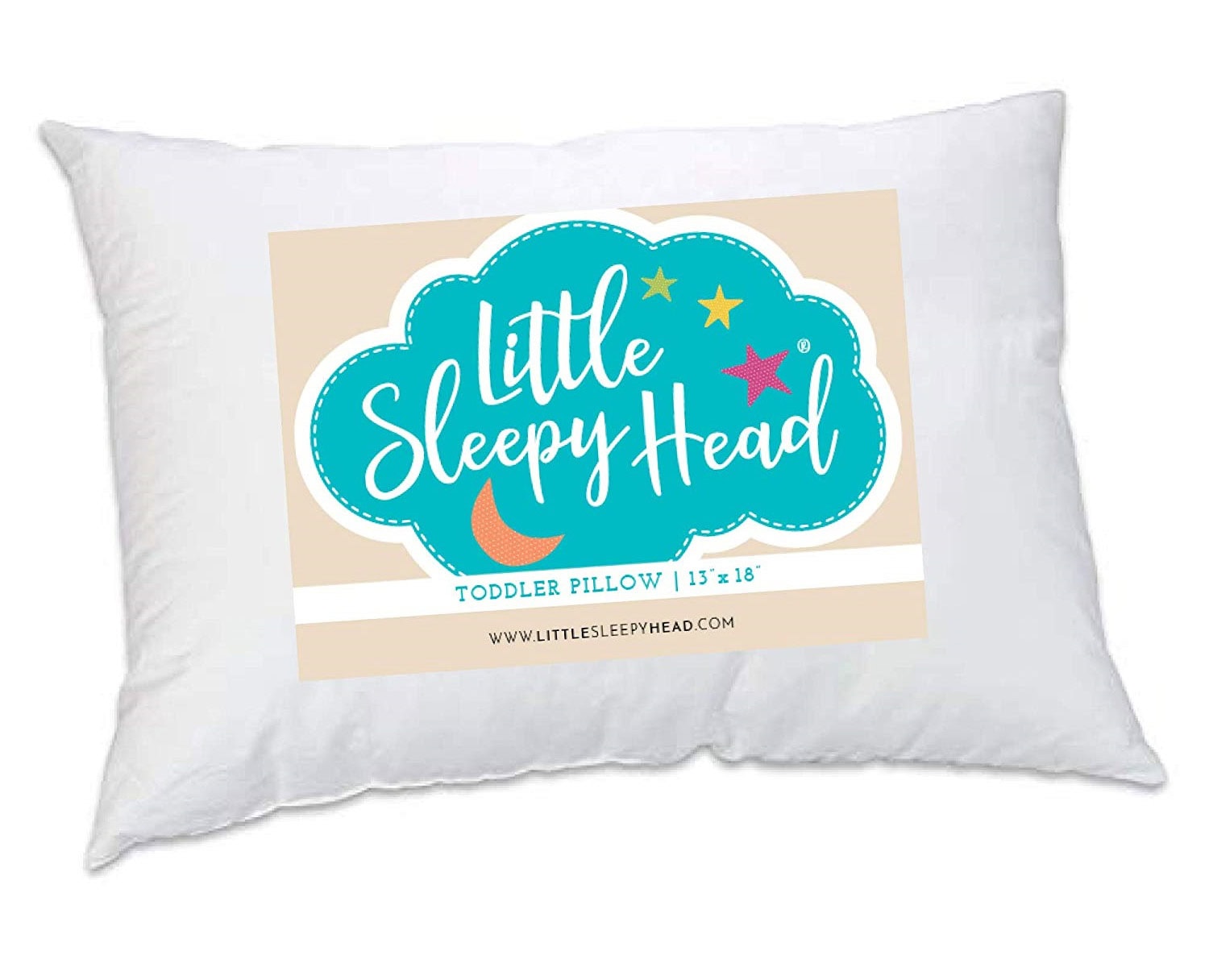 A toddler pillow, as the name implies, is for children – usually 8 years old or younger. An adult pillow is just too big and bulky for a child, and is an awkward fit for cribs or toddler beds.
A toddler pillow usually measures 13″ x 18″, or 14″ x 19″.
Standard pillows
A Standard sized pillow measures 20″ x 26″.
This used to be the "standard" size; now it's usually the option for Twin and Full-sized beds. They are a good fit for the smaller mattresses, but don't offer enough "pillow real estate" for the average person.
Standard/Queen
Also referred to as Jumbo, or Super Standard.
A Standard/Queen pillow measures 20″ x 28″. They are a compromise between a Standard size, and a Queen size. This is also the size that you'll most commonly find in department stores.
Queen size
A Queen pillow measures 20″ x 30″.
As the extra 4″ of length would suggest, of course, they feel like a super long Standard pillow. Queen pillows are designed with the 30″ length so that two pillows will cover the mattress when placed side by side.
King size
And finally, we have the King-sized pillow, which measures 20″ x 36″. Two of these pillows, side by side, will almost cover the surface of a King mattress.
Which size is right for you?
Unlike sheets, there are no rules for pillows. You have to use a Queen sheet set for a Queen mattress, but you can use any pillow size which you prefer.
You don't necessarily have to match a Queen pillow to a Queen mattress, or a King to a King. The key is to use the pillow size that fits you and your sleeping preferences.
If you already have a pillow size that works for you, then great! Keep using it. If you're confused and don't know what size will work for you, let's first start with a visual aid.
As the picture shows, the depth of the pillows is the same. The width of each pillow is the same 20″, but the lengths are where they differ.
The extra length of a Queen or King pillow might help you, or it might annoy you. More is not necessarily better!
Some people and certain sleeping positions will benefit from a longer pillow. Others will not.
We already identified each size above, now let's take a look at the benefits – and drawbacks if any – of each size.
Standard
We generally recommend the smaller Standard size for Twin beds, or for children sleeping in a larger bed.
However, the smaller size of a Standard pillow does have certain advantages.
If you're a side sleeper, and prefer to rest your head towards the edge of a pillow, a larger pillow makes the edge harder to find. The same applies if you sleep with a CPAP mask.
The compact length of a Standard pillow makes either edge accessible, even when your head is directly in the middle of the pillow.
For most sleeping positions – unless you're of a petite frame – the average person will find a Standard pillow a bit too small.
Standard/Queen
This is the size which we would recommend for the average person. It has enough length to satisfy most people, and will fit the majority of pillowcases available (from Standard through Queen).
Unless you are concerned with the head of the bed being covered by your pillows, a Standard/Queen pillow is the "one size fits most" variety.
They also offer a bit more pillow to work with – which is actually very useful, particularly if you sleep with your arm under the pillow.
Queen
If you like the esthetics of a Queen bed covered edge to edge with your pillows, then the Queen size is the choice.
As far as practical uses are concerned, you probably won't notice a difference between a Standard/Queen and a Queen pillow.
However, if you feel like your Standard or Standard/Queen pillows don't offer enough pillow-space to grab hold of, the extra 2″ of a Queen pillow will definitely be appreciated.
King
A King pillow is long. How long?
A common mistake is feeling as though you have to use King-sized pillows on a King bed, which, of course, isn't true.
Some people enjoy the extra length of a King pillow. Others do not. It's really a preference thing.
If you appreciate having a pillow under your head at every shift or turn, you will enjoy a King pillow. If you want the aesthetic look of the mattress being full of pillows – a King size is the right pillow for the job.
Are you a pillow-hugger?
If so, then nothing will satisfy you quite like a King pillow!
On the other hand, if you sleep with your arm underneath the pillow, a King size might be a bit inconvenient.
The extra length tends to bend upwards and can rub against the side of your head – which can be irritating.
If you're a stomach sleeper, and you alternate between the edge or a pillow and no pillow at all, a King pillow will be entirely too big.
Still confused?
Still don't know which size is the one for you?
Let's go through the common sleeping positions, and see if we can identify if one size or another is the optimal choice.
Side sleepers
Do you alternate from side to side? – If so, you'll appreciate the extended length of a Queen or King size.
Do you have a preferred side? – If so, you'll appreciate the compact length of a Standard or Standard/Queen sized pillow.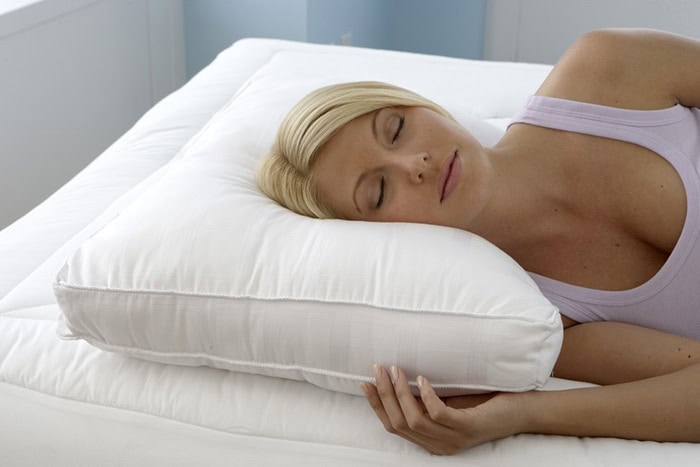 Back sleepers
The actual length of your pillow won't really matter.
If you're into bed aesthetics, then match your pillow size with your mattress size. If not, any size will do.
Stomach sleepers
The best choice here will likely be either a Standard or a Standard/Queen.
If you lay flat, and alternate between the pillow and no pillow at all, the compact length of the Standard size will suit you.
If you sleep with an arm under the pillow, the Standard/Queen size would be the better choice.