Last Updated on March 30, 2023
Did you notice the quilted-down blanket during your recent stay at a Sheraton Hotel?
Did you fall in love with it immediately?
That happens a lot more often than you might think. In fact, the Sheraton down blanket is quite possibly the most popular blanket currently found in American hotels!
So where can you buy one for yourself?
The problem is that you won't find it for sale in retail stores, and they're kind of hard to track down online – unless you know what you're looking for!
You're in luck because we do have two places for you.
The down blankets used in Sheraton Hotel rooms are the Double Diamond down blanket from Downlite. You can find them in the following two stores…
1.) Sheraton's store on Amazon
You can actually purchase this blanket from Sheraton's store on Amazon. 
It's usually available year-round, but they are sometimes out of stock during the summer months. If you want the "official version" – this is the one!
2.) Downlite's store
Downlite is the company that manufactures these blankets for Sheraton, and you can also purchase them from Downlite's store on Amazon.
We also have the double diamond blanket available in our store too!
So what's the catch – why the price difference?
These are the exact same blankets as those found in Sheraton hotel rooms, with one minor difference – they are "unbranded".
In other words, they won't come with the sewn-on "Sheraton" tag. But the savings are well worth it to give up a needless tag!
If you happened to check the tag of the blanket in your actual hotel room, the part number was most likely SWD100BL0000 followed by some other numbers.
For example, if it was the Queen size, the number was SWD100BL0000-WHI-092-096 (the 092-096 indicates the size). For a King size, the number would be SWD100BL0000-WHI-108-096.
What we love about the Double Diamond down blanket
This blanket has a lot of features built-in – a combination of which other duck-down blankets just can't match.
Let's take a look at what makes these blankets the most popular down blanket among American hotels.
Versatile Lightweight warmth
This blanket is light – in terms of both weight, and warmth. This provides a lot of versatility to take advantage of:
Ideal Summer warmth
When the Summer nights get hot, and your regular comforter is just too warm, a lightweight blanket is a lifesaver.
Many hotels in warmer climate regions exclusively use this Double Diamond blanket in place of a comforter year-round.
If you're reading this, chances are that you first used this blanket somewhere like Palm Springs, Phoenix, Miami, etc. Right?
When a comforter is too hot, but a flat sheet is just not enough, a lightweight down blanket is perfect!
Perfect for the couch
Lugging a comforter from your bedroom to your couch is a hassle. And most of the time it's just entirely too warm.
And sometimes a regular cotton blanket can feel too heavy or stiff.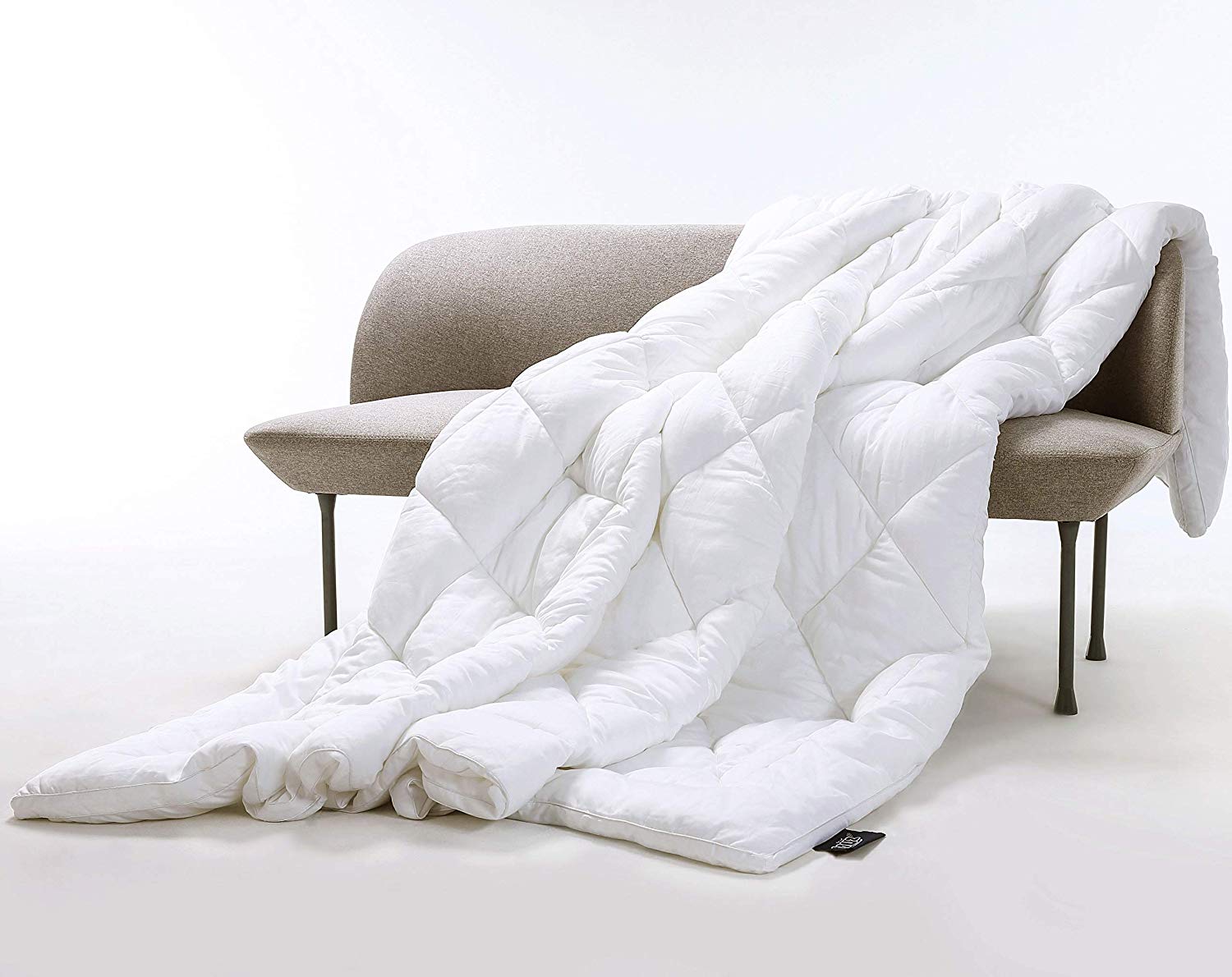 A down blanket is light enough (and warm enough) to use in any room of your house.
Or just as a topper
Sometimes your regular comforter just isn't enough.
Every region has a week or two where the night temperatures dip a bit lower than usual, and you probably end up turning the heat up all night.
A lightweight down blanket will usually provide that extra little warmth to make everything cozy!
Quality construction
As with all Downlite products, these Double Diamond duck down blankets are well-made, using premium materials, and featuring quality construction.
We can go on and on about the 300 thread count cover or the cotton/poly blend used, but let's focus instead on the workmanship found throughout the blanket.
It all starts with the 1.5″ self-flange with mitered corners, and an 8″ diamond box pattern.
The sturdy self-flange ensures that the seams don't come apart, and it also keeps the down inside – where it belongs.
The tight 8″ diamond pattern keeps the down fill evenly distributed throughout the blanket.
The fill itself is 100% white duck down, with a 525 fill power.
Since these blankets are usually used as a top cover, and not in conjunction with a duvet cover, any grey down is removed by hand before the down is actually filled into the blanket.
This ensures a clean white appearance from the outside.
Easy to care for
Since this is a blanket and not a comforter, it's also extremely easy to care for.
Unless you're using it as a full-time comforter for your bed, you won't need to use a duvet cover. And when it comes time to wash it, it couldn't be easier.
Maintaining a comforter presents two areas of difficulty:
Cramming it into your washer (and then your dryer)

Getting the down inside fully dry
Because of its light weight and size, this Double Diamond down blanket fits into any washer or dryer with little effort. Since it only has a minimal amount of down fill, it doesn't take much time to get the inner fill fully dry.
As far as instructions are concerned – you can wash the blanket using the gentle cycle with cold water, and then dry using on low.
For best results, we recommend letting the blanket air dry outside.
Easy to store
The Double Diamond down blanket leaves a small footprint. What makes it so easy to wash and care for, also makes it a breeze to store away. Unlike a comforter, you can probably find room in any closet of your home to stash away a blanket.
Specs and sizes available
The Double Diamond down blanket from Downlite is available in the following sizes and fill amounts:
Twin XL – 70″ x 96″ – 13 oz. of fill

Full – 86″ x 96″ – 16 oz. of fill

Queen – 92″ x 96″ – 17 oz. of fill

King – 108″ x 96″ – 23 oz. of fill
The outer cover is made of 300 Thread Count (60% Cotton/40% Polyester) blend. The fill is 100% white duck down, with a fill power of 525-550.
It is machine washable and dryable.
Some extra tips
Here are some final recommendations to get the most out of your new down blanket:
Wash before using
The outer fabric of this blanket is made with a tight weave to ensure that individual down feathers don't poke through.
Because of the tight weave, the outer cover might feel crinkly or be a bit noisy. It really does benefit from a "break-in".
Wash it once before using it, and that should do the trick.
Duck down odor
As with any goose or duck down product, you should not smell a "down odor".
If your blanket smells like a barnyard, it's most likely because the down fill inside is wet (this usually happens after washing).
The likely reason is that you didn't thoroughly dry it after washing.
Final thoughts
Sheraton Hotels are known for their quality and luxury accommodations.
They use only the best quality products, curated from the top brands and manufacturers. If you'd like to create a cozy and serene bedroom yourself, using what you find in a Sheraton hotel room is a good place to start!