Last Updated on March 31, 2023
Have you noticed a funky scent emanating from your sheets or towels even after being freshly washed? If your laundry smells funky you're not alone.
It's a much more common problem than you might think!
You would assume that the detergent and bleach which you use to clean your laundry would also clean your washing machine. As it turns out, that's not entirely true. You also need to clean your washing machine to get your sheets and towels smelling fresh and clean!
Once a month or so is enough to get the grime that gets left behind, and the mold that generates after and in between washes. It's a breeze to do and it really couldn't be any simpler.
With that said, let's look at what causes the problem, what the solution is, and how to do it.
Why Your Laundry Smells Funky
We all know how the washing machine works. You dump your laundry in. You fill it up with water and add your detergent. Then the water sloshes around and blah blah blah.
In theory, the cleaning agents used to wash your laundry should also clean the machine itself – particularly the drum inside. And when the machine drains, it should automatically be clean, and ready for the next load. Right? Not exactly.
The drum of a washing machine is like swiss cheese. It's covered with holes that drain the dirty water after a wash cycle.
And while the centrifugal force from the spinning action does remove the majority of the dirty water, a tiny little bit does get left behind in the holes – particularly above the water line.
That little bit of water leads to mold and mildew – which is more than happy to join the party the next time you throw in a new load of laundry.
And you might see a clean drum from the inside, but the outer side (which you can't see) could be nasty!
This leads to freshly washed towels or sheets that have a funky smell that you can't get rid of – no matter how many times you wash them.
Why You Need To Clean Your Machine
To get your laundry smelling fresh and clean, you have to get your washing machine fresh and clean. Remember all of those small holes in the drum? Each of those small holes provides a home for mold, mildew, and bacteria to grow and fester.
See the brown residue in the picture above? That is the same residue and gunk that is hiding inside of the holes and on the outer side of the drum. So how can we remove it?
The solution is fairly simple – you just have to get in there and clean every square inch of surface area. This can be done if you have a few hours of time to spend.
But there is a much more efficient and effective way; one which takes almost no effort at all. One wash cycle per month (twice per month if you use your washing machine more frequently than average), is enough to get your machine free and clear of funk-causing mold and mildew.
What To Use?
It's a fairly obvious answer – Washing machine cleaner, like this one from Affresh:
That little tablet does all of the hard work for you!
One tablet per month will get your machine clean and will keep your sheets, towels, and clothing from having that funky odor. 
How To Use an Affresh Tablet
Whether you have a top-loader or a side loader, the directions will be identical. For average washing machine use, drop one of these Affresh tablets into your washing machine once a month (when empty), and run your machine's normal cycle (hot option).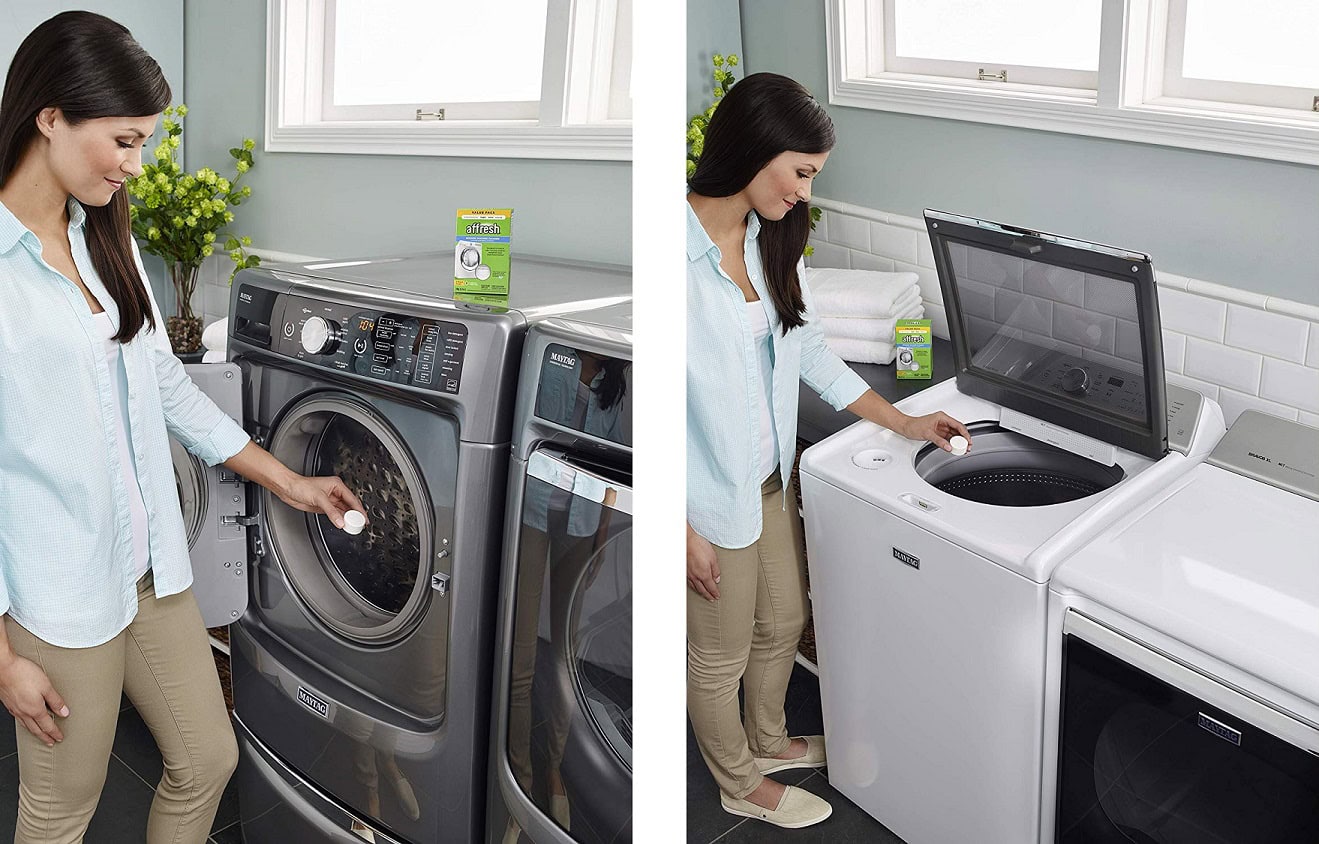 The slow-dissolving tablet will foam up, break-up whatever mildew or residue that there is, and kill any mold or bacteria that you have present.
When the cycle is done, wipe away any residue that may be left behind. You will be left with a clean and fresh-smelling washing machine – ready for a new load of laundry!
If you run your machine multiple times weekly – 4 times or more – you might want to consider running this cleaning cycle twice per month.
Frequently Asked Questions
You probably have a few questions. Let's answer them…
I use bleach in my machine. Doesn't bleach kill mold?
Good news…and bad news.
Bleach does kill the mold on the surface, but does nothing about the membrane portion underneath, or "the root" of the mold.
It gets worse. When bleach doesn't entirely get rid of a mold colony, the colony then uses bleach as a food source, and can then multiply. In other words – bleach can actually increase the amount of mold in your washing machine.
Even the EPA recommends not using bleach to remove mold.
If my laundry smells funky, can't I just use vinegar?
Vinegar is effective at cleaning mold, and preventing re-growth, but it does have limitations.
If you are able to clean your washing machine using basic white vinegar – that's great! If you've tried vinegar though, and the moldy odor is still present, you need a professional strength cleaner.
My washer has a "Clean Washer with Affresh" cycle. Is that what this is for?
Yes, exactly!
You choose that cycle when you're ready to clean your washer with an Affresh tablet. Drop the tablet it, and let the machine do the rest.
Can I just throw in an Affresh tablet with my regular laundry?
No!
Affresh tablets are specifically formulated to attach the mold and mildew build-up in your machine. They do not fight stains or odors in your actual laundry garments.
Is one Affresh Cycle enough?
For most machines, yes, one cycle will be enough.
If your machine still smells like mold once the cycle has finished – did you remember to wipe any residue that was left? If not, wipe away any remaining residue with a damp cloth.
Does it still smell like mold? If so, you might have to run the Affresh Cycle up to 3 times depending on how mold amount in your washing machine.
What are the ingredients in Affresh washing machine cleaner tablets?
Affresh cleaning tablets contain Sodium percarbonate, sodium carbonate, Glucono-delta-lactone, Polyethylene glycol, and Sodium acetate.
Deep Clean Your Washing Machine
If you want to go the extra mile and get your washing machine especially clean, Affresh also has washing machine wipes available – but any regular type of wipes will do!
Open your washer's door, and start with the rubber seal. As the washer runs, water splashes everywhere. When the cycle is done, and the water drains out, the seal is one of the main areas that remain wet. Make sure to clean all around it, including the inside.
Next, you'll want to clean the window of the washer (if your machine has one). Make sure to run the wipes around the perimeter, and clean the entire edge. Water tends to splash everywhere during the cycle, and that edge is a convenient hiding place.
Next, clean around the top rim of the machine, including the detergent tray (if your washer has one). Make sure to use a clean wipe with each step to prevent cross-contamination.
Finally, if your machine has paddles, like in the picture below, run a wipe up and down along the edge where the paddle meets the drum. The Affresh tablet should have already cleaned this area, but it doesn't hurt to make sure – it will just take a few seconds.
There you go, all done! Your washing machine should now be clean, and free of odor-causing mildew, mold, bacteria, etc. There should be a noticeable fresh scent in your next load of clean laundry.
Sweaty Odor
There's a big difference between smelling funky, and smelling like sweat.
It's common for newer performance fabrics – like gym clothes – to smell of sweat, even after being washed. If your laundry smells like sweat, your problem is most likely your detergent, not your machine.
Modern performance fabrics are woven differently. And traditional detergents just aren't effective at penetrating these unique weaves.
The answer is in the odor, so stop and smell your laundry.
Does it smell like it did before the wash? Then your problem is the detergent. Does it smell moldy, and funky – kind of like a gym shower? Then your problem is the washing machine.