Last Updated on March 30, 2023
If you've stayed at popular hotels or motels like Sheraton, Courtyard, Marriott, Best Western, etc., you've probably come across the Standard Textile Cumulus top cover.
Its snowy white and rippled texture is very eye-catching!
And if you're reading this, you're probably trying to find out where you can buy one. Or maybe you want a review and some details.
So, let's get into it. First, we'll tell you where to buy one for yourself, and then we'll get into the details and do a review.
Just a quick note before we begin. We'll go over this in detail later in this article, but please note, that these covers are wash-activated. You'll need to wash it for the puckered texture to pop out.
Standard Textile's Amazon Store
Standard Textile's store on Amazon sells overstock and seasonal items. 
The Cumulus covers are sometimes in stock – it just depends on the time of year. During the Summer months especially, they are a bit hard to find. 
For a better product selection, and a better deal, visit the link below…
Standard Textile Home
Standard Textile Home is their retail website – and in this store, you'll find all of Standard Textile's products. Cumulus covers are available year-round, as well as sheets, towels, etc.
If you sign up for their e-mail newsletter, you'll also receive 15% off of your first order!
Matching Accessories
If you like to fully decorate your bed, the pillow shams are available too! 
They have the same puckered texture, and the same snowy white color to complete the look.
---
Why We Love About The Cumulus Top Cover
The Cumulus top cover has a lot to love. 
They're unique, they're white and bright, and they're light too. It's the perfect cover for a warm climate. 
They Are Comfortably Light
A Cumulus top cover is essentially a heavy flat sheet. If you use them strictly as a decorative top cover, they're a breeze to take off, or put back on.
If you use them more as a bedspread, they're great for lightweight warmth during the summer months, or for warmer climates.
Many hotels in warmer climates use these as a substitute for blankets. The fabric itself is very light and breathes – keeping you cool.
Unlike traditional bedspreads, Cumulus covers don't have any down or polyester fill. The rippled texture provides the cover with a built-in mechanism to keep you warm.
They're Easy To Maintain
The lack of filling makes these covers easy to wash, and quick to dry.
Goose down can leak or wear out, and polyester filling tends to clump up after repeated washings. But, with no filler material to worry about, these covers offer maintenance-free use.
They're Soft
Go ahead and use these in place of a bedspread – they're actually soft. The puckered texture looks scratchy, but the side that actually faces you is soft and smooth!
They're made using Standard Textile's Centium Core technology.
Centium Core uses a blend of polyester and cotton. This produces a fabric that is both durable, and soft. You won't find the thread count listed, but they are equivalent to a 300 thread count sheet.
They're White & Bright
These covers are pure snow-white in color. If your room needs a splash of cool, it's just perfect.
The interplay between the rippled texture and the shadows that they create turns a plain white coverlet into so much more. It's a nice neutral base to work around!
They're Stylish
Nothing says contemporary quite like a clean white bed.
This cover pairs perfectly with grey and black tones, but the rippled texture gives it the versatility to handle other flashy colors like purple, aqua, etc.
They're Durable
These covers are intended for hospitality use. In other words, they're made to withstand daily washing without tearing or shredding.
Even with a weekly or bi-weekly washing, these covers should last anywhere from 6 to 12 years. Compare that with retail offerings that usually last for less than 3 years.
They're Unique
If you've gone shopping at your local department store, you probably haven't seen too many bed sets offered with a rippled or puckered appearance.
Actually, you won't really find top covers at all – they're more of a hotel thing.
Wash-Activated
Keep in mind, that these coverlets are wash activated. When you receive it, it will look like a plain wrinkled flat sheet. That's how you'll know you're getting a brand new cover.
Don't worry, you did receive the correct item. So often, customers will return these covers because they think they've received an incorrect item. 
It's the correct top cover – you just have to wash it first!
So, wash your new Cumulus cover using the hottest water temperature setting on your machine, using mild detergent. Then just tumble dry on the highest heat setting.
This will activate the rippled texture.
Likewise, for regular laundry, machine wash with hot water, and mild detergent, and tumble dry on medium heat. If you need to use bleach, non-chlorine bleach is recommended.
Size Guide
Cumulus covers are available in the following sizes and measurements:
Twin/Twin XL – 71″ x 99″

Full/Queen – 101″ x 104″

King/Cal King – 113″ x 104″
Final Thoughts
Hopefully, after reading this, you'll you were able to find your Cumulus top cover.
If you love the Cumulus look, but you want something warmer for the cold months, take a look at the Cumulus duvet cover set!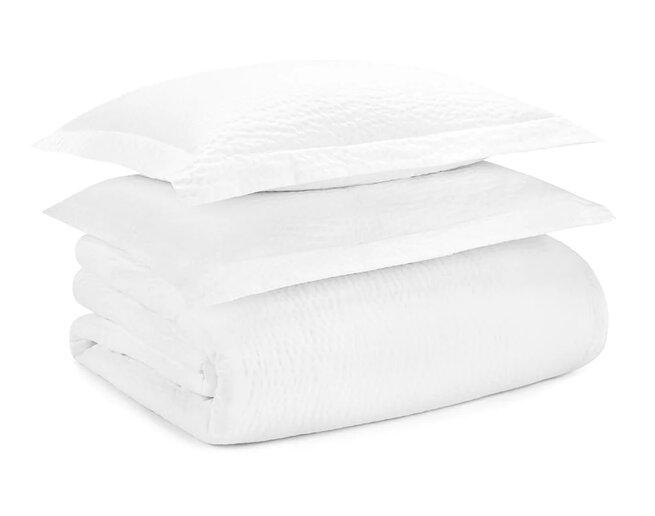 It has the same Cumulus look, of course, but it's a duvet cover.
So you can stuff a comforter inside to keep you warm during the Fall and Winter months. And it's a set, so it comes with a pair of pillow shams as well!