Last Updated on March 30, 2023
Sharing a comforter with your significant other can be a frustrating experience!
Usually, men prefer a lighter, and cooler comforter; whereas women prefer a warmer, thicker comforter. Depending on who wins the battle, this usually means that one person is too warm, or one person is cold.
Most couples solve this issue in one of two ways:
1.) They crank up the heat or the air conditioning.
or
2.) They use the European approach of using two separate twin comforters of different warmth levels.
Both of these solutions have their drawbacks. Heavy heater or AC use really cranks up the utility bills. It also creates noise that can disrupt light sleepers.
Using two separate twin comforters also has its issues.
Two comforters mean having to buy two duvet covers. It also leads to an awkward-looking bed. And for those couples that like to cuddle, two separate comforters can cause "logistical" issues.
Whereas one comforter covers both partners, with no slack in the middle; two unattached comforters tend to get in the way. The edges always seem to get between the two of you – which leads to a lot of adjustments throughout the night.
You could sew two twin comforters together (a light comforter, and a warm comforter)…
But there has to be a better alternative!
If only we had a comforter that was split down the middle. A comforter that was thicker and warmer on one side, but lighter and cooler on the other.
Something modular. Like a king-sized comforter that you could add on to, like Lego pieces…
Well, that actually exists!
The DreamTek Comforter
The DreamTek down comforter with the Smart Snap System solves that problem!
With the snap of a few buttons, one side of the comforter instantly becomes a dual layer warm comforter, while the other side remains the same:

Essentially how it works is this: You have a King comforter, with buttons that run along the edges, as well as the middle. This is the "single-layer" version.
It is an "All-Season" or lightweight comforter.
If you want your side to be warmer, you attach an additional Twin-sized comforter on top of your side, via the buttons. A Twin size measures exactly half the width of a King-sized comforter.
So, it covers only your half.

The regular King sized comforter is pretty standard stuff. It contains 17 ounces of 600 fill power European white down. The outer cover is 100% cambric cotton, and features a 300 thread count.
It features sewn-thru or "Bavarian" box construction to keep the down evenly distributed.
The additional Twin-sized comforter (sold separately) contains 10 ounces of down. After you snap it into place, you have a total of 27 ounces of 600 fill power down – which makes for a fairly warm comforter.
The button snaps are large and sturdy – the additional layer stays in place.
If you've ever placed an additional blanket on top of you, then you probably know how it can move out of place throughout the night!
With each partner having the warmth level of their choosing, this means no more frustration over having a bed that is too cold, or too warm.
Each partner has "their side of the bed" exactly how they prefer.
How to go about it
No two comforters are alike.
Even if you know the fill power, and the fill weight, you still don't know exactly how warm a comforter will be. Two comforters of the same fill power and weight, from two different manufacturers, will not be exactly alike.
Based on how they are made, and the quality of down used, one will always be warmer than the other.
With that said, the standard DreamTek comforter is relatively light – it's considered a "Summer comforter".
But you'll still want to gauge exactly how light or warm it really is for your needs before you purchase the additional twin-sized layer.
I would suggest purchasing the King-sized version first, and trying it out for a night or two to see if it is adequate enough for the warmer person. You can always add more layers later, but you can't take away from the single layer.
For the average "warm-blooded" person, of course, the single-layer version should be adequate year-round.
Wash the comforter
For best results, I would recommend washing this comforter before your first use for two reasons:
The first is that the outer cover of these comforters is made of cambric cotton. This type of cotton fabric – even though it has a thread count of 300 – tends to be much crisper than other cotton types, like sateen for instance.
Cambric cotton is often used with down comforters because of its tight weave – to keep the down inside. If you've ever had down leak out of your comforter, you'll definitely appreciate this feature!
Because of their crisp nature, they also tend to be a little noisy. Putting it through the washing machine will soften the fibers, and make the fabric more flexible.
This will quiet things down.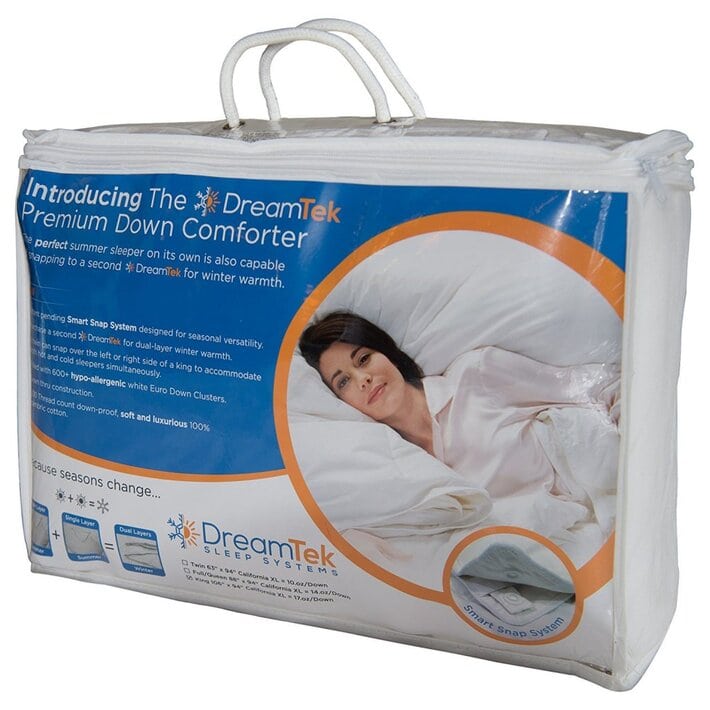 The second reason is that these comforters are shipped in an air-tight package to reduce shipping costs. When compressed, the down tends to clump up into larger clusters.
This causes the comforter to be uneven; with clumpy spots which result in cold spots.
Likewise, putting it through the wash re-distributes the down evenly.
For an extra fluffy comforter, add a few tennis balls into the dryer afterward. This will fluff the down to its optimal level.
Other options
Some couples don't experience the issues described above.
However, both partners might prefer a lighter comforter during the warmer months, and a heavier comforter during the colder months.
Traditionally, solving this problem meant having two comforters – one for warm months, one for cold. And this system works, but warm comforters can get pricey/
A good warm comforter can cost $300 or more, for example!
This means spending upwards of $400-500 for both comforters. With the DreamTek "system" comforters, the single-layered comforter is actually quite affordable.
Two king-sized comforters allow you to have the single layer for the warmer months, and then the warmer double layer for the colder months. Problem solved!
Final thoughts
For a quality down comforter (600 fill power; 300 thread count cover, etc.), the DreamTek comforter is surprisingly affordable. Similar lightweight comforters often sell for considerably more.
If you routinely crank up the air conditioning, or the heat, to compensate for losing the comforter battle with your partner, the DreamTek comforter will probably pay for itself within your first month of use.
Having the right temperature for your bed can make the difference between a good night of sleep, or tossing and turning all night. We finally have the solution!
Have you tried the Smart Snap Down Comforter from DreamTek? If you have, would you please leave a comment below and share your experience?