Last Updated on March 30, 2023
Many people who suffer from anxiety like to have someone lay on top of them.
The compression caused by another person's weight mimics a firm hug, which reduces or completely alleviates anxiety.
Usually, this is from a partner or someone with whom you share some kind of intimate connection. For single people, it can be awkward, or even creepy to ask a friend or family member to lay on top of you.
With that in mind, if you're single – or even if you're in a relationship, but don't always have your partner available – you have options.
Many people use a weighted blanket – also referred to as a gravity blanket – to reduce their anxiety. Much like having a person lay on top of you, a weighted blanket is just that – weighted.
When laid on top of you, its extra weight mimics the compression and force of a hug, and reduces your anxiety.
A weighted, or gravity blanket is great for anyone with:
Anxiety

ADHD

Autism

Insomnia

Restless Leg Syndrome

Stress
We discussed the basics, but let's take an in-depth look at what a gravity blanket is, and how they work.
Sizes and weights
You'll be able to find gravity blankets in whatever size your mattress is. Generally, they are available in weights between 5 and 30 pounds.
The 15-pound version is generally for people around 150 pounds or so.
Likewise, the 20-pound version is for people around 200 pounds. You can always use less or more depending on the severity of your anxiety.
A traditional medium-weight Queen comforter will generally weigh between 5-8 pounds.
Given the average weights above, a gravity blanket is about 2-5 times as heavy as a normal comforter, depending on which weight you purchase.
So, as a general rule, you should use a blanket that weighs about 10% of your body weight.
The concept behind it
Have you ever seen the 2010 movie Temple Grandin, starring Claire Danes?
If you have, then conceptually speaking, a weighted blanket should make sense. In the movie (which is based on real-life events), Temple Grandin constructs a "hug box" to reduce her own anxiety, stemming from her autism.
The hug box was based on squeeze chutes, of course, which are used to calm cattle.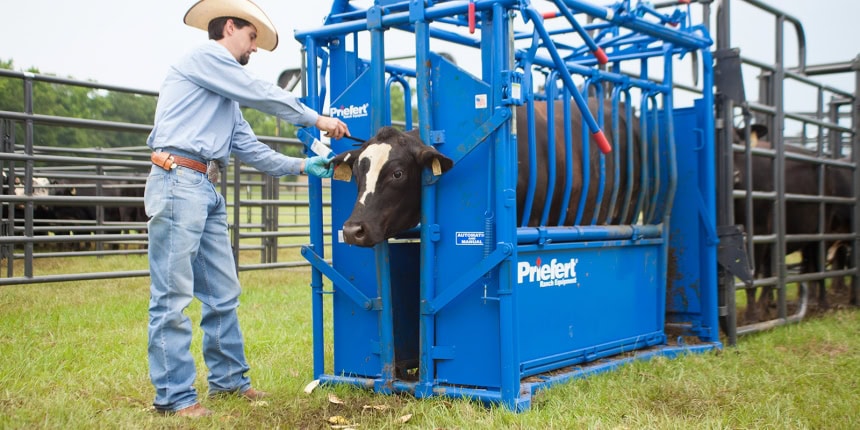 The hug box was, in essence, two hinged sides that compressed against the person inside the box, essentially offering the same sensory comforts as a hug.
Autistic people have a hard time turning to other people for comfort – in this case for hugs – which was the catalyst for the hug box.
A weighted blanket works in much the same way, with a variation in position.
Whereas the hug box asserts pressure from your left and right sides, a weighted blanket compresses you from top to bottom as you lay down.
With the added weight, gravity does the work – and that's why they are called "gravity blankets".
The YnM Gravity 2.0 Heavy Blanket
The most popular model on the market today, is the YnM Gravity 2.0 weighted blanket.
Let's take a look at its features:
General specs
Available in sizes ranging from 36″ x 48″ for kids – to  80″ x 87″ for adults

Available in weights from 5 lbs to 30 lbs

Colors available: Cream, Dark Grey, Light Grey, Navy, Sea Grass

Available in 100% cotton, or 100% bamboo viscose outer fabric
Accordingly, this blanket is composed of:
The YnM Gravity blanket looks like a traditional comforter from the outside. Between the outer covers are four layers of fabric and fiberfill, with a layer of glass beads in between.
The glass beads are what provide the bulk of the extra weight, of course.
The layers in between provide comfort and noise suppression so that the blanket does not make noise as you move and shift in bed.
What size should you choose?
If you shop around for a gravity blanket, you'll notice that they come in odd shapes and sizes:
The thing to keep in mind is, gravity blankets are designed to mainly cover the surface of the bed. Unlike traditional comforters, for example, gravity blankets do not flow down the edges of your bed.
Here then, is a handy guide for which size to choose:
Twin mattress
36″ x 48″ – for children

41″ x 60″ – for adults
Full size mattress
Queen size mattress
48″ x 72″ – average sized person

44″ x 82″ – tall person

60″ x 80″ – for couples
King sized mattress
48″ x 72″ – average sized person

44″ x 82″ – tall person

80″x 87″ or 60″ x 80″ for couples
Cal King mattress
55″ x 82″ – average or tall adult

80″ x 87″ for couples
What weight should you choose?
As a general rule of thumb, choose a blanket that is roughly 10% of your body weight. You can always go lighter or heavier, but the 10% rule works for most people.
Does it make you hot?
Surprisingly no. You would think that with 7 layers, as well as the added weight, this comforter would feel like a sauna. But it actually doesn't.
It all has to do with the way the layers are constructed, and what materials are used. The fabric layers are all made of super breathable layers.
The glass itself does not conduct heat, of course, it's an insulator.
This means that it won't hold heat, or transfer heat from outside of the blanket, to you. Most weighted blankets use the fiberfill to provide weight.
Fiberfill holds heat, which is why it is used in traditional comforters. Glass beads do not.
Can you wash a weighted blanket?
Yes, you can, especially if it fits in your machine.
The larger/heavier blankets, specifically, might not fit in your washing machine at home; you may have to take them to a laundromat that has large washing machines.
Either way, weighted blankets are machine washable and dryable. Just make sure to use a duvet cover so you don't have to wash it as often.
Do the glass beads bunch up?
No.
Just like goose down in a down comforter, for example, the glass beads are sewn into individual compartments to keep them evenly distributed.
You can move, shift, etc., and the beads will stay in place.
What if my partner does not want a weighted blanket?
Many couples use individual twin blankets so that each sleeper has his/her own comforter.
You can employ this same method here – a twin-sized weighted comforter for you, and a traditional twin-sized comforter for your partner.
Final thoughts
A weighted blanket is a great way to reduce or calm anxiety. It is the next best thing to being hugged or held – especially when you can have that feeling all night.
For those people who suffer from anxiety, stress, etc, a gravity blanket is an easy and convenient way of privately addressing the need to be held.
Likewise, you might also enjoy a weighted sleep mask.