Last Updated on March 30, 2023
Cribs and toddler beds have some built-in safety features. Your child falling out of bed isn't really an issue.
When the time comes to transition to a big kids' bed, however, you might have some concerns.
The bed can be on top of a low-profile platform, against a wall, etc. No matter what precautions you take, you're still going to worry when your child's safety is concerned.
Fortunately, two more safety measures can completely put your mind at ease. Let's examine each one and figure out which is right for you – and your child.
Option 1 – Bed Bumpers
If you're afraid that your child might roll out of bed – or if they already have – then it's perfectly normal to consider safety options.
The one obstacle that you might face, however, is your child's reluctance to use safety features.
As toddlers grow, they prefer to think of themselves as a big girl or big boy. They start to reject the items that a "baby" would use.
At a certain age, children start to reject the high chair and want to sit in a regular chair, or they might refuse a sippy cup and demand a grown-up glass.
So, if you want something discreet – something that isn't obviously a safety device – our recommendation would be to use a bed bumper like this one from BabySeater.
Bed bumpers are foam wedges that you place on the side of the mattress. The bumpers go on top of the mattress and under the fitted sheet.
They act as a roadblock, and prevent your child from rolling over the edge. Over time, they will also train your child to recognize when they are around the edge of the bed.
Bed bumpers are usually around 4-5″ in height and about 50″ in length – so they'll work for children of varying ages, and in beds of different sizes.
If the bed faces a wall along one edge, then you'll need one bumper. Likewise, if the bed is in the middle of the bedroom, you'll probably want a pair.
How to use a bumper
Bed bumpers are probably the easiest safety device to use – there's really no "installation" involved.
You place the bumper on the edge of the mattress with the flat side facing down, and then cover the mattress with a fitted sheet like you would normally.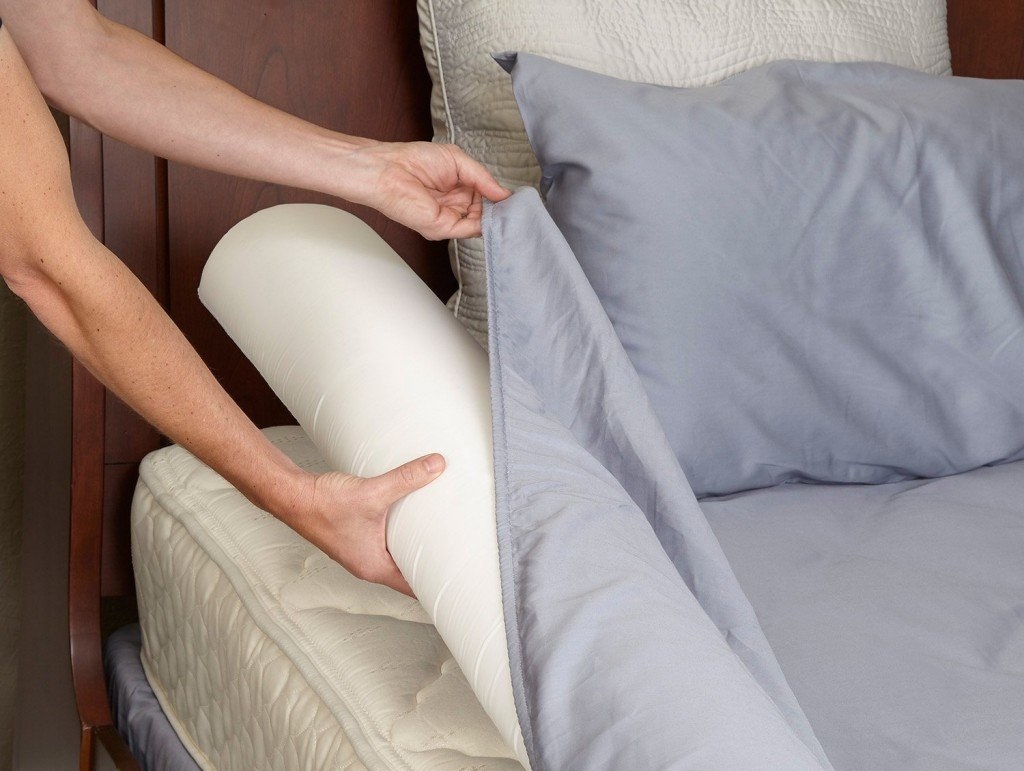 And that's it!
Foam bed bumpers are soft and comfortable. But they're also firm enough so that they won't flatten when your child presses against them. Most bumpers will, of course, come with a waterproof machine washable cover.
You don't have to actually wash the bumper – just the cover.
Pros
Easy to put in

Easy to take out

Less expensive alternative

Not visible when the bed is made

Can be used for other purposes
Cons
Takes up space on the surface of the bed

Easy removal could possibly be an issue

Needs occasional readjustment.
Option 2 – A Bed Rail
Being discreet isn't always a priority.
If you don't really have an issue with your child when it comes to safety features, and you don't mind a bit of installation work, another option is to use a bed rail guard like this one from ComfyBumpy.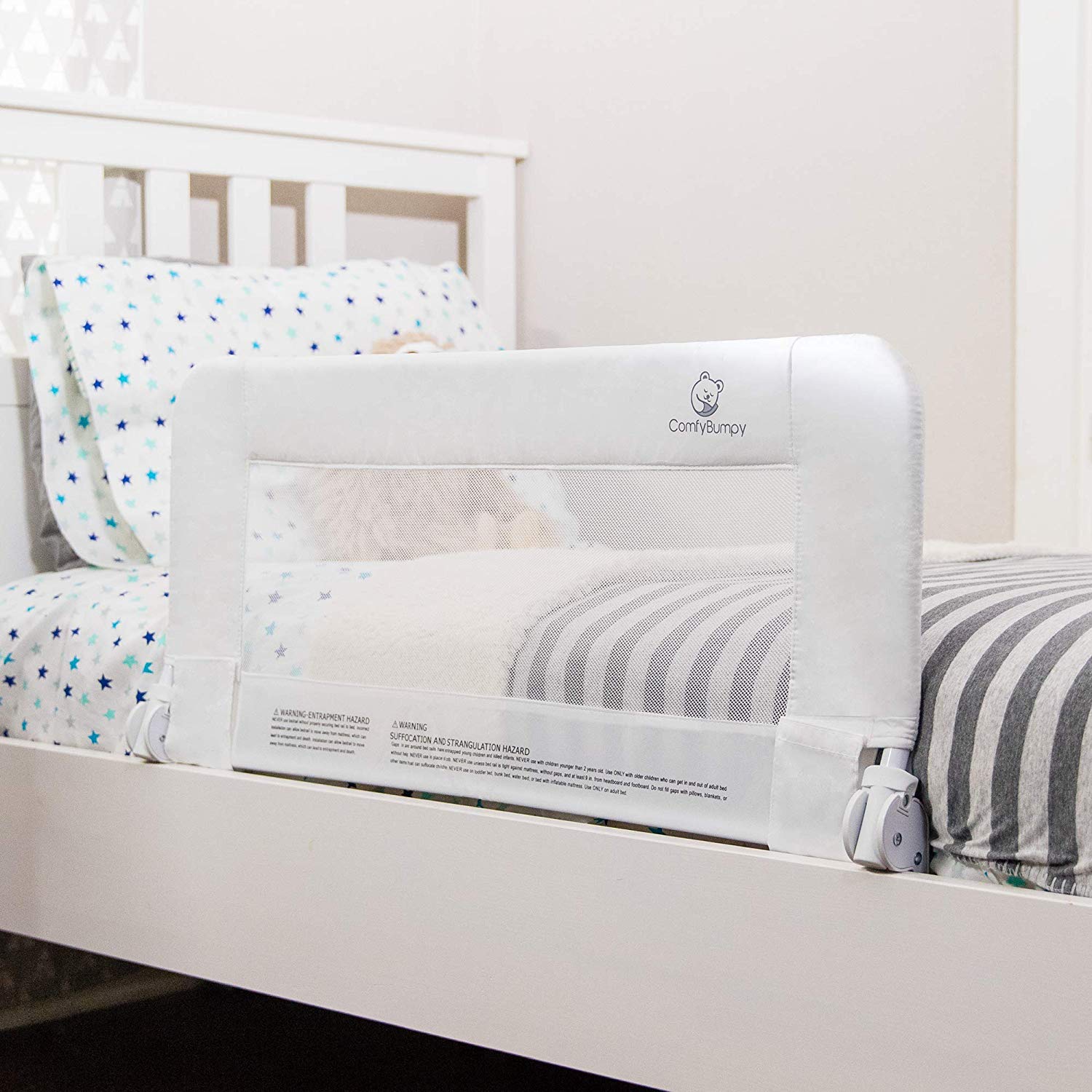 A bed rail isn't as discreet as a bed bumper and will take a bit more effort when it comes to installation, but they definitely work!
They function just like the rails on a toddler bed, for example, but you can always remove them later.
How to use a bed rail
Different models vary in terms of exact installation, but the premise is usually the same.
A bed rail is usually L-shaped, with the horizontal portion going underneath the mattress. Sometimes you can just screw them in, other models have a velcro strap, etc.
After you install the lower portion, the vertical side rises up against the side of the bed and prevents your child from rolling off of the edge.
When not in use, you can fold down the rail portion for easy access in/out of bed.
Pros
Sturdy

Children can't remove it

Can fold down and out of the way

Taller barrier
Cons
More expensive

Harder to install

Harder to remove
A few additional tips
While both of these options are fairly straightforward when it comes to installation and actual use, here are a few more tips, as well as what to expect.
Bumpers arrive shrink-wrapped
Bed bumpers arrive wrapped and compressed, so, they might take a few hours (sometimes a day) to spring back to life.
When they first arrive, you might assume that they're damaged, but don't worry. Just give them a bit of time to decompress.
Can I use bed bumpers with an infant?
No. Bed bumpers should not be used with newborns, as well as infants – they can suffocate if their face is pressed into the foam.
Will I need an extra-deep fitted sheet with bed bumpers?
A regular fitted sheet, of course, fits a variety of mattress depths.
If you're only using a bumper on one side of the mattress, you shouldn't have any issues.
If you use a bumper on each side, depending on the depth of your mattress and the fitted sheet being used, you might need to use a sheet with deeper pockets.
Can I wash bed bumpers?
Bumpers usually come with a removable and washable outer cover. You should be able to get by with just washing the cover.
However, if you do need to wash the actual foam, yes, they are washable – you just might need to hose them off or wash them by hand in a bathtub. They probably won't fit in a washing machine.
Are bed rails permanent?
As far as installation goes – no, bed rails can always be removed. Some get screwed in, others use adjustable straps or velcro, etc. But they can always be taken out.
Once they are installed, the actual rail portion does not need to be permanently in place. You can fold it down whenever you'd like.
Will I need special tools to install a bed rail?
In most instances, a screwdriver will be enough. FYI, a screwdriver is only necessary if you have a flat wood base, without any slats.
If you have a platform with slats, or if you have a traditional box spring, you can install a bed rail using velcro or adjustable straps – which are usually included.
Do bed rails cover the entire length of the bed?
Bed rails come in varying lengths, so it is possible to find one that will run the entire length. Most rails, however, range between 35″ to 50″ in length.