Last Updated on March 30, 2023
One of the larger expenditures in a vacation rental is for mattresses. A three-bedroom rental will require between 3-5 mattresses – which means a cost of at least $2000, and usually more.
The average lifespan of a well-cared-for mattress is about 7 years. For a vacation rental – particularly a busy one – that might even drop down to about 5 years.
Unfortunately, vacation rental guests don't always take care of your mattress the way they might look after their own. In other words, expect the beds in your rental to receive a bit of abuse.
However, with a few simple additions, you can easily stretch that 5-year lifespan to 10 years – and often times more.
What exactly happens to a mattress in a rental?
Parents let their kids jump on the bed, people leave wet towels on top, etc. All of the small things that you might shy away from at home, take place in a vacation rental.
If your rental isn't managed or maintained at a timely interval, then your mattresses probably don't get flipped and rotated on schedule.
And if you're not keeping up with a regular thorough cleaning routine, the dust mites and bed bugs have their way with your mattresses as well.
All of these small details add up, and take their toll on a mattress!
What's the plan?
We're going to add two pieces to your beds, which in conjunction, will protect the insides of the mattresses in two different ways.
Why two?
Because it's not just people that damage your mattresses, but mother nature as well!
1st Step – A mattress topper
A mattress topper will not only make for a more comfortable bed – which your guests will definitely appreciate – but it will also protect the mattress from personal abuse.
We recommend something in the 2-4″ range, like this LUCID 3″ Gel Memory Foam Mattress Topper.
How a mattress topper protects:
Provides a protective top layer

Absorbs energy

Distributes weight evenly
A protective top layer
A mattress topper acts as a first layer of defense against abuse. Wet towels, pool-soaked children, etc. – these types of things will inevitably find their way onto the bed.
The topper will provide a bit of distance between them, and the mattress.
A foam mattress topper is usually ventilated and very porous. Any liquids – like water from a wet towel – will get trapped, and evaporate before they actually reach the mattress.
Absorbs energy
Using your mattress strictly for sleeping will eventually take its toll on a mattress. So you can imagine how a little abuse will decrease the lifespan of a mattress.
Many guests in a vacation rental will include families with young children – and young children love to jump on a bed!
Jumping on a bed wreaks havoc on the springs and coils, not to mention the strain it puts on the wooden framework.
Over time, children will contribute their fair share of abuse to your mattresses.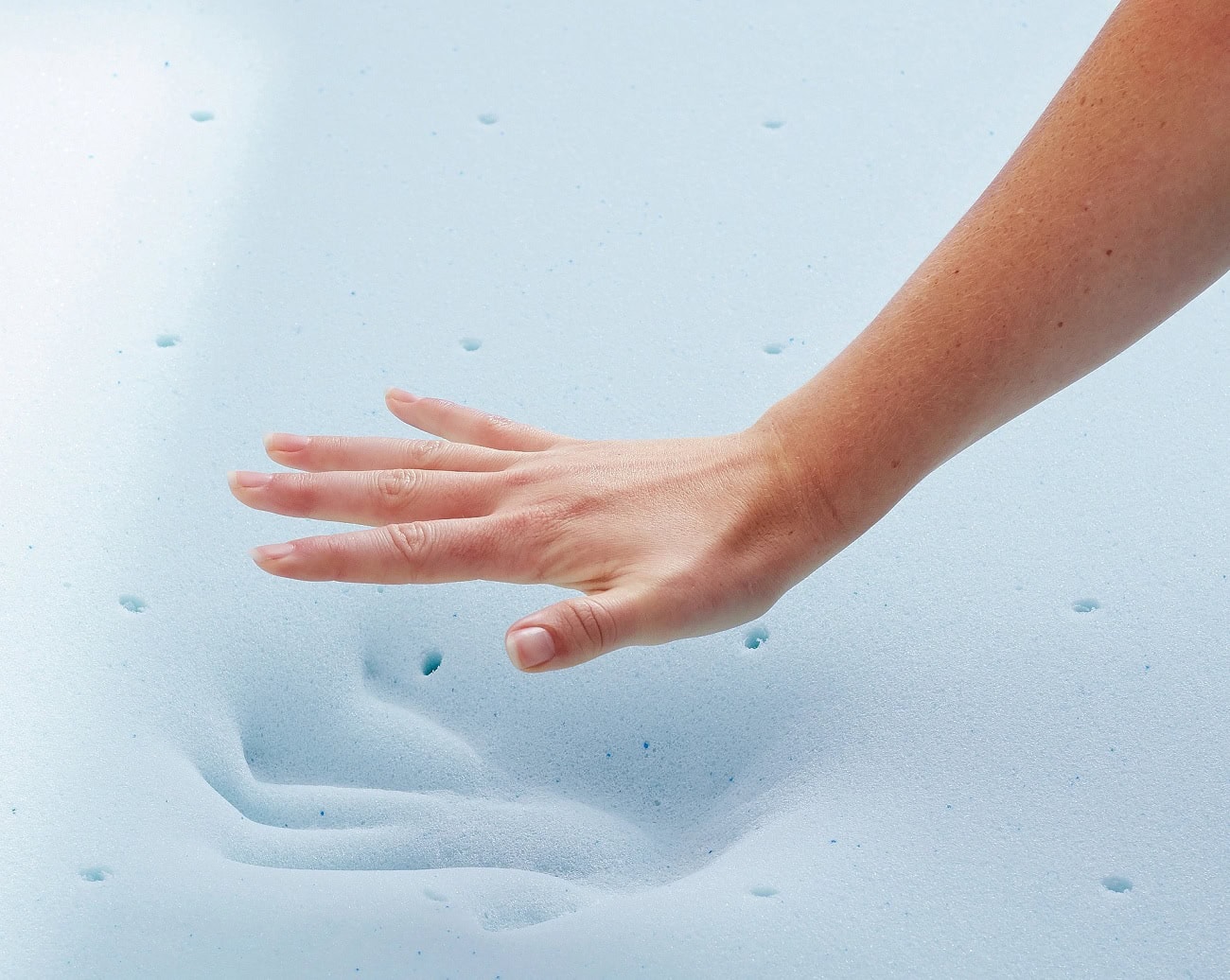 A memory foam topper will absorb this energy before it reaches the mattress.
On a side note, jumping on a foam mattress topper isn't very enjoyable. A topper absorbs the energy but doesn't give it back. It isn't springy like the mattress itself. Which means you come down, but you don't spring back up.
This usually means that the bed-jumping doesn't last very long.
Even distribution of weight
The main reason why mattresses sag in the middle, is because that's usually where our weight is. The insides of a mattress eventually break down from the consistent compression.
A memory foam mattress topper distributes the weight a bit more evenly across the surface of a mattress. It prevents sags and uneven lumps.
We covered human abuse, now let's talk about how nature taxes your mattress.
2nd Step –  A mattress protector
If aren't already, you should start using a mattress protector.
A mattress protector prevents fluids, and bed bugs from getting into your mattress – two of the most common things that decrease the life of a mattress.
It is one of the easiest (and cheapest) ways to prevent the aging process.
A mattress protector – like a pillow protector – encases the entire mattress and seals with a zipper. The fabric is waterproof and bed-bug resistant.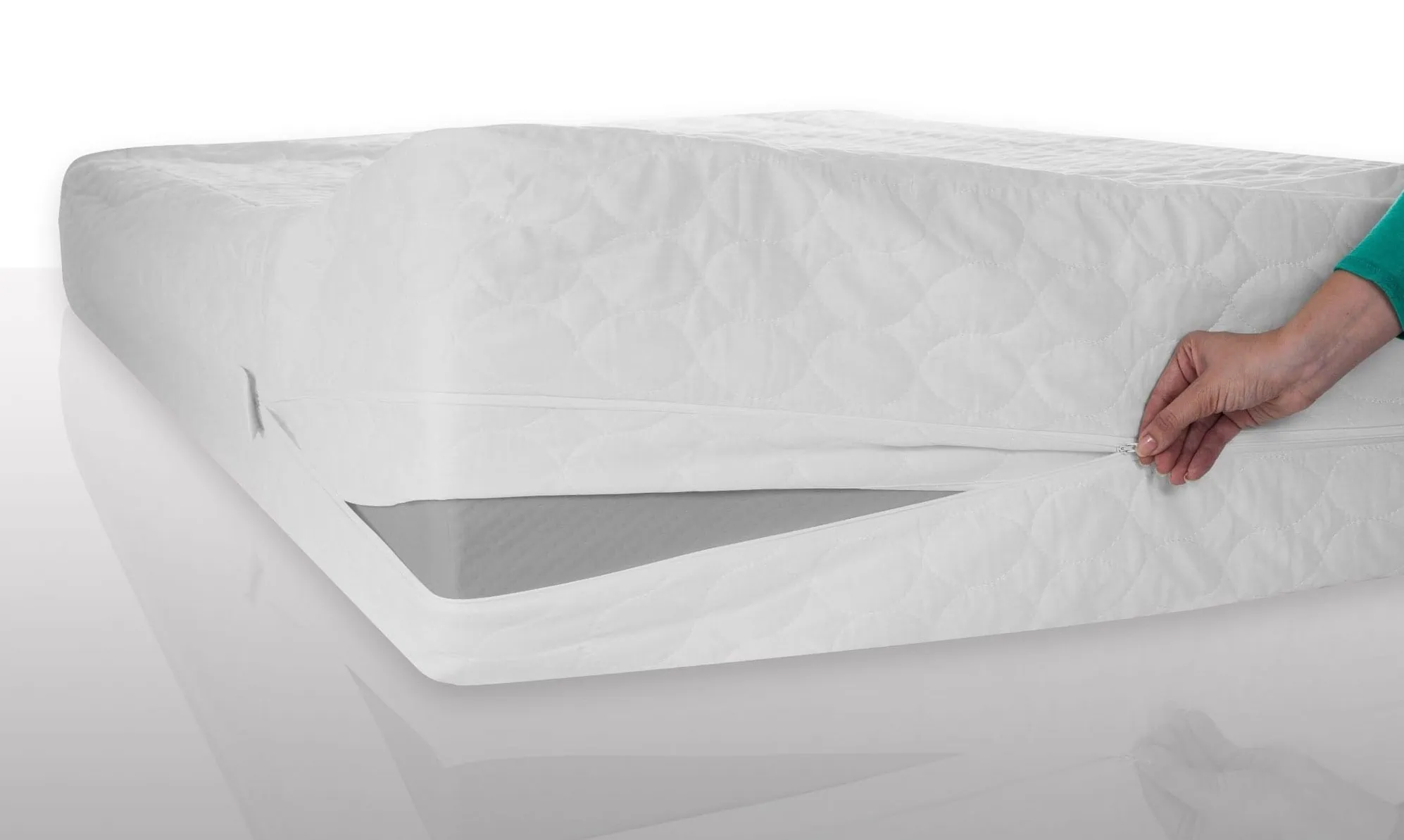 Bodily fluids and bed bugs age a mattress just as much as human abuse. Liquids, like sweat, warp and degrade the fibrous materials inside.
Bed bugs and dust mites feast on those same materials.
A little sweat and a few bed bugs might not sound like much, but their effects add up over the years. This is especially true if your rental is located in a humid location.
Start using a mattress protector, and slow the aging process. They're both affordable, and easy to use.
The savings
A mattress topper and protector will add about 10% to the cost of each bed. But if using the two of them doubles the lifespan of your mattresses, we think it's well worth it.
Yes, the savings might not be much for a single mattress. But multiply it by the number of mattresses in your rental property, and it's easy to visualize the difference.
A vacation rental is a business investment, and mattresses are an asset. The less money you spend on new mattresses, the more that goes into your pocket!
A few more suggestions
The two suggestions above will protect and extend the life of your mattresses. Here are a few more tips and tricks to get the most out of your investment:
Avoid pillow-top mattresses
Pillow-top mattresses have become quite popular over the past 10-15 years. And they do have their benefits – but durability is definitely not one of them.
Pillow-top mattresses are one-sided. While they can be rotated, they can't be flipped. Which means they don't wear evenly.
This type of mattress is notorious for sagging in the middle – which happens sooner than you might thing. It's actually quite common for a pillow-top mattress to sink in the middle within 2-3 years.
No need for a mattress pad
If you do end up purchasing a mattress topper, you can skip the mattress pad and save the money. A topper does the same job as a pad.
Don't skimp on the bed frame
A proper bed frame with center support will also prevent your mattress from sagging in the middle. If you are furnishing a rental with new furniture, then choose a quality bed frame.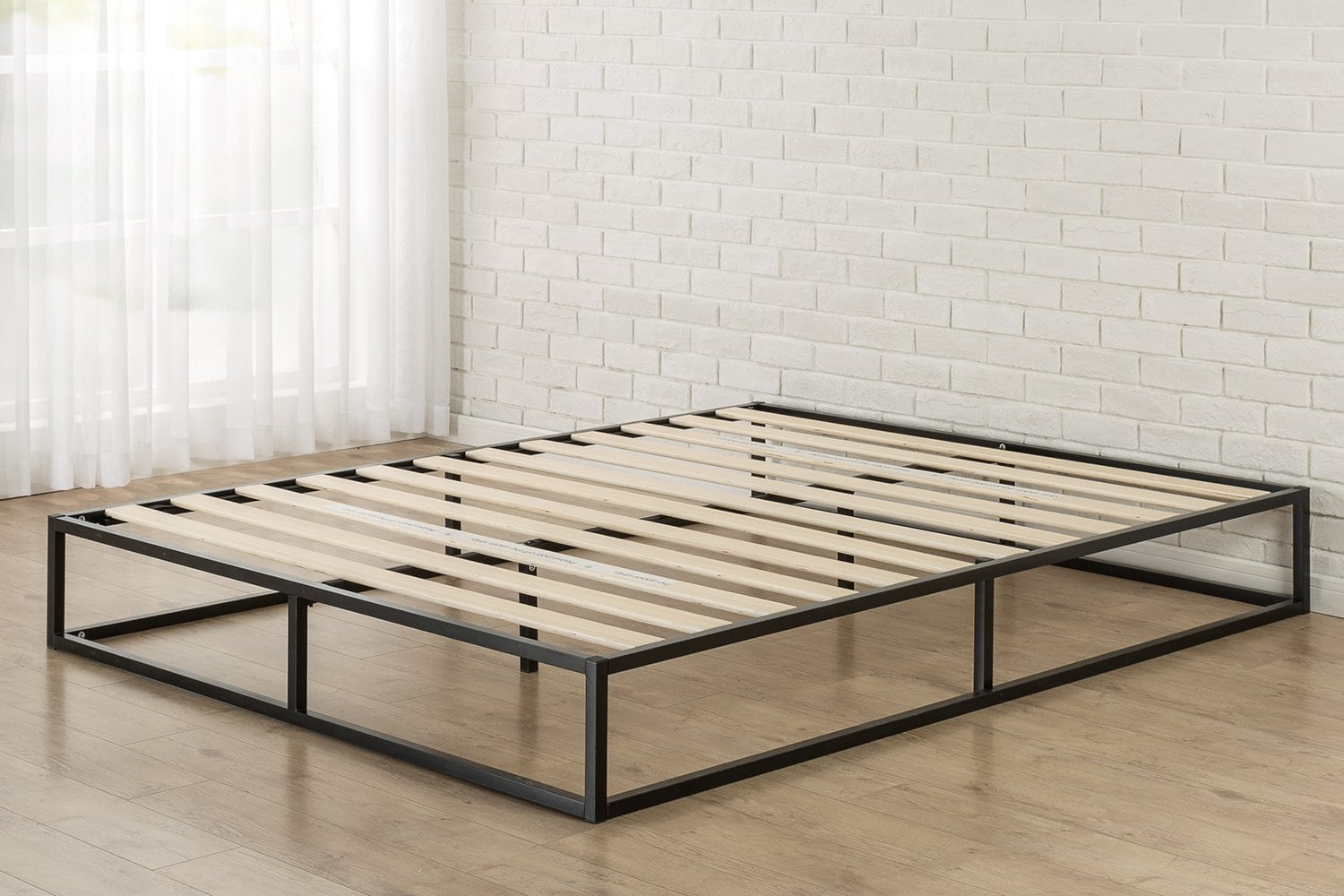 Mattress protectors don't have sides
Don't worry about which side is up when flipping your mattress. A full encasement mattress protector doesn't have a top side like a fitted sheet would.
Both the top and bottom sides are identical.
If you use a mattress protector, then flip your mattress like you normally would.