Last Updated on March 30, 2023
Everyone loves luxury hotels and accommodations, and the main reason is usually the bed. No matter how well (or poorly) we sleep at home, we all seem to drift away so effortlessly in a hotel bed.
With just a little effort, and the right materials, you can create a heavenly bed that is a joy to sleep on at home. And you will come to find out that a good night of sleep makes you feel rested and relaxed.
If you have a vacation rental or cabin – a good night of sleep makes your guests happy. And happy customers are usually returning customers.
Some of the items described below might sound a bit excessive. Keep in mind; this isn't an explanation of how to make your bed comfortable. It's how to make your bed resemble a hotel bed.
The Layered Bed
A hotel bed is almost always layered. Let's start with the bottom layer (that closest to the mattress), and work our way up.
The first layer starts with protection. Start with a mattress protector to keep dust mites out, and protect the mattress from stains – both of which can wear a mattress out from the inside.
You probably don't realize it, but our bodies sweat a lot throughout the night. The sweat makes its way into the mattress – not a good thing!
The next layer is luxury.
If you have a smooth-top mattress, adding a thin foam pad on top of the mattress protector will give you the "cushiony" effect that makes you want to sink into the bed.
After the foam pad, you can add a mattress pad on top. If you have a super deep mattress, you can buy the pads with anchor straps. Mattress pads are usually waterproof, and add a layer of protection, along with being the last layer of comfort.
To minimize bulkiness, look for a mattress pad with anchor bands, like this: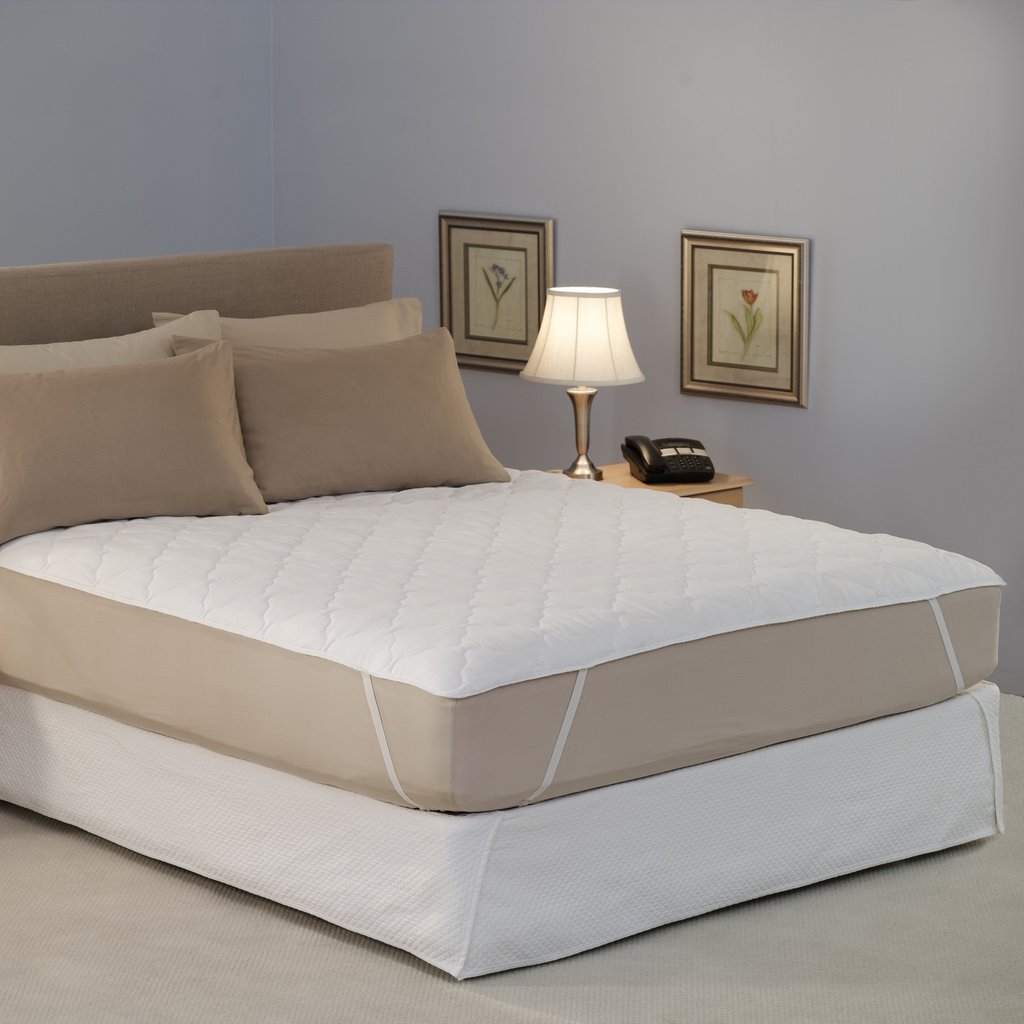 After this, just add the sheeting that you prefer.
Keep in mind, the added layers essentially turn your regular mattress into an "extra-deep" mattress. Your current fitted sheets might not be able to accommodate the new depth. You may have to purchase some extra deep fitted sheets.
The Sheets
Most people are surprised when they find out that Hotels don't use 600 or 800 thread count sheets. Even more, people are surprised when they find out that 600 or 800 thread count sheets don't even exist.
Thread count is a measure of threads per square inch. Using standard threads, it's actually impossible to fit more than about 400 threads per square inch.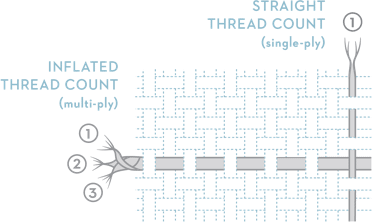 The way to get around this is to weave two (or more) thin threads into one standard thread – which doubles the thread count on paper, but does not feel any better to the touch.
These weaved threads are as thick as a 1 ply, and feel the same, but on paper, they count as 2 (or more).
It's a bit more complicated, but basically, a 600 thread count sheet is really just a 300 thread count sheet. Next time you're shopping for sheets, pay attention to the packaging.
These sheets will often be described as having 2-ply yarns. They make it sound like a good thing – but it's really not!
What makes things even worse is that this double-ply thread is much less durable. That's why you'll often find that the "high thread count" sheets start to pill after a few washes.
So what kind of sheets do hotels use?
Hotel Sheets
Hotels actually use cotton-rich sheets. Cotton rich is just a fancy term for a cotton/polyester blend. Most hotels will use a 250 thread count sheet set, and luxury hotels will use a 300 thread count sheet set.
Cotton rich is used because these sheets last longer, and stay cooler while you sleep.
Have you ever paid attention to the brand of sheets at a hotel? You may have seen Comfortwill sheets by Standard Textile – does that sound familiar?
If you have, you probably remember those as being super soft and comfortable. Those are in fact cotton rich 250 thread count sheets!
You may have also noticed high-quality luxury brands with sheets that have low thread counts. Brands like Sferra use weird thread counts like 277, etc. And those sheets cost $100's right?
That's because, in reality, a 277 thread count sheet is actually high quality. It's equivalent to the fake 500-600 thread count sheets you'll find at a department store.
So, find yourself a good quality sheet set. What is good quality?
Around 300 thread count

Single-ply yarn

Cotton that is named (Egyptian, Supima, etc.)
If you can afford it, opt for a rayon sheet set. Rayon is a material made from bamboo. Also referred to as Viscose, rayon sheets are more expensive than cotton, but they are also softer, feel cooler, and last longer.
Rayon threads are naturally thinner than cotton – which means that the high thread count numbers with rayon are actually legitimate.
Top Of The Bed
Pillows are another key part of the bed. As a general rule of thumb, for a hospitality setting, you should have at least two kinds of pillows: Soft and Medium. 
Firm pillows are great too, especially for side-sleepers, so if your budget allows, get one of each.
Most American hotels use Chamber pillows. Chamber pillows have two "chambers" inside. An outer chamber full of down for softness, and an inner chamber filled with feathers for support and integrity.
At a luxury hotel, you'll usually see down pillows on the bed, with down alternative substitutes inside the closet.
Expensive pillows are definitely an investment. Make sure to protect them with pillow protectors. Dust mites will destroy a good down pillow, and leave it a dusty mess full of waste and allergens.
A pillow protector will keep your pillow in service for years, as well as protect them from stains.
There's nothing worse than seeing a yellowed pillow!
The Bed Cover
Hotel beds usually feature something clean and classic. Something like a top cover, for example.
A top cover is a generously sized decorative flat sheet, with a bit more weight to the fabric than a traditional sheet. In hot climates, top covers are preferred by many.
They not only add a luxurious layer, but they're also great for those who need a very lightweight cover. The one shown below is the Cumulus Rippled Coverlet. 
These are made by Standard Textile, and are featured at many hotels. Like Courtyard by Marriot, for example.
The last step to your layering is a comforter. For most climates, consider investing in a good all-season down comforter. They're warm and yet lightweight.
You won't feel like you're under a sack of cement. Down feels cool during the summer and warm in the winter.
With any kind of comforter you choose, you will need a duvet cover. A duvet cover will prolong the life of your comforter, and allow you to have a variety of stylish looks.
Bonus – Change Your Mattress
Change your mattress!
Make sure you have a good quality mattress and its respective box spring. Whether you go for a regular mattress or pillow-top is up to you.
However, if you like to flip your mattress for regular cleanings, pillow-top mattresses can be difficult. Traditional mattresses tend to clean easier and have a longer life (especially in hospitality use) than other kinds.
Also, pillow-top mattresses while softer, tend to sag much sooner than traditional mattresses. A saggy and soft mattress leads to poor sleep quality and an achy back.
The bed that we're going to make is much more comfortable than any pillow top mattress.
That said, if you're in the habit of replacing mattresses every few years, you shouldn't really have any problems either way.