Last Updated on March 30, 2023
A sagging mattress – or one that is too soft – can be a big problem.
Neither one provides the proper support that you need for a good night of sleep. 
Maybe your mattress developed a sag in the middle over time. Or maybe you thought a soft mattress would be more comfortable, and now, after an achy back, you regret that decision.
Either way, it's not a good situation to have.
Our impulse reaction is to go out and buy a new mattress. But that can be expensive – not to mention a complete waste of money if your mattress is relatively new!
Instead of replacing your mattress, a cheaper alternative would be to fix your current saggy or too-soft mattress. This sounds like it might be a lengthy DIY project, but it's really not!
The Solution
The Under Mattress Support from Mattress Helper solves the saggy or too-soft issue by adding a layer of support underneath. 
The Under Mattress Support from Mattress Helper is a 5-minute solution to a very uncomfortable situation. You lift your mattress, you place the support underneath, and then you lower your mattress back down.
It couldn't be simpler!
At a small fraction of the cost of a brand new mattress, these supports will add a few additional years to the life of your current bed
Why you need the added support
A sagging mattress, a soft mattress ( or both), can be a real pain in the back – literally!
For a single person, a saggy or soft mattress does not offer your body the support that it needs. Consequently, your spine is not in alignment – which is what causes an achy back, joints, etc.
It can also cause a severe lack of sleep.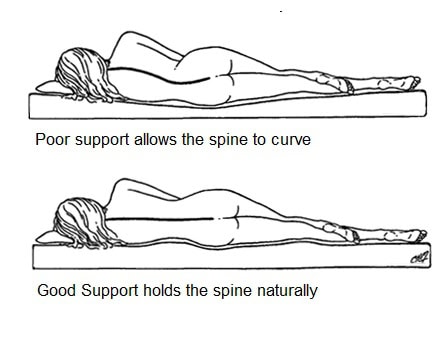 For couples who sleep together, not only do they suffer from an achy back caused by a saggy mattress, but they also create a deeper valley from their combined weight. 
This deeper valley makes it feel like you're falling into each other. Unless you're spooning, this isn't necessarily a good, or comfortable thing.
How and why it works
Mattresses get concave over time, especially in the middle – or wherever you spend most of your time.
Your body's weight naturally compresses the springs and other materials inside of the mattress. This compression changes the shape of the coils over time, which results in the sag.
The Under Mattress Support system from Mattress Helper raises the portion of the mattress which lies on top. By raising the mattress, the coils sit higher, which evens out the surface of the mattress.
What it's made of
The Under Mattress Support from Mattress Helper is made of a durable foam polymer material.
It has enough give so that the middle of your mattress does not feel like the pointy end of a triangle. But it also provides enough support to even out the surface of your bed.
The supports themselves consist of foam polymer slats, individually spaced out, and covered in a textured non-woven fabric. 
This construction keeps the supports firmly in place, and distributes the weight of you and your mattress, along with several pressure points.
Sizes available
The Under Mattress support system is sold in the following sizes:
Twin – 31″ x 50″

Full – 20″ x 50″

Queen – 20″ x 50″  

King – 31″ x 50″ 
What you'll need depends on your mattress size and your sleeping situation.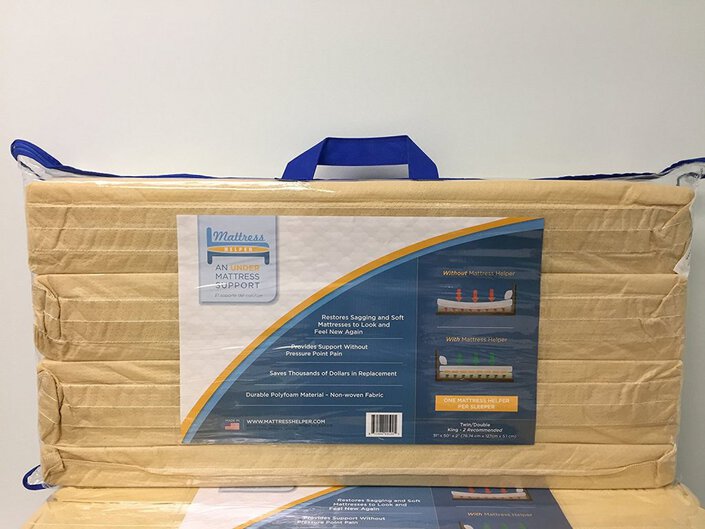 Twin-sized mattresses just need one support.
If you're a single person, using a Full or Queen sized mattress, you'll most likely need just one support – placed in the middle of the mattress.
If you sleep with a partner on a Queen or King-sized mattress, you're probably going to need two supports – one for each side of the mattress.

For Cal King mattresses, you'll need to buy the regular King-sized supports.
Please note: The supports are sold as one support, or as a pair. For Full, Queen, and King sizes – if you need just 1 support, purchase the 1/2 size.
A 1/2 size Queen order will contain 1 support. A Queen size order will contain 2, etc.
How to use it
Installation is rather simple.
Either lift your mattress up, or move it out of the way. Place the Under Mattress support directly under the saggy area (usually in the middle).
For couples, just place them next to each other.
Place your mattress back on top. That's really about all there is to it. You should be able to complete this in just a couple of minutes.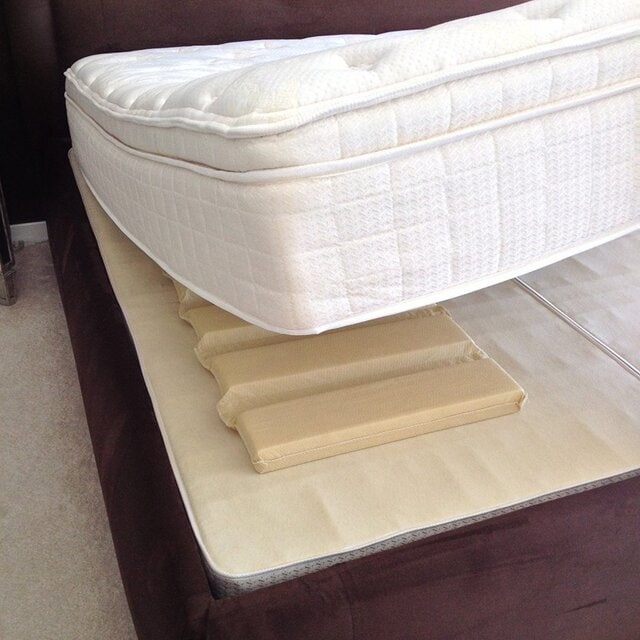 Depending on your mattress, you might need to give it a week or so for everything to break in. If it feels a bit stiff or too firm at first, sleep on it for a few nights.
It should get much better after about a week.
How to improve upon or get the most out of it
The Under Mattress supports compress your mattress from the bottom side as you lay down on top. To ensure that your mattress does not sag any further, we suggest rotating your mattress more frequently.
Most people rotate their mattress once every 3 months or so. We recommend rotating your mattress once a month or every two months when using these supports.
Also, in our testing, we found that some mattresses have a very slick outer cover.
While these supports are textured, there was still some slippage when there was a more than average amount of moment on the bed.
If you experience this as well, place a standard bath towel or a grip pad on top of the support. This should fix the issue.
What kind of mattresses is this not for
The Under Mattress support will not work very well for pillow top mattresses or any mattress that is not double-sided. 
These kinds of mattresses have a hard bottom – which negates the additional support provided by the Under Mattress system.
You will either end up with a mattress that tilts towards one side, or just have a mattress raised evenly off of your box spring – sort of like a floating mattress.
The moral of the story is, pillow-top mattresses are notorious for mattress sagging. Definitely avoid them in the future!
Final thoughts
A saggy mattress, or one that is too soft is just an uncomfortable and frustrating experience. It can lead to an achy back, lack of sleep, and difficulties in sleeping with a partner.
While buying a new mattress is an easy solution – not everyone can afford a new one.
The Under Mattress Supports from Mattress helper are a quick, and very affordable solution to this problem.
Whether your mattress is sagging, or you just wish your soft mattress was a bit firmer, these mattress supports should fix the problem. 
They are an easy and convenient way to get some more life out of your mattress.