Last Updated on March 30, 2023
Hot towels are one of the luxuries of pampering yourself at the spa.
The comforting feeling of a warm towel against your skin always feels like something much more amazing than just a towel that has been heated.
And while we do get our towels hot at home – that's usually done in the drying machine, and they're almost always room temperature when you need them.
But it doesn't have to be that way.
You already have everything that you need to have hot towels waiting for you whenever you want.
You already have the towels, and you already have space on your walls where your current towel racks are. Now you just need a heated towel rack.
There are two obvious benefits of having a steady supply of hot towels – they feel better, and they dry you off faster.
But a heated towel rack also drys your wet towels faster.
If you like to shower at night, and then again in the morning, your towels are sometimes still damp when you get up in the morning. Especially during the colder months.
On a cold winter morning, having a warm towel ready to go beats a cold and damp towel any day!
How a heated towel rack works
A heated towel rack works the same way a regular towel rack works – it just also heats up.
Depending on the brand, some racks need to be hard-wired, others just plug into a nearby outlet, and some have the capability to be powered on either way.
When you turn the rack on, the bars of the racks heat up and then transfer that heat to your towels. Dry towels heat up and wet towels dry off as they warm.
Towel warming racks are available in various sizes, so you can even find one that will fit the larger bath sheets.
Heated towel racks heat up to a safe temperature (exact temps vary by brand, but are usually in the 130-150 degree range), and can hold that temperature all day.
In fact, most heated towel racks are designed to run all day long.
You can turn them off anytime you'd like, but they do take about 15 minutes or so to heat up, so you'll want to turn your's on before you actually need your towels.
Generally, heated towel racks take about 30 minutes or so to reach their peak temperature.
How a heated towel rack installs
A heated towel rack installs similarly to a regular heated rack – you just need to connect some power.
This type of rack is obviously longer than the typical towel rack, so it will have 4 bases to screw in, as opposed to the 2 bases that a typical rack has.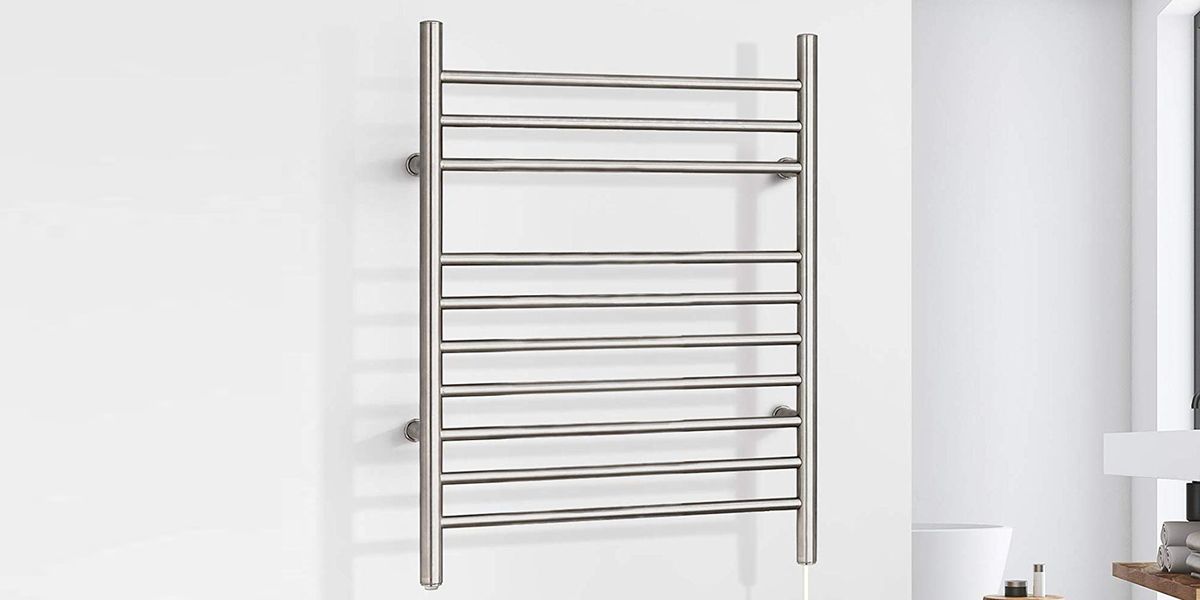 Installation goes like this:
Assemble the rack (if necessary)

Drill a hole for each base screw

Insert screw anchors into the holes (if needed)

Screw in the 4 bases

Connect to the corresponding power source

Hit the power button
The 5th step here will depend on you, and your preference.
You can hardwire it, similar to a chandelier – or you can plug it into a wall outlet.
At this point, you're done.
Heated towel racks have built-in thermostats that handle the heating for you. Generally speaking, there are no settings to set and nothing to manage – just turn it on (and off).
What to use with a heated towel rack
Heated towel racks maintain a safe temperature, so you can actually let them run all day.
If this worries you, or if you just don't need your towels to stay constantly warm – and you'd like to reduce your power consumption, a WiFi Smart Plug would be a perfect companion for your new heated towel rack.
This type of plug allows you full control over your devices, from wherever you are at the current moment.
It hooks up to your WiFi connection, and the companion app installs on your smartphone. You can then open the app on your phone and turn the device on or off.
If you're at work, and you forgot to turn the towel rack off, you can just open the app and turn it off. If you're about to leave work and want some hot and fresh towels ready to go when you arrive home, just open the app, and turn the plug back on.
When the plug is off, the towel rack is off. When the plug is on, the rack is also on. It's that simple!
And since you have towels, and a heat source, level up by adding a few drops of essential oils to your towels. 
Your towels will smell great, and you'll have that relaxing spa towel experience.
As always, a few drops of oil go a long way. 
Frequently asked questions
You might have some questions. We might have some answers…
Can I heat multiple towels at the same time?
Yes, you can heat as many towels as will fit on your towel rack.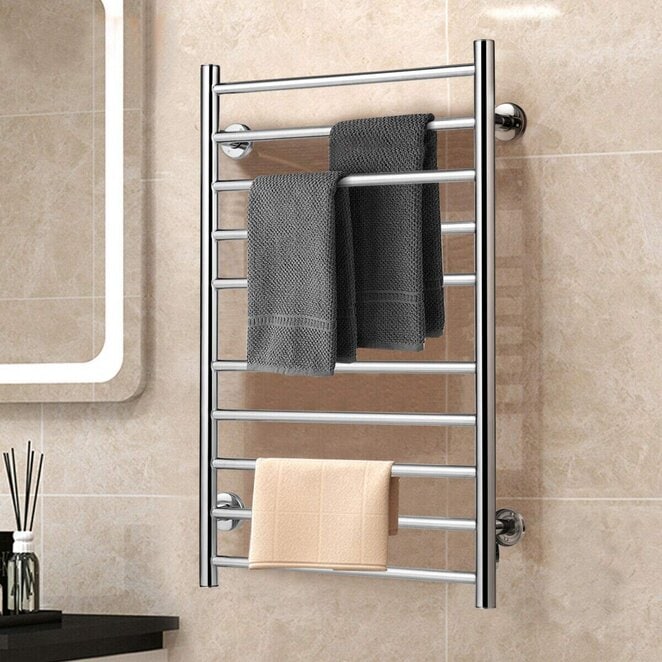 Which parts of the towel rack are heated?
For most brands, both the horizontal and vertical bars are heated.
Can I heat my robe on a heated towel rack?
Yes, you can heat your robe on this type of towel rack. Heated towel racks don't have hooks, so you'll have to hang your robe the same way in which you'd hang your towels.
I don't have a lot of wall space in my bathroom. Do they make small heated towel racks?
Yes, you can find heating towel racks in a variety of sizes.
How long does it take for a heated rack to dry a wet towel?
It depends on the size of the towel, the heat capacity of the towel rack, and how wet the towel is. Generally, it takes about 2-6 hours for a wet towel to completely dry.
What happens if I leave the rack on all day?
Nothing really happens. Your towels just stay warm all day.
Heated towel racks are designed to run all day long. They run on wattage (120-140W) that is just enough to warm them up, but not enough to be a hazard.
So if you leave your heated rack on, your towels won't burn, they'll just stay warm.
Is wall-mounting the only option?
No, you can also purchase a free-standing towel warmer. They function identically – you just don't have to screw them into your wall.
Final thoughts
There are certain luxuries that we leave to the professionals – and rightfully so.
If you visit a luxury spa, you want your massage done by a pro. You want your skin cared for by a professional esthetician, and so on.
But there are certain luxuries that you can indulge in on your own. Luxuries that you don't need to be done by a professional.
Like soothing hot towels…