Last Updated on March 30, 2023
How do I choose a comforter? People ask us that question all the time. Choosing the right comforter can be almost as difficult as choosing the right pillow.
It used to be that we had 6 options to choose from – A choice of goose down or down alternative, in light, medium, or heavyweight.
Fewer options meant a simpler choice. 
Online shopping has turned buying bedding into a serious mental workout. Between the hundreds of brands, dozens of colors, and high-tech fills currently available, how do you know what to buy?
Keep it simple, and avoid these 10 common mistakes, and you'll most likely be more than happy with whatever comforter you choose to buy.
1.) Insisting on white goose down
A good white goose down comforter is the pinnacle of luxury right? There's just nothing like it.
False! White goose down gets all of the glory, but simply put, down is down. Whether it's white goose down, white duck down, or grey duck down – down is down.
White down is sold at a premium, because, well, it's white. That's the only reason. But down, regardless of bird, or color, insulates in the same way. So 600 fill power grey duck down insulates identically the same as 600 fill power white goose down.
So, if you're shopping for a new comforter, consider a duck down comforter. Duck down is quite a bargain!
2.) Choosing a comforter that's too heavy
People tend to opt for a heavier comforter because more is more. But you should actually put some thought into it.
Do you live in a particularly warm climate? Do you get hot while you sleep? Or do you wear layers before getting into bed?
If so, a heavy comforter might be overkill. Purchasing a warm comforter just for the sake of warm is a very common mistake. A heavyweight comforter looks great, but you might it will probably feel like a sauna underneath.
A medium or "all season" comforter is actually the best choice for most people.
3.) Not considering multiple comforters
Along the lines of choosing the right warmth – if you can afford it, and if you have storage space, consider buying multiple comforters.
If your summers are really hot, but your winters are really cold, you might be better off with a lightweight comforter for the spring/summer, and a warm or "heavyweight" comforter for the colder seasons.
An all-season comforter, while the ideal choice for the average person, isn't ideal for everyone.
4.) Not purchasing a duvet cover
If you currently use a duvet cover, skip to #5.
If you don't use a duvet cover with your comforter, then start. Immediately.
Nothing destroys a comforter quite like repeated washing and drying. This isn't to say that you shouldn't wash it from time to time. But washing it more often will reduce its lifespan.
Using a duvet cover will keep it clean – which means that you'll have to wash it less. In the same way that you use a pillowcase to protect your pillow, you should use a duvet cover to protect your comforter.
5.) Focusing on insignificant features
Some of the features that you'll see advertised about a comforter are insignificant and meaningless. Many of these features are especially useless if you are using a duvet cover as you should.
What are some of the features?
Stripes

Thread count

Microfiber cover

Stitching pattern

Designs
You get the point.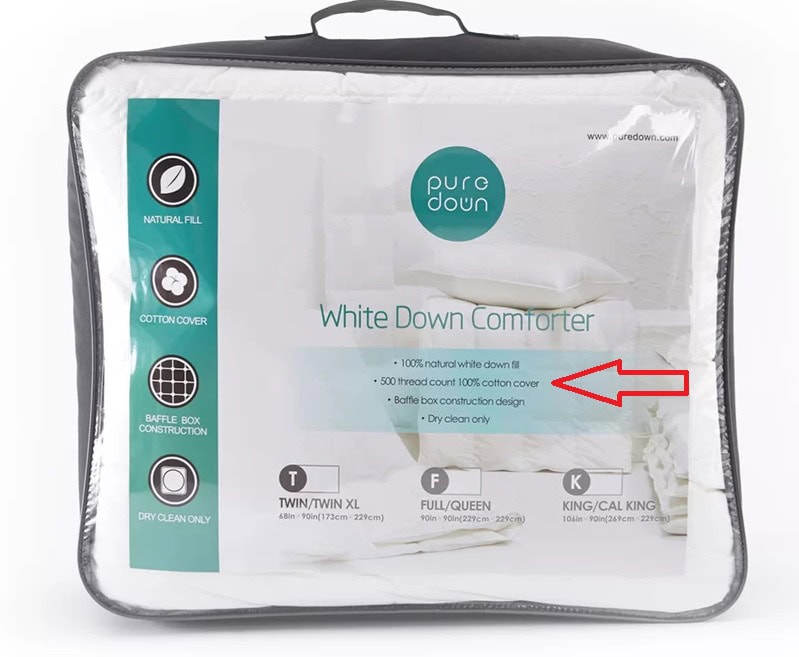 Once your comforter is inside a duvet cover, you won't feel its "500 thread count cover", and you won't see its "Damask Striped" cover. So ignore these meaningless features!
6.) Designer brands
Some of the worst (and most expensive) comforters are sold by designer brands. Brands like Calvin Klein, Ralph Lauren, etc.
There are two things to consider when it comes to these designer brand comforters.
1.) You are paying for the brand name – not what's inside the comforter itself. Oftentimes, they are sewn and constructed cheaply, using inexpensive fill materials.
2.) The comforters are not actually manufactured by the designer brand. They are manufactured by comforter manufacturers like Downlite, Blue Ridge, Westpoint-Stevens, Phoenix Down, Hollander Sleep Products, etc.
These facilities manufacture comforters for numerous different brands, and then just sew the respective tags on them. Purchase from these manufacturers directly, and you'll get the best products, and the lowest price.
7.) Full/Queen comforters
Most people who own either a Full-sized mattress or a Queen purchase a Full/Queen comforter.
Full/Queen comforters usually measure 88″ x 88″, 90″ x 90″, or something similar. They are the middle ground between a Full, and a Queen bed. Which almost always results in a comforter that is a bit too long, or a bit too short – in order to satisfy both bed sizes.
While a Full/Queen comforter will work, it will often be a bit too long for a Full, and catch the corners as you sleep. And they will usually be a tad bit too small for a Queen – especially so if you share your bed with a partner.
Avoid Full/Queen comforters, and buy a dedicated Full or Queen comforter.
8.) Replacing instead of repairing
Comforters are usually replaced once the down (or polyester fill) inside the comforter either breaks down or starts to leak.
If your comforter is in terrible shape or is 15 years or older, then you should replace it. If your comforter is relatively new and has just sprung a leak, before you replace it, consider repairing it.
Refilling the fill in a comforter is extremely easy – especially if you have basic sewing skills. All that you really need is a needle, some thread, and the correct fill.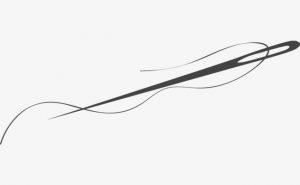 Read this guide about repairing a comforter if yours is in need of some TLC.
9.) Focusing on price
Unless you're on a very tight budget, don't focus on price. The cheapest comforters are often those that get replaced the soonest.
Cheaper comforters use cheaper materials like microfiber and inexpensive fill materials.
Microfiber is made of super thin polyester yarns, which tend to wear very quickly. Inexpensive polyester fill will clump after just a few washes.
A cheap comforter isn't so cheap when you need to replace it every few years. Skip the no-name brands, and purchase a good quality comforter, from a good quality manufacturer. Check out brands like Downlite, Westpoint-Stevens, Phoenix Down, etc.
10.) White goose down alternative
This is a mistake made by shoppers who don't pay attention to clever wording from unscrupulous sellers.
Check out this listing for a down alternative comforter. Listings for down alternative comforters will say just that – "Down Alternative". Some sellers, however, will add the "White" to the title to gain more traffic, and to trick your eyes into thinking its a "White goose down comforter".
If you're shopping for a goose (or duck) down comforter, read the listing and description fully. Make sure that it's a white goose down comforter, not "white goose down alternative".
Final thoughts
These are just 10 of the most common mistakes people make when purchasing a comforter. 
The best feature of any comforter is the return policy. The only way to know for sure if a comforter is right for you is to actually try it for a few nights.
A comforter might look good on a staged bed – but you won't know until you try it. Having the option to send it back is the best feature to look for.