If you've stayed at popular hotels or motels like Sheraton, Marriott, etc., chances are, you've probably slept on pillows made by Downlite. If you're here and reading this, you're most likely trying to find out where you can buy one – or a pair. 
You'll find Downlite pillows and comforters in several places online, but I would personally recommend checking out Downlite's store on Amazon.
Most of their products are available there – including seasonal overstock items which are heavily discounted. 
There are two things that I love about Downlite products:
1.) They are made in the USA, specifically in Mason, Ohio. Usually, with American-made products, you can get high quality or low prices – but not both. With Downlite pillows, you don't have to choose. They're made of high-quality materials, manufactured very well, and are very affordable.
The reason they are affordable is that they are not retail-packaged. With Downlite products, you don't get a million different packaging components like a nylon bag, cardboard inserts, etc. You get the pillow, in a liner, inside of a box. That's it!
2.) You've probably used Downlite products even before your hotel stay. Downlite manufactures pillows and comforters for other major brands throughout the country. Have you ever bought Charter Club or Hotel Collection pillows from Macy's? Check the attached tag on the pillow. It will probably say "Manufactured by Downlite".
Regardless of where the pillows are made, what they contain, etc., you'll have a hard time finding the same quality and workmanship from other brands.
---
You may have written down the SKU number of the pillow that you enjoyed during your stay. If so, here is a quick reference guide for some of Downlite's popular pillows. Keep in mind, the important numbers/letter are those BEFORE the dash. The numbers and letters after the dash just indicate size.
For example – EnviroLoft pillows are SKU #HOS100PI0050. The standard/medium variant is SKU #HOS100PI0050-WHI-020-026.
Extra Soft down pillow
Down-filled version: SDL100PI0040-STBL. Down alternative version: SDL100PI0680.
The Extra Soft pillows are a favorite of stomach sleepers. They are both soft, and flat – allowing your spine to remain in alignment. This model is a must if you generally sleep on your stomach. They lack the bulk and loft of traditional pillows.
5/95 down and feather blend pillow
SKU #HOS100PI0070
5/95 pillows are a staple at most motels and hotels. They are filled with a blend of 95% feather, and 5% down. The blend provides a firm structure, while the down adds a bit of softness. These are great for those wanting a firm pillow, but also as a pillow for reading, or watching TV.
10/90 feather and down pillow
Granny stripe version: SDL100PI0470. Twin pack solid version: OVS100PI0090
The 10/90 pillow is just like the 5/95, but with a 10% down/90% feather ratio. They are a bit less firm, but a bit more soft. These are rated as medium density.
The granny stripe version has a striped outer cover, and each pillow is sold individually. The twin pack set contains two pillows – each with a solid white outer cover.
50/50 feather and down pillow
SKU #HOS100PI0110
As the name would suggest, these are 50% feather, and 50% down. These pillows are featured at luxury hotels as an alternative to the regular pillows available in the closet. They feature medium density, but also offer a bit of loft. They are soft to the touch, but don't compress down as much as a regular down-filled pillow of the same weight.
EcoCluster Cluster Puff pillow
SKU # HOS100PI0490
These are medium density down alternative pillows, with decent loft. They are filled with polyester puff balls that don't squish down as easily as conventional polyester batting. They are on the firmer end of medium-density pillows.
MicroLoft Gel Fiber pillow
SKU #HOS100PI0330
MicroLoft pillows are known for their squishy polyester filling. If you like a soft pillow, that is spring, these are for you. If down pillows are too soft, and memory foam is too firm, these MicroLoft pillows will probably be perfect!
EnviroLoft pillow
SKU #HOS100PI0050
EnviroLoft pillows are filled with blown polyester. This kind of polyester fiber has a very soft and silky feel. Blown polyester is the closest option to actual down. They are available in soft, medium, and firm densities.
If you love the feel of natural goose down, but suffer from allergies – these are the pillows for you!
Chamber pillow
For goose down: SDL100PI0180. For duck down: HOS100PI0040
Chamber pillows are kind of like 5/95 pillows, except that the feathers are kept separated from the down. These pillows are filled with feathers inside the inner chamber, and filled with down in the outer chamber – basically forming a sandwich. These are medium density, towards the firm end of the spectrum.
They have the structure of a feather pillow, with the outer softness of a down pillow. You'll pay more for the goose down version – but the duck and goose down in this pillow are identical.
Liquiloft pillow
SKU #DOW555PI0070
Liquiloft  is the newer version of the MicroLoft gel pillow – which was recently discontinued. Like the MicroLoft pillow, these also contain a squishy soft polyester filling. The only difference is that these are filled with more weight, and have a 300 thread count outer cover vs the 230 thread count cover for the MicroLoft version.
525 Fill Power down pillow –
SKU #DOW777PI0220
These are down-filled pillows, with 525+ Fill Power, and a 230 thread count outer cover. They are traditional down pillows, in medium density. You'll often find these in four and five-star locations.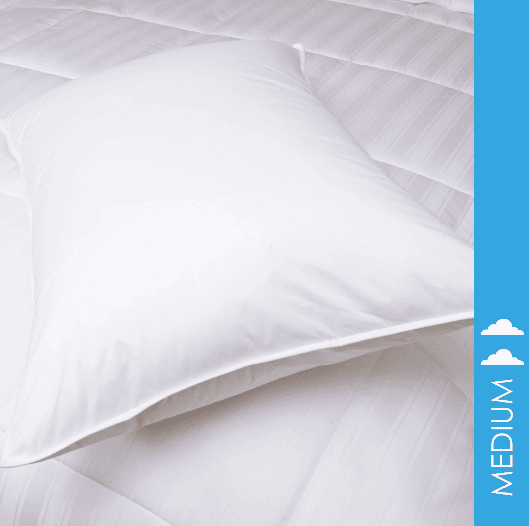 600 Fill Power down pillow
SKU #DOW777PI0280
These are down-filled pillows, with 600 Fill Power, and a 230 thread count outer cover. They are traditional down pillows, in medium density. You'll often find these in the most luxurious of hotels
They are available in soft, medium, and firm density.
Primaloft pillow
SKU #HOS100PI0460 or DOW777PI0170
These pillows are filled with luxurious Primaloft fill. Primaloft is known for its soft down-like feel. Primaloft bedding is the most luxurious alternative to natural down available.
These are generally available in medium density.
Extra-firm feather pillow
SKU #DLB100PI0130
These 100% feather-filled pillows are great if you need a firm pillow, with a high loft. 100% feather fill does not compress like other fill materials like down or polyester.
400 Thread Count duck down pillow
SKU #SDL100PI0610
These grey duck down filled pillows feature a fill power range of 550-600. They also feature a 400 thread count Pima cotton outer cover. They are available in medium density.
Additional pillows
Downlite does also manufacture some unique pillows that are generally not found in hotels. These are available for retail sale, and can usually be purchased from their store on Amazon. These include:
Reading wedge pillow
SKU #SDL100PI000
The reading wedge pillow from Downlite is available in both a 10/90 down & feather blend, as well as polyester fill. These pillows have a triangular shape that allows you to comfortably sit on top of your bed to read, watch TV, etc. They provide the type of support that regular pillows can't match.
Body pillow
SKU #DOW555PI0120
The Downlite body pillow measures 20″ x 60″. These are very popular for pregnant women, as well as anyone needing support between their legs. They are filled with 100% polyester.
Have you used or currently use Downlite pillows? Would you please leave a comment below and share your experience?