Last Updated on March 30, 2023
Holiday Inn hotels are a favorite among experienced American travelers. They provide the luxury amenities of a 4 or 5-star hotel, but with the pricing of a lower-tier property.
If you're a recent guest of a Holiday Inn hotel, you probably slept like a baby. They feature some of the best products available for their beds!
Either way, if you're looking for the comforter that you enjoyed at the Holiday Inn, then you're looking for the Enviroloft Down Alternative Comforter from Downlite.
Enviroloft comforters from Downlite  – which are also available in a lightweight version – aren't like the down alternative comforters that you'll commonly find on Amazon, which are filled with polyester.
And that's because of the Enviroloft fill. It's made of 6-denier silicon fiber which makes it silky soft – almost like real goose down.
Compared to polyester, silicon is slicker and more elastic. That's what makes these comforters feel so warm and cozy. Enviroloft actually feels like natural goose down, but with a bit of spring to it – so it doesn't deflate quite as easily as a down comforter. 
If you checked the tag of the comforter featured in your hotel room, the model number was likely one of the following: DOW777CO0290, HOS100CO0070, or HOS100CO0075.
We have the All-Season and the Lightweight versions available in our store as well.
Why are Enviroloft comforters so comforting?
Enviroloft comforters aren't like the typical type of down alternative comforter which you might be used to.
And because of this versatility, many hotels, like the Holiday Inn, feature them in all of their hotel rooms – even the luxury suites.
Why?
There are more, but here are 3 reasons:
The silicone fiberfill

Silicone's superior resiliency

The quality construction of Downlite products
Let's take a quick look at these three aspects:
The 6-denier silicon fiber
The Enviroloft comforter is not only Downlite's best-selling comforter, but it's far and away, the most commonly found comforter in American hotels.
The Enviroloft fill is one reason why.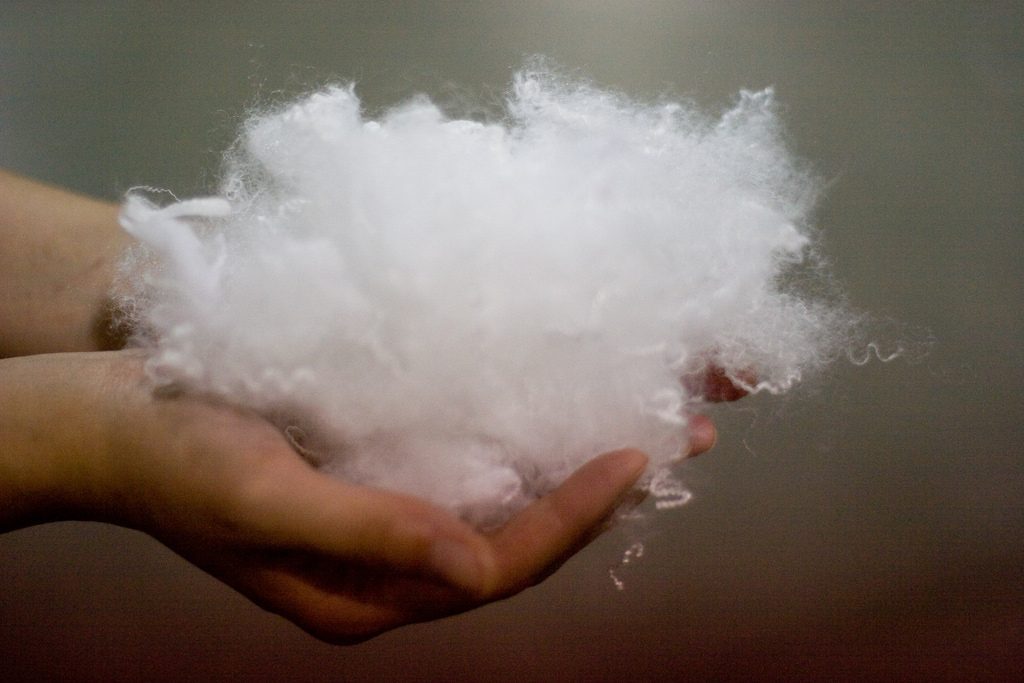 As we mentioned above, silicon fibers have some advantages over polyester. 
Silicon fibers have a thinner and more elastic texture versus polyester. When you squeeze into the comforter, it pushes back, just a bit.
That little bit makes all the difference – particularly if you squeeze your comforter while sleeping.
Think of it this way: If you hug someone, and they stand there in a limp way, it can be a bit physically awkward right? Since you're leaning forward, you need the other person to push you back and keep you from stumbling.
But if they reciprocate that hugging motion, your bond is much more stable.
The resiliency of silicon
Enviroloft fill is slick. It almost feels like polyester fill dipped in oil.
The slick nature of silicon is what promotes its resiliency. But why is that important? Why would you want a resilient fill material?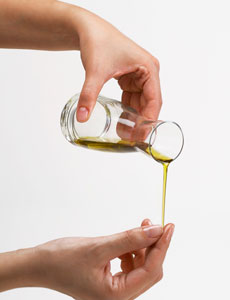 Resilient materials wear at a much slower pace and therefore last longer.
You might have noticed that your down alternative comforters in the past have developed clumps. Clumping of the fill makes for an uneven comforter – with cold spots which aren't so "comforting".
The slick texture of the silicon fill provides less friction. The fill inside doesn't break down as fast and avoids clumping like ordinary polyester.
The superior Downlite quality
A well-made comforter has certain features beyond just the fill inside. Those include quality construction and appropriate accessories.
It's not just how you start a comforter, but how you finish it as well. 
Have you ever used a comforter that leaked its fill? Or one that came apart at the seams? Those comforters were probably not finished with quality construction.
A well-made comforter will have some type of "true edge". Enviroloft comforters, for example, feature a  double-needle sewn knife edge.
The piping with the double row of stitching keeps the seams tight and shut. They won't come apart, and won't leak – even after years of use.
This is one reason why hotels like the Holiday Inn love these comforters – they last forever!
And did someone mention accessories? Just above the corner in the picture above, you'll see a piece of fabric running across from one edge to the other.
That is called a "duvet loop", and is used to keep the comforter firmly in place inside of a duvet cover.
All-season warmth
These comforters are rated as a "medium" – so they're great as an all-season comforter.
They might run a bit hot if you live in the desert, or if you like to sleep with your heater on. And they might not be warm enough if you live in a very cold climate.
But if you're like the average American, living in a region with average weather – they'll be just right.
Sizes and specs
Enviroloft comforters feature a 230 thread count, 100% cambric cotton cover. They are machine washable and dryable, and are available in the following sizes and fill amounts:
Twin – 66″ x 86″ – 34 ounces

Full – 82″ x 90″ – 35 ounces

Queen – 90″ x 90″ – 46 ounces

King – 104″ x 90″ – 52 ounces
They feature a 14″ quilted sewn-thru box construction – which keeps the fill evenly distributed – with a 5″ border.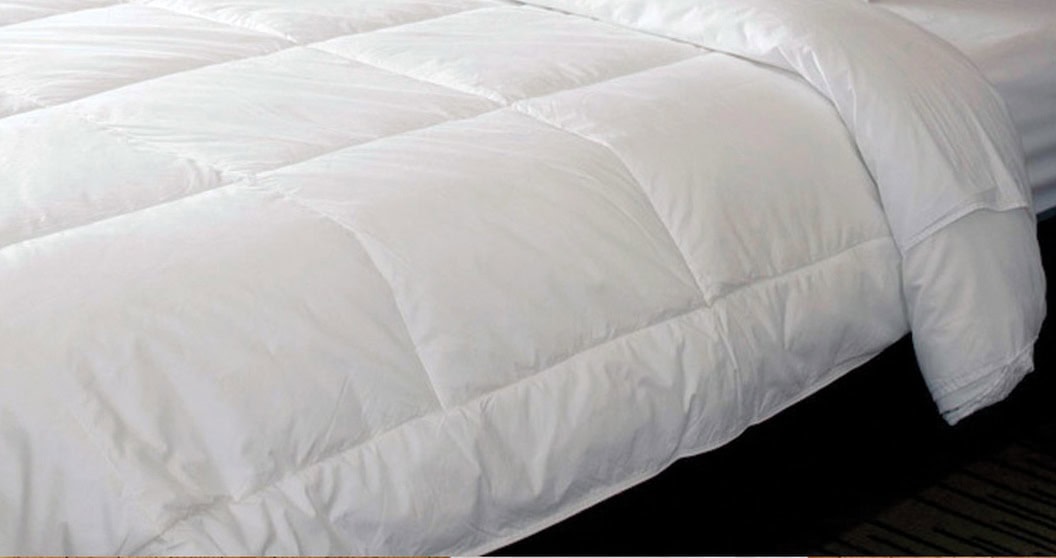 One more thing to note here: Cambric cotton is used by Downlite because of its tightly woven structure. This makes for a much more durable product, but the crisp surface tends to be a bit crinkly and noisy when new.
This does go away after a few washes. If you find yourself noticing the extra noise at first, don't worry, it will get less and less with each wash.
It should fully disappear within 3-5 washes.
The Hotel experience at home
Holiday Inn hotels aren't the pinnacle of luxury as far as Hotels are concerned, but the products they use for their hotel rooms are definitely up there.
These same Enviroloft comforters are found in some of the best hotels across the country.
You'll find these comforters being used in some of the most popular hotels like Wyndham Garden hotels, the Hard Rock in Las Vegas, and many others.
Why do hotels love these comforters so much? Simple – they offer durability without compromising comforter, at a very affordable price.

If you want a comforting comforter…
Goose down comforters warm and inviting, but expensive. Polyester pillows are more affordable, but they fill a bit too stiff and dry. 
The silicon fill in the Enviroloft comforter is soft and springy – making it as comforting as a goose down comforter.

If you prefer a durable & quality comforter
Silicon fibers can outlast both goose down and polyester. And because of the lack of friction, they won't clump.
And the knife-edge seams ensure that the outer cover will last as long as the inner fill.
Final thoughts
You don't need to spend the big bucks to get the comfort of a goose down comforter. You just need the right materials.
The Enviroloft comforter from Downlite is a good place to start!