Last Updated on March 30, 2023
If you're serious about your workout routine, then you might currently have a personal trainer.
And if you have worked with a personal trainer, did you notice visible results that you couldn't achieve on your own? Probably. 
If you're serious about improving your sleeping habits, it might be time to consider using a personal sleep trainer.
No, we're not talking about a "sleeping coach" standing next to your bed telling you what to do.
We're talking about using the current technology available to identify where your sleep habits can be improved, by collecting your "sleep data".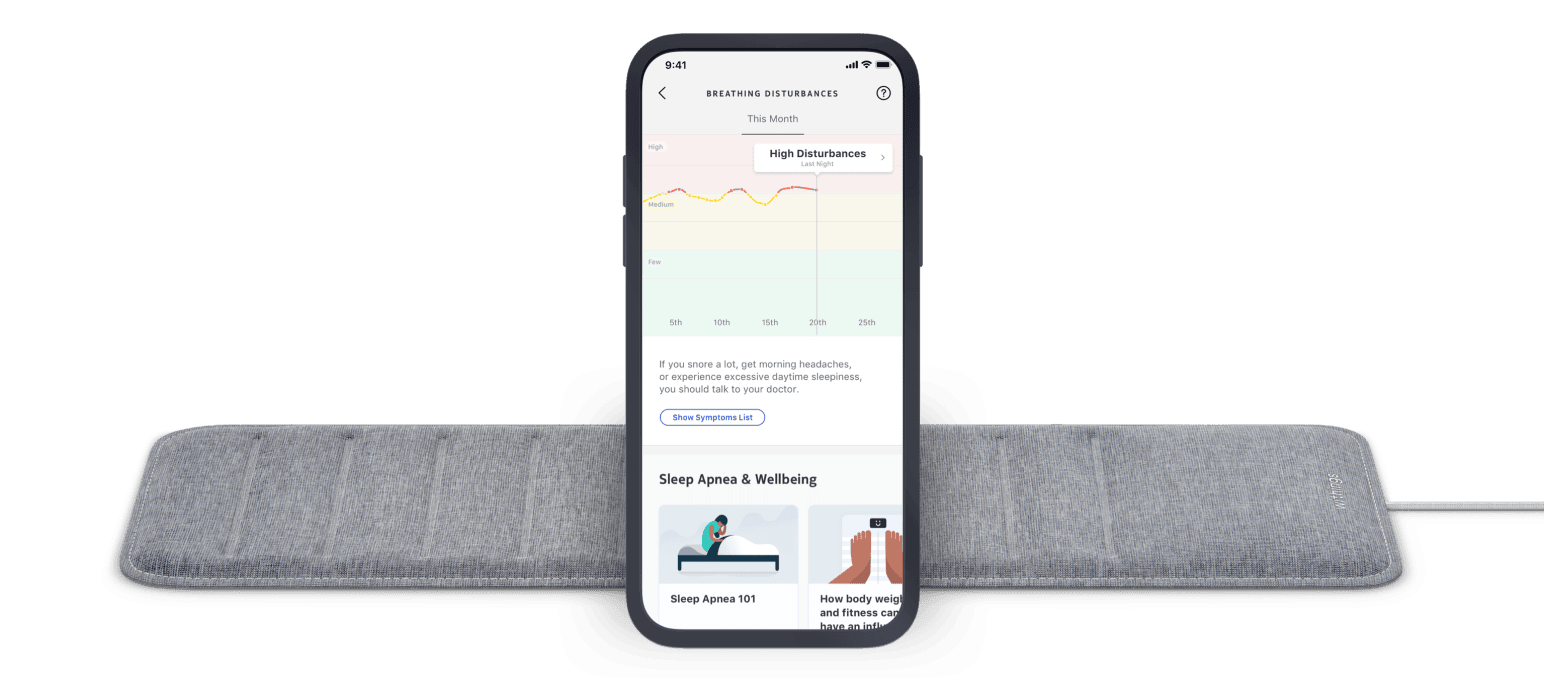 The Sleep tracking mat from Withings analyzes your sleep cycle (deep, light and REM), tracks breathing and heart rate, and detects snoring.
You simply place the mat under the mattress and install the complimentary app. Then you're ready to start collecting data and analyzing your sleep cycles.
The app gives you a "Sleep Score", and highlights your areas of opportunity, such as sleep depth, interruptions, etc. It can also turn on/off your lights, thermostats, etc. to ensure the optimal sleeping environment.
Traditionally, sleep tracking products included wires, sleeves or harnesses to wear, etc. That is the beauty of the Sleep tracking mat – there's nothing to wear, and nothing to disturb your actual sleep.
If you're serious about getting into sleep shape, The Withings Sleep system gives you all of the necessary information and tools to master the night and get the most out of your day.
Summary of what the Withings Sleep system offers
Sleep quality assessment
By monitoring sleep cycles (deep, light & REM), tracking your heart rate, breathing rate, snoring, and sleep disturbances – if any, the included Health Mate app gives you a "Sleep Score" every morning (on a scale of 0 to 100).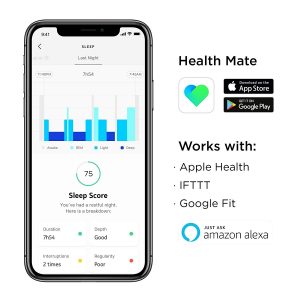 It's like having a "sleep accountant" sitting next to you, and recording all of your data. The Health Mate app works with both iOS and Android devices.
Snoring detection
Snoring is usually harmless (except for when it disturbs others), but it does give insight as far as your overall sleep quality.
The Withings Sleep system is able to pick up on the frequencies generated by snoring and records the data which is available for you when you wake up in the morning.
If you don't snore, you can also turn off the snoring detection.
Heart rate and breathing tracking
Many people experience disruptions in their breathing while they sleep.
This is also known as "sleep apnea". While this is relatively harmless as an isolated episode, it can become a chronic condition over time.
30% of all users discover that they actually experience some type of breathing disruption while they sleep. 80% of the people who suffer from sleep apnea aren't even aware that they are apneic.
Frequently occurring sleep disruptions can drastically reduce recovery, cause grogginess, and general lethargy.
The Withings Sleep mat tracks your breathing and detects any disturbances that you might experience. Detecting potential signs of sleep apnea (and treating it) can prevent significant conditions in the future.
Sleep coaching program
Once you have some sleep data collected, the in-app sleep coaching program will help you develop better habits by providing insight into what is actually affecting your sleep habits.
Using your collected data, the app will highlight how and where you can improve. Data with specific details such as what time you go to bed, taking too long to fall asleep, oversleeping, not sleeping enough, etc.
Enhanced sleep environment
Via IFTTT integration, the Withings Sleep system can automate and control lights, the thermostat, and more.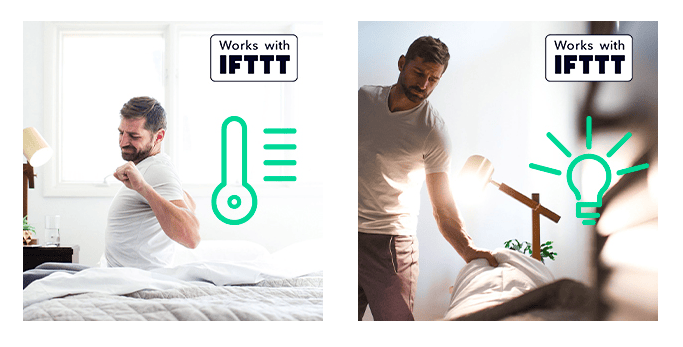 The sleeping mat senses when you are in bed and will switch devices on or off in accordance with the automated settings of your choice to create the optimal sleep environment.
It can also mute your phone, track your data in a Google spreadsheet, turn on/off Hue lights or set scenes, etc.
How the Withings Sleep system works
It all starts with a quick one-time installation. You simply place the sleep tracking mat horizontally under the mattress, on the side or section where you usually sleep, where your chest will be.
The placement is critical since the majority of the data is collected from the centralized movement in your chest.
The frequencies, movements, and vibrations from your heart rate, breathing, and snoring all originate from your chest.

Once the mat is in place, simply install the complimentary Health Mate app on your smartphone.
The app will integrate with the mat using your WiFi connection. You can then also set your automation settings with any IFTT devices that you might have.
At this point, you have nothing else to install or to set up – the system is fully in place. All you have to do is go sleep at night like you normally would.
When you wake up in the morning, the app will have your data ready for you, in the form of a Sleep Score, which will look something like this:
It will tell you for example, how long you slept, your sleep depth, what disturbances or interruptions you experienced, etc.
Using the customized algorithm (developed with sleep experts), it will show you your Sleep Score – a quality metric that takes into account all of the data collected throughout the night.
After a few nights, you can begin working with the "Sleeping Coach" to highlight what areas of your sleeping habits can be improved, and how to go about it.
Obviously, you'll actually need to be proactive and motivated to put the coaching plan into action. The mat won't improve your sleep habits all by itself.
What's included in the package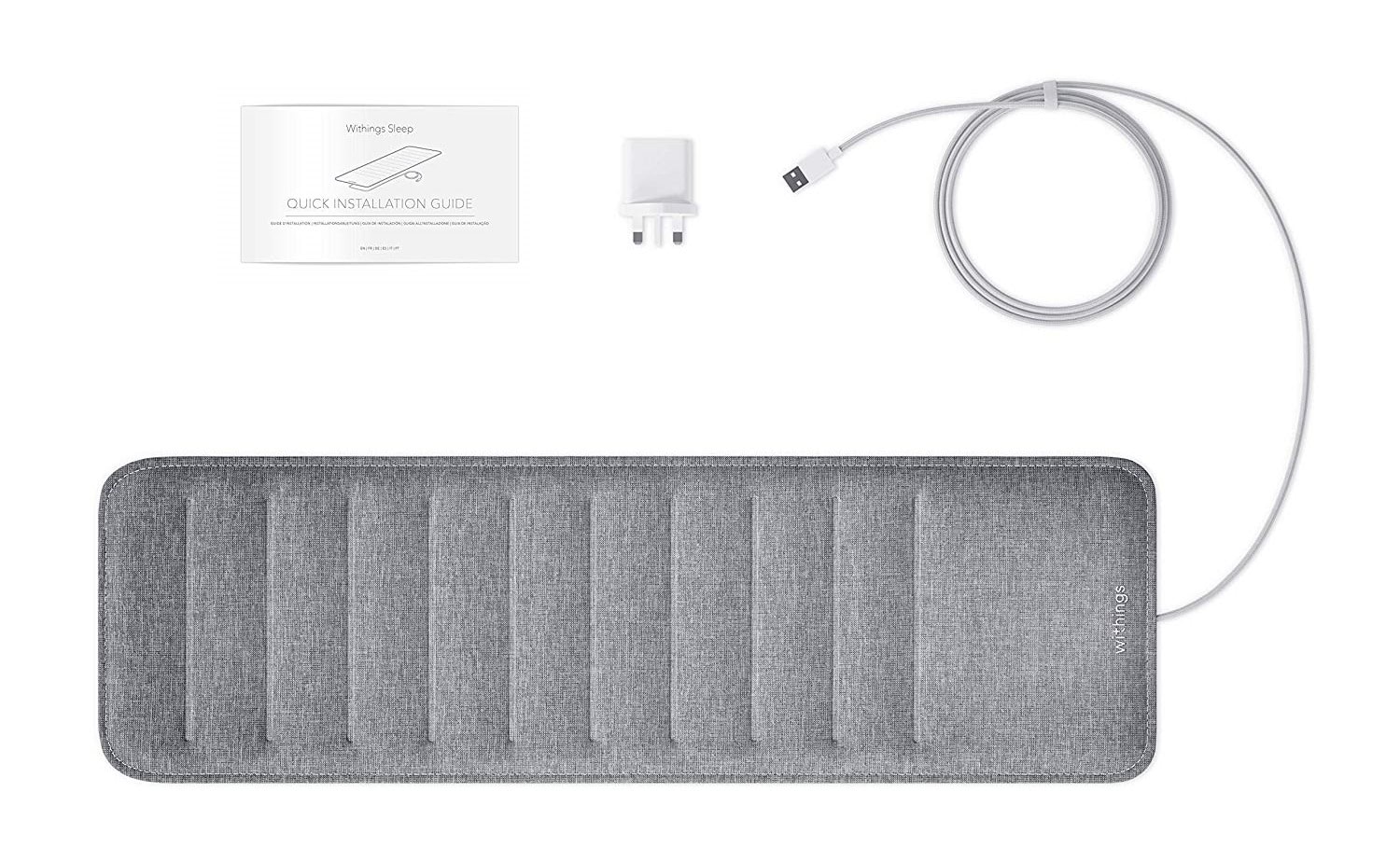 Withings Sleep mat

USB power adapter

Quick start guide

Health Mate app

Withings Web Dashboard

Free Withings account
Sleeping mat specs and compatibility
Specs
The sleep tracking mat has a fabric cover, and measures 25'' x 7.5''  and has a thickness of 0.2''. The mat connects to an outlet via an included USB power adapter.
Compatibility
iOS compatibility (iOS 10 and higher)
Android compatibility (5.0 and higher)
Final thoughts
We have all sorts of technology that helps us get the most out of the day.
And yet we don't really harness the power of that technology to improve our night – which is baffling considering how much the quality of your sleep affects the quality of your day.
Poor sleeping habits have been linked to all sorts of issues and conditions like physical health, weight issues, anxiety, cognition, sex life, mood, depression, negativity, etc.
All of which have a huge effect on our daily life – and our overall health.
If you want to get into better sleep shape, a personal sleep trainer can definitely help you achieve your sleep goals!